GOP Leaders Say Democrats Achieved 'Nothing' Since Taking Over The House, But 100 Bills Await Action in the Senate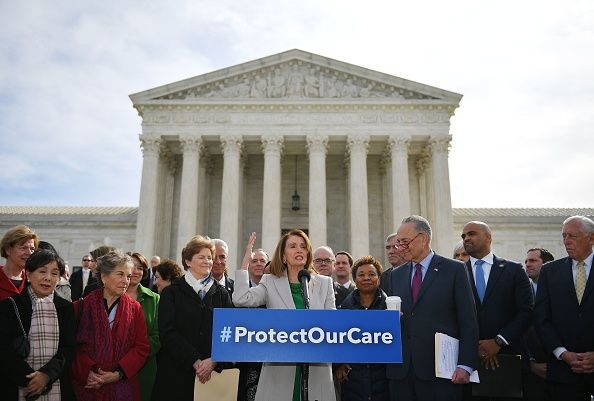 Republican leaders have slammed Democrats for not getting enough done in Congress even though more than 100 bills passed this year by the House of Representatives currently sit in the GOP-controlled Senate awaiting action.
House Minority Leader Kevin McCarthy tweeted on Wednesday that "Democrats are in a tailspin, and their 'leadership' is out to lunch. They have achieved practically NOTHING since taking over the House, and their obsession with impeaching this president is paralyzing any progress we could be making as the UNITED States."
Similar remarks were made by Donald Trump and White House press secretary Sarah Huckabee Sanders on Thursday morning.
The president wrote on Twitter that "Democrats are getting nothing done in Congress. All of their effort is about a Re-Do of the Mueller Report, which didn't turn out the way they wanted. It is not possible for them to investigate and legislate at the same time."
During an appearance on CNN, Sanders asked "what significant pieces of legislation they have passed that are going to change the course of this country?" She also said that it is "a complete lie" that Democrats think they can investigate Trump and also pass bills.
But Democrats have passed more than 100 pieces of legislation on issues ranging from gun control to health care since gaining majority control in the House in January. Those bills have yet to be taken up by Senate Majority Leader Mitch McConnell.
That legislation includes the For the People Act, which is a comprehensive package of reforms to expand voting rights, limit partisan gerrymandering and limit the influence of donor money. It also encompasses the Paycheck Fairness Act, the Violence Against Women Reauthorization Act and the Save the Internet Act.
Last month, Senate Democrats issued a press release accusing McConnell of turning the Senate into a "legislative graveyard."
"Leader McConnell promised that he would open the Senate so that ideas with bipartisan support could come to the floor, and said that he would allow a free and open amendment process to foster bipartisanship and deliver real legislation to the president's desk. But Leader McConnell has failed to live up to these commitments," the press release read.
Even Republican lawmakers have expressed frustration at the Senate's lack of action in Congress. Senator John Kennedy told lawmakers on the Senate floor on Tuesday that they've done "nothing" but confirm the president's judicial nominations.
"We need to do more, by we I mean the United States Congress," he said. "Other than the nominations, which are important, we have done nothing. Zero. Zilch. Nada."
Republican attacks on their Democratic colleagues also come as Trump abruptly walked out of a White House meeting with congressional leaders Nancy Pelosi and Chuck Schumer. The president claimed that he would no longer work with Democrats unless they drop all of the investigations being led by the House.
Pelosi said after the meeting that Trump "just took a pass and it just makes me wonder why he did that. In any event, I pray for the president of the United States and I pray for the United States of America."