Republicans and Democrats Agree Andrew McCabe Should Testify to Congress—But for Opposing Reasons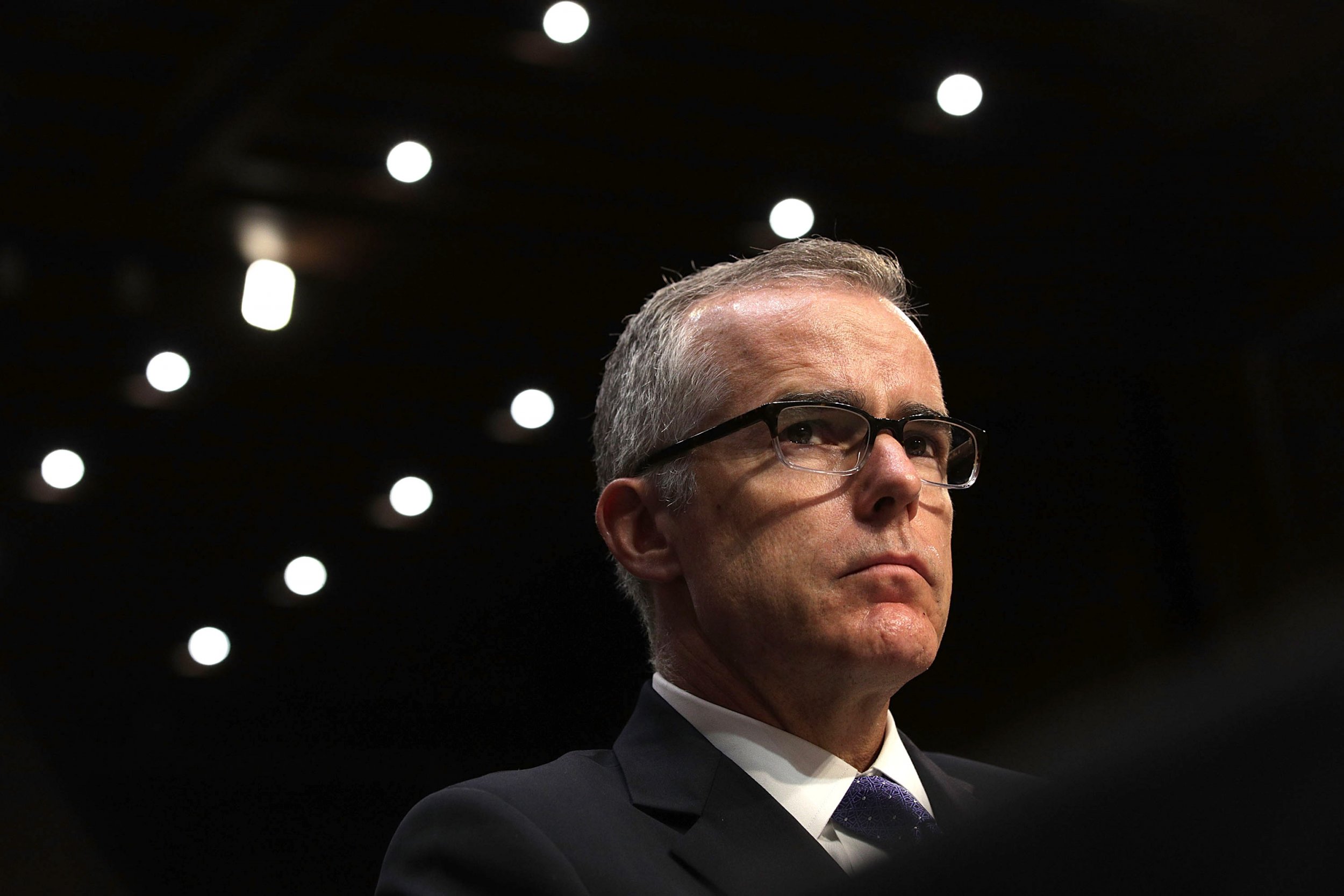 It's not every day that lawmakers on opposing sides of the aisle agree someone as high-profile and controversial as Andrew McCabe, the former deputy director and former acting director of the FBI, should testify to Congress.
But this time, they do.
On the heels of McCabe confirming to CBS 60 Minutes that he and other senior law enforcement officials met at the Justice Department to discuss invoking the 25th Amendment to remove President Donald Trump from office, Republicans and Democrats on the Senate Judiciary Committee tell Newsweek they want to hear from McCabe under oath. However, both sides have their own reasoning.
Judiciary Chairman Lindsey Graham (R-S.C.), signaled plans to formally request that the former FBI official testify to the committee.
"It is imperative that he, and others, come before the Senate Judiciary Committee to fully explain how and why a FISA warrant was issued against Carter Page and answer questions about what appears to be, now more than ever, bias against President Trump," Graham said in a statement.
His office declined to comment to Newsweek whether Graham was prepared to subpoena McCabe.
As part of the FBI's investigation into Russian election interference prior to special counsel Robert Mueller's probe, the agency requested permission from the Foreign Intelligence Surveillance Court in Fall 2016 to collect Page's communications. At the time, Page was a foreign policy aide to the Trump campaign.
In his 60 Minutes interview, McCabe went on the record to confirm revelations laid out by the New York Times via anonymous sources in September 2018.
Following the firing of former FBI Director James Comey by Trump in May 2017, and before the appointment of Mueller, McCabe became acting FBI director and said meetings were held at DOJ to discuss whether there would be enough support from Trump's cabinet officials and Vice President Mike Pence to remove the president via the 25th Amendment. In addition, he confirmed that Deputy Attorney General Rod Rosenstein considered secretly wearing a wire around Trump and that he initiated the FBI's obstruction of justice and counterintelligence probes into him after Comey's firing.
"Obviously, I would want [McCabe to testify] even if Lindsey Graham said he didn't want it," Republican Chuck Grassley told Newsweek. He is the former chairman of the Judiciary Committee and still holds a seat. "With this whole thing, there's too much mystery. We need to know exactly what happened."
Democrats on the committee agree with their GOP colleagues, except they want to hear from McCabe to determine what evidence could have driven him to consider forcing the president from office and less so about alleged "bias against President Trump."
"What's most important to me is why he thought the 25th Amendment should be invoked. What specific facts led him to that terrifying conclusion?" Sen. Richard Blumenthal (D-Conn.) told Newsweek. "To think about wearing a wire or invoke the 25th Amendment is not normal, not customary, not precedented. It's terrifying."
Sen. Mazie Hirono (D-Hawaii) expressed a similar opinion. She told Newsweek she was concerned about accusations from Republicans and Trump that the FBI may have a negative bias against the president.
"That is not what the FBI does," she said. "I just want to get the facts under oath from McCabe. I think he has serious concerns about possible interference and obstruction by this president."
But McCabe has credibility issues of his own. Despite originally resigning from the bureau, he was later fired for allegedly lying several times. A DOJ Inspector General report concluded he "made an unauthorized disclosure to the news media and lacked candor — including under oath — on multiple occasions." His past actions would be heavily scrutinized by Republicans on the Judiciary Committee.
"I think McCabe's a political hack. I think he's been a political hack from day one. I'm not even sure he's worth the time," Sen. John Kennedy (R-LA) told Newsweek. Kennedy labeled McCabe a "political hack" five times, emphasizing his disdain for the former FBI official.
"He was fired, and I say good riddance. If he feels so strongly about this, why didn't he go run [for office]?" Kennedy said. "I can tell you why: he's a political hack. He prefers to do it behind the scenes. I find it embarrassing he was ever part of the Department of Justice."
Still, members from both parties hope to hear his testimony. Democrats said they could better determine his credibility under oath and in a public setting.
"We can judge his credibility when we see him testify. This is the nature of testimony. We can't know ahead of time," Blumenthal told Newsweek. "Obviously, there are reasons to question bias, motives and so forth, and that's fair game for cross-examination or questions before the committee."
Despite the previous allegations of lying levied against him, Hirono said it was her "expectation" he would be less inclined to do so to Congress.