Democrats and Republicans Trust Each Other Less as Politics Continue to Be Deeply Partisan, Study Finds
Amid widening partisan divides and an increasingly freighted presidential election, interparty relations are souring and Americans across the political spectrum are becoming more distrustful of one another, a new Pew Research Center survey has documented.
Even during the fiercely contested 2016 election, sizeable portions of Democrats and Republicans expressed "neutral" opinions toward one another. But those accommodating attitudes have greatly dissipated during President Donald Trump's first term, shrinking by 12 points among Democrats and eight points among Republicans since 2016.
In its place, both parties express much colder opinions of each other. While 61 percent of Democrats and 69 percent of Republicans had an unfavorable opinion of the other party in 2016, by September 2019 those numbers surged to 79 percent and 83 percent respectively.
That mistrust has percolated through many other trans-partisan views, Pew found. Most Republicans and Democrats say members of the other party don't share "many of their other values and goals" outside of politics.
When self-reflecting on their own values, Democrats and Republicans do agree on some key differences. Seventy percent of Democrats believe they are more open minded than Republicans, while a substantially smaller share of Republicans, at 42 percent, think they themselves are more open-minded than Democrats. Republicans similarly have a much higher self-regard about their patriotism, while Democrats view themselves as less patriotic.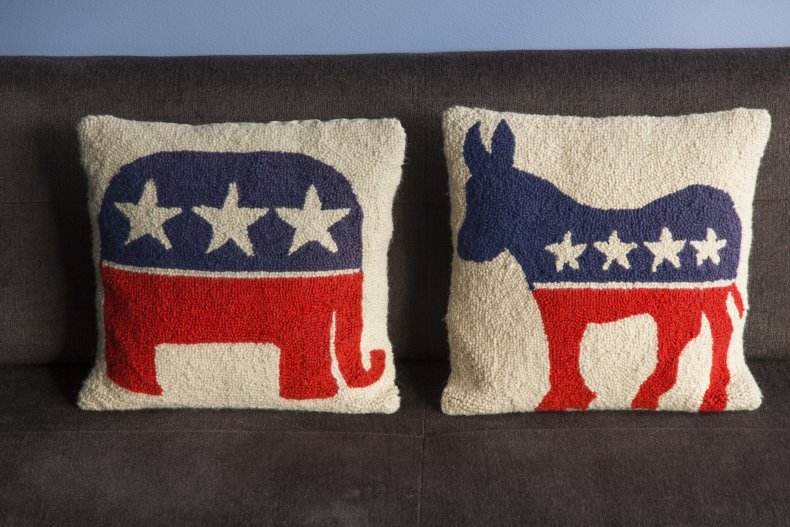 A total of 73 percent of U.S. adults believe that voters in both parties "cannot agree on basic facts," a view shared almost identically by Republicans and Democrats. Democrats are slightly more deferential than their Republican counterparts on policy issues. Fifty-four percent of Democrats think Republicans have at least a few good ideas, while only 46 percent of Republicans feel the same about Democrats.
Republicans are also, apparently, keenly aware of a common criticism about members of their party. Only 25 percent of the GOP feels that their own party is "very respectful and tolerant of others." When Democrats were asked this same question about their own party, 46 percent thought they were "very respectful and tolerant."
But there are latent signs that partisans across the political divide are yearning for a return to moderation, the Pew survey found. Almost half of the members of each party thought that their positions should be moderated. Forty-five percent of Republicans think the GOP is at least "somewhat too extreme" in the positions it takes. Forty-seven percent of Democrats think the same thing about their own party.