Republicans, Democrats Pour Millions Into Montana As State Emerges As Battleground for Control of the Senate
Montana may have overwhelmingly supported President Donald Trump in 2016 but it's clear that this November, Democrats and Republicans see the state's Senate race as a possible win.
Both parties are already pouring millions into the contest between GOP incumbent Steve Daines and term-limited Democratic Governor Steve Bullock.
On Tuesday, it was reported that the Senate Leadership Fund—the main Republican super PAC—would be booking a massive $10.1 million advertising campaign in the state. The ads will start in September and run through Election Day, according to the Washington Examiner.
Their investment in Montana is more than the super PAC plans to spend in some other highly competitive Senate races. The group only booked $7.2 million in Maine for the fall to support Senator Susan Collins, who is seen as one of the most vulnerable GOP incumbents. They've also committed just $9.2 million to help Republican Senator Martha McSally against Democrat Mark Kelly, the best-funded candidate in the country.
The money flowing into Montana is a "tell-tale sign that it's become a battleground state" as both parties fight for control of the Senate this November, according to the University of Virginia Center for Politics analyst J. Miles Coleman.
"Democrats are really expanding the Senate map. One of the reasons they've been able to do that is because they have good candidates," Coleman said. He said that immediately after Bullock decided to challenge Daines, the university's election forecaster Sabato's Crystal Ball changed its rating of the race from "likely Republican" to "leans Republican."
Coleman added that the race could move into a "toss-up" category in the coming months as more polling is conducted. So far, surveys of the race have been sparse. In mid-march, a Public Policy Polling survey found the two to be deadlocked at 47 percent support each. But a poll from Montana State University/University of Denver in late April showed Bullock ahead by 7 points. With the poll's margin of error of plus or minus 3.6 percentage points, it suggests a tight race between Bullock and Daines
Democratic groups are also spending large sums to support Bullock, who decided to launch a Senate bid after dropping out of the Democratic primary for president. While it's widely expected Daines and Bullock will go head-to-head at the ballot box this November, both are being challenged in their June 2 primary races.
The Democratic Senatorial Campaign Committee will spend $5.2 million on television and digital ads in Montana this fall. The committee warned that Republicans shouldn't take the state for granted this election cycle.
"Senator Daines has spent his time in Washington working to take away health care, line the pockets of his wealthy corporate backers, and mislead Montanans. Republicans can no longer afford to take Montana for granted, as another vulnerable incumbent is forced to defend his toxic record," said Helen Kalla, DSCC's rapid response director.
The Senate Majority PAC, the Democratic group aligned with Senate Minority Leader Chuck Schumer, has spent nearly $700,000 on advertisements attacking Daines as of May 19. It's one of the highest amounts that the group has spent targeting Republican incumbents, second only to ad buys against Senator Collins in Maine.
Majority Forward, the Democratic dark money group focused on the Senate, is launching a $3 million ad campaign in Montana over the summer, according to Politico. The group will also invest in other high-stake races, spending $4.2 million in North Carolina and $1.5 million in Arizona.
Even individual lawmakers are contributing to the race. Senate Majority Leader Mitch McConnell has donated $10,000 to Daines so far this year.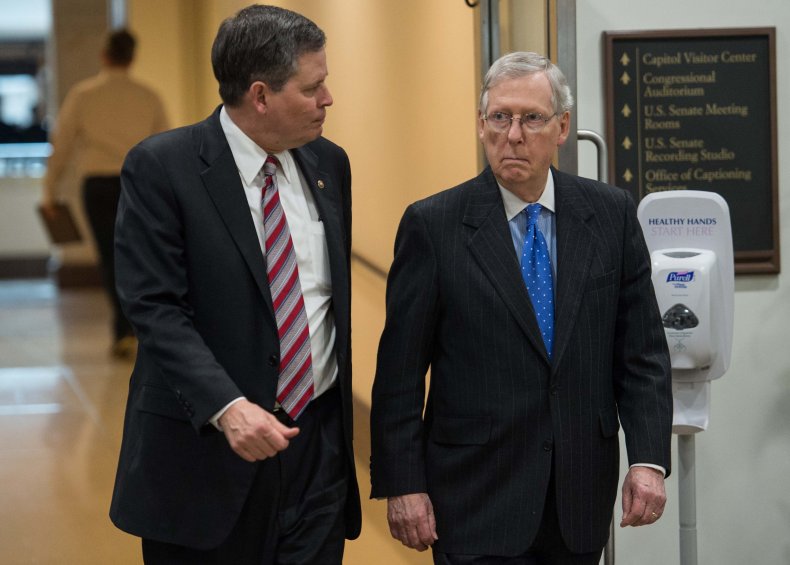 Both parties have a lot at stake in this election cycle. Democrats are aiming to take back control of the chamber and in order to do so, they'll need to flip at least four seats. Right now, the Senate is composed of 53 Republicans, 45 Democrats and two independents who caucus with the Democrats.
Some bad news for Republicans is that they have to defend much more territory in the chamber than their Democratic counterparts. Of the 36 seats up for grabs in November, 23 are held by Republicans.
The battle for the Senate has primarily centered on four races: Arizona, Colorado, Maine and North Carolina. But Montana has emerged as another area of concern ever since Bullock entered the race in March.
"Bullock deciding to run automatically changed the dynamic of the race," said David Parker, a professor of political science at Montana State University. "By various metrics, he's probably one of the more popular politicians in the state even before the pandemic reared its ugly head."
Bullock's approval has seen a spike since the outbreak began thanks to his response to the pandemic.The Montana State University survey showed 70 percent of those polled approved of his response to the COVID-19 outbreak. Fewer than half of the respondents, or 48 percent, said they approved of Daines' response.
In March, Trump tweeted his support for Daines, writing: "The great people of Montana can have no better VOICE than Senator @SteveDaines. Whoever the Democrat nominee may be, please understand that I will be working hard with Steve all the way."
While Trump won Montana by 20 points in 2016—Montana is one of only five states he won by double digits— the state isn't always receptive to his endorsements. In 2018, the state re-elected Democratic Senator Jon Tester despite the president's many attacks against him.
In fact, people tend to split their tickets in Montana more than voters in any other state. Bullock won re-election to the governor's mansion during two presidential elections where residents supported the Republican candidate: Mitt Romney in 2008 and Trump in 2016.
"I've always fought for the people of Montana," Bullock said in a tweet announcing his campaign. "Together, we expanded health care, protected public lands, banned dark money in politics & more. Now I'm taking that fight to the US Senate. Let's make Washington work more like Montana."
Update: This story has been updated to include comment from the Democratic Senatorial Campaign Committee.