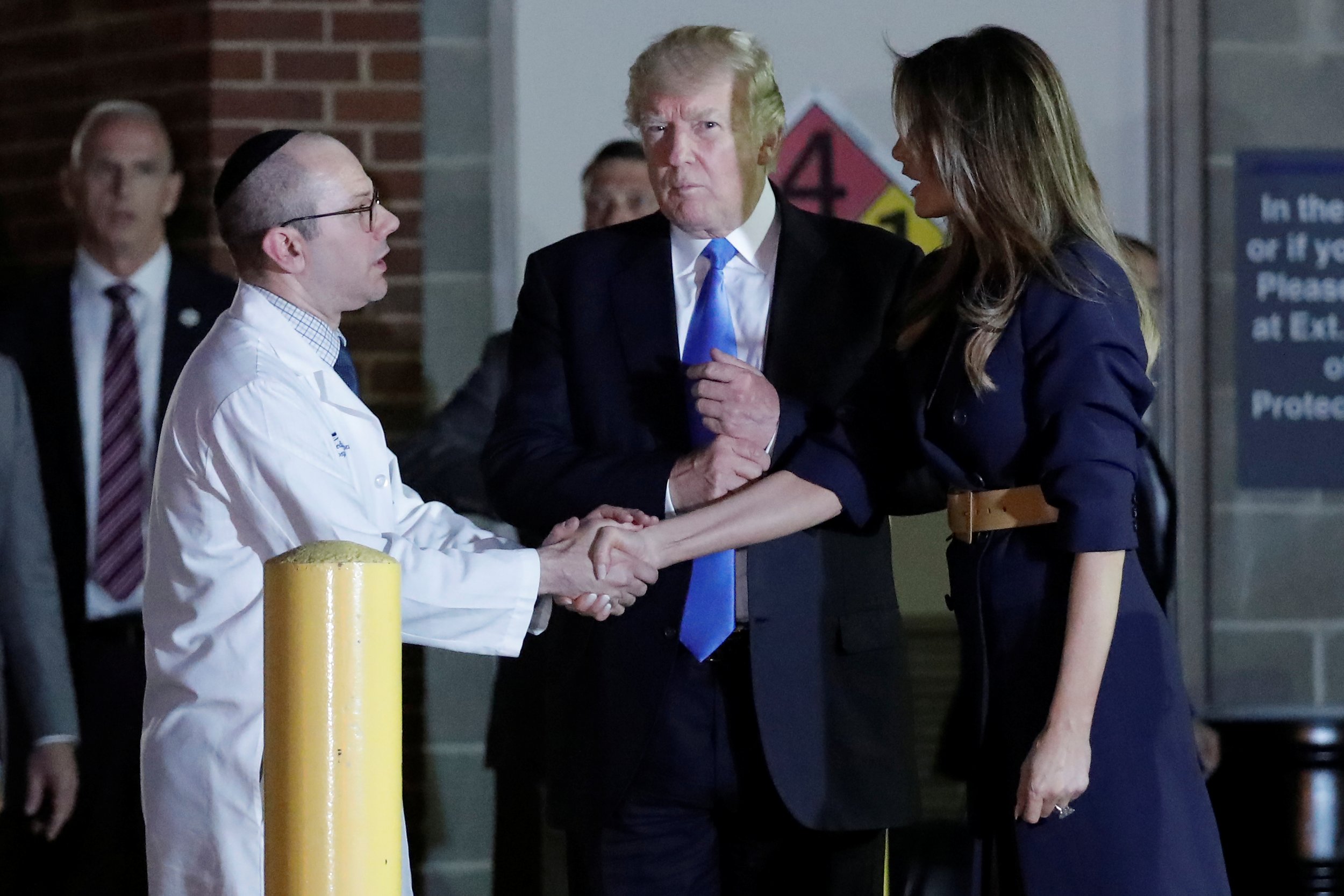 House Majority Whip Steve Scalise remained in critical condition Wednesday as President Donald Trump visited his bedside after Scalise was shot during an early morning GOP baseball practice.
Trump spoke out about the shooting earlier in the day calling for unity in the wake of this "very brutal attack." Yet not all Republicans saw it the same way, with many accusing Democrats of stoking violence on the left.
"We may have our differences, but we do well in times likes these to remember that everyone who serves in our nation's capitol is here because, above all, they love our country," Trump said. "We're strongest when we're unified and when we work together for the common good," the president continued.
Trump visited Scalise's bedside and spoke with his family at the MedStar Washington Hospital Center late Wednesday, the Associated Press reported, calling the Louisiana Representative a "very good friend" and a "fighter." Scalise remains in critical condition and will need several more operations, doctors said.
White House Press Secretary Sean Spicer said the visit was "emotional."
Scalise was shot as GOP congressmen practiced early Wednesday for their annual charity baseball game, which pits Republicans against Democrats to raise money for three local charities.
Read more: Alexandria shooting motive: did anti-Trump rhetoric inspire James Hodgkinson
Just after 7 a.m. gunman James Hodgkinson opened fire on the field at Eugene Simpson Stadium Park with a rifle, just miles from the Capitol building, hitting Scalise who stood near second base. Two Capitol police officers guarding Scalise returned fire and were also wounded. Two other bystanders were hit. None of them died of their injuries.
Hodgkinson later died in hospital from his wounds. It was soon discovered Hodgkinson was a volunteer during Democrat Bernie Sanders' campaign. On learning this Sanders went to the floor of the Senate and issued a statement that he is "sickened by this despicable act" and condemned the shooting "in the strongest possible terms."
"Real change can only come about through nonviolent action, and anything else runs against our most deeply held American values," he said.
From the floor of the House Republican Speaker Paul Ryan called on lawmakers "to slow down and reflect" and resolved "to come together...to lift each other up...and to show the country—show the world—that we are one House."
Yet some within the Republican party began laying blame for the shooting at the feet of Democrats and the divisive politics of the moment in Washington D.C. following the rise of President Trump.
"America has been divided," said Republican Iowa Representative Steve King at the crime scene in an interview with the Washington Post. "The center of America is disappearing, and violence is appearing in the streets, and it's coming from the left."
Police have not yet release a motive for the shooting, but there are reports that Hodgkinson asked whether the practicing congressmen were Democrats or Republicans.
Former speaker of the House and Trump strategist Newt Gingrich told Fox News that the shooting is part of a pattern of "an increasing intensity of hostility on the left."
In recent weeks comedian Kathy Griffin was censured by both Democrats and Republicans for a photo shoot holding a fake severed head resembling Trump. In recent days, a production of Julius Caesar that depicted the assassination of a Trumpian Caesar was condemned.
Democrats said they have also seen a rise in the number of threatening phone calls their offices have received in recent months.
California Representative Nanette Diaz Barragàn told BuzzFeed News that Democratic representatives said they have received calls stating "you guys are next" during a security briefing.