Republicans Up Effort to Convince Joe Manchin to Join GOP Amid Build Back Better Tensions
As Senator Joe Manchin has faced significant backlash from fellow Democrats over his opposition to the Build Back Better Act and other party priorities—Republicans have increasingly urged the West Virginia moderate to switch sides and join the GOP.
Manchin previously dismissed speculation that he could switch political parties, but he said in October that he'd be open to becoming an independent who continues to caucus with Democrats in the Senate. The GOP effort to court Manchin comes as he has become increasingly at odds with fellow Democrats over a range of policy goals.
"The party that [Manchin] is in now nobody can understand. I mean, that's all there is to it," West Virginia Governor Jim Justice, a former Democrat who became a Republican in 2017, told Fox News on Wednesday.
"If you look at what is happening with President Biden, look at what is going on with the border. Look what happened in Afghanistan. Look what's going on with crime and look at the explosion—the explosion of inflation that's eating all of our lives right now," Justice said.
He defended Manchin against Democrats' criticism over his opposition to the Build Back Better Act.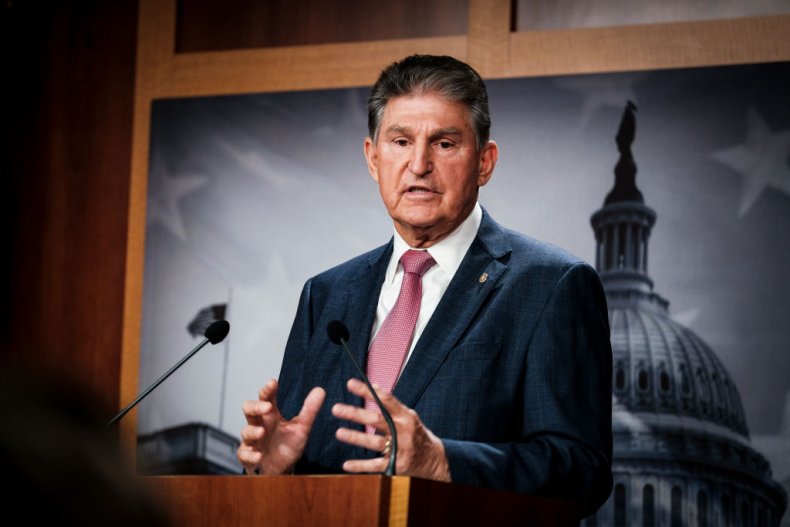 "From the standpoint of what Senator Manchin did, he stepped up and echoed the people of West Virginia," the GOP governor said. "The people of West Virginia are hard-working people. The people of West Virginia know what this country is founded around. It's not founded around socialism."
Manchin angered the White House and fellow Democrats when he announced on Fox News Sunday that he would not support Biden's signature Build Back Better legislation after months of negotiations. Although Democrats aim to continue negotiations in the new year, Manchin's position has potentially doomed passage of the large social spending bill.
Many Democrats have publicly blasted their moderate colleague while Republicans have praised his stance. Several top GOP lawmakers have even suggested Manchin switch parties.
Senator John Cornyn, a Texas Republican, told KXAN in Austin, Texas, this week that he texted Manchin and urged him to join the GOP.
"'Joe, if they don't want you, we do,'" Cornyn said he wrote to his Democratic colleague.
"I don't know what he will decide to do. But I do know West Virginia has gotten increasingly red," the Republican senator told the television station. "And I think his vote on Build Back Better is reflective of what he's hearing from his constituents in West Virginia. So yeah, we'd love to have him. That would change the majority."
Senate Minority Leader Mitch McConnell, a Kentucky Republican, voiced his support for welcoming Manchin to the GOP as well.
"He feels like a man alone. If he were to join us he would be joining a lot of folks who have similar views on a whole range of issues," McConnell told conservative radio host Hugh Hewitt on Wednesday.
Senator Ted Cruz, a Texas Republican, commented on the possibility to Fox News on Monday at the conservative Turning Point USA's AmericaFest in Arizona.
"A lot of folks ask, 'Well, gosh, is Manchin going to become a Republican?' I hope he does. I've asked him to. I think every Republican senator has made that case a dozen times to Joe," Cruz said.
The Texas Republican admitted that it would be a difficult decision for Manchin but asserted that the GOP "would welcome him."
Senator Tom Cotton, an Arkansas Republican, shared a similar assessment—telling Fox News on Sunday evening that the GOP would "welcome" Manchin "with open arms." He praised the moderate Democrat's opposition to the Build Back Better Act.
"I'd say that Joe Manchin has helped deliver an early Christmas present to the American people by saying that this drive for a reckless five trillion-dollar tax and spending bill is done today," Cotton said.
Manchin announced his opposition to Build Back Better this past weekend during an interview with Fox News Sunday.
"If I can't go home and explain it to the people of West Virginia, I can't vote for it. And I cannot vote to continue with this piece of legislation," he said. "I just can't. I've tried everything humanly possible. I can't get there."
The West Virginia Democrat received swift backlash from the White House and fellow Democrats. Earlier this week, White House Press Secretary Jen Psaki released a statement, suggesting that Manchin had misled Biden in their discussions over the legislation.
"Just as Senator Manchin reversed his position on Build Back Better this morning, we will continue to press him to see if he will reverse his position yet again, to honor his prior commitments and be true to his word," Psaki said on Sunday.
Progressive Democrats were even more scathing in their rebuke of their moderate colleague.
"Today, Senator Manchin has betrayed his commitment not only to the President and Democrats in Congress but most importantly, to the American people. He routinely touts that he is a man of his word, but he can no longer say that. West Virginians, and the country, see clearly who he is," Representative Pramila Jayapal, a Washington Democrat who chairs the Congressional Progressive Caucus, said in a statement.
In October, Mother Jones published a report citing anonymous sources who claimed Manchin had threatened to leave the Democratic Party as he has been repeatedly at odds with fellow members. Manchin initially dismissed the report as "rumors" but later said he'd offered to become an independent.
"I'll be very honest. The only thing that was ever said—that we've ever talked about if I'm an embarrassment to my, my Democratic colleagues, my caucus—the president being the leader of the Democratic Party, [Senate Majority Leader] Chuck Schumer and all of them, and I said me being a moderate centrist Democrat, 'if that causes you a problem let me know and I'd switch to be an independent,'" Manchin told Fox News producer Kelly Phares.
The West Virginia senator went on to say that he would still caucus with Democrats under that proposal. He also said that Democratic leaders did not accept his offer, suggesting it wasn't something that would happen.
Newsweek reached out to Manchin's office for comment but did not immediately receive a response.