Republicans Fail to Pass Bill Amendment Aimed at Cutting Aid to Afghan Refugees
Republicans on Thursday failed to pass a bill amendment that was meant to curtail assistance to Afghan refugees who came to the United States after fleeing their country following a U.S. withdrawal.
The GOP tried to attach an amendment to a bill that is meant to provide stopgap funding to keep the government open and extend federal funding that includes emergency aid to Afghan refugees' resettlement into early December, according to The New York Times.
The proposal by Senator Tom Cotton of Arkansas aimed to amend the legislation to block assistance that includes providing Afghan refugees with housing, food and medical aid, and Real IDs. Cotton's proposal lost on a 50-to-50 vote. A tied vote to adjust a bill under Senate rules is not enough to amend legislation.
Cotton's amendment would have curtailed those benefits after March 31, 2023, for Afghans who rapidly entered the U.S. on humanitarian parole. According to the Times, the Arkansas Senator believes that cancelling this aid is logical given that Afghans who were granted special immigrant visas for helping U.S. military, are only allowed such assistance for eight months.
As per the amendment, Cotton also proposed dropping certain language from the bill that allows Afghan refugees to obtain driver's licenses and identification cards without submitting the typically required documents.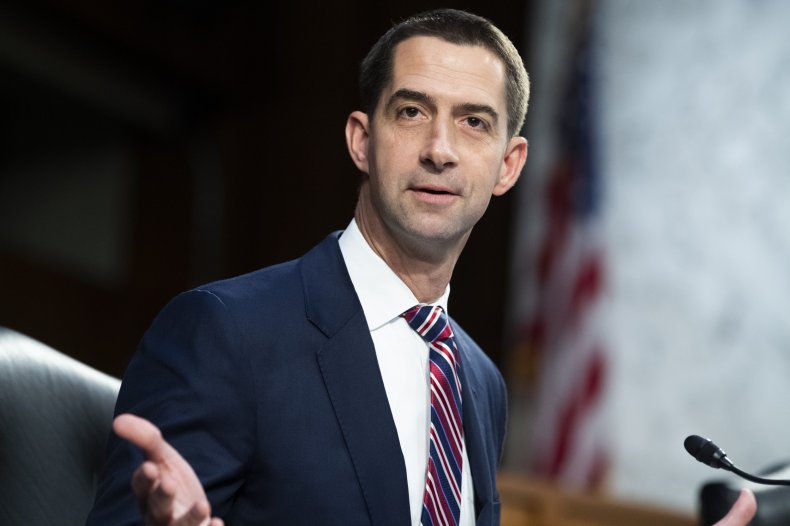 Cotton also wanted the Department of Homeland Security (DHS) to quickly process Afghan asylum applications and set the first interview with an asylum seeker to 15 days after applying, instead of 45 days. His proposal also urged DHS to reach a decision about an asylum application within 150 days of its filing.
The proposal gained split views in the Senate as Republican Senator Rob Portman of Ohio pointed out that the amendment is important to ensure that Afghan refugees are "properly vetted," according to the Times. But, Democrat Senator Jeanne Shaheen of New Hampshire believed that they are already being properly vetted. Shaheen added that the amendment is meant to block Afghan refugees from accessing forms of assistance that they are in dire need of.
Democrat Senator Patrick Leahy of Vermont echoed Shaheen's views in opposition to Cotton's proposal.
"It provides critical assistance to Afghan refugees who fled the Taliban in the wake of the U.S. withdrawal from Afghanistan," he said, referring to the funding measure during a Senate session this week prior to the vote. "Many of those refugees worked with American forces and helped us."
On Thursday, former President Donald Trump urged Republicans to vote against the spending legislation, criticizing the assistance targeting Afghan refugees.
"The Democrats are trying to pass, and just found, is unlimited money to random, unscreened, unvetted Afghan nationals. Republicans can't let this happen. It's a major immigration rewrite that allows Biden to bring anyone he wants from Afghanistan for the next year," he said in a statement.
"We've already seen some of the horrible assaults and sex crimes that have taken place. But these terrible assaults will just be the tip of the iceberg of what's coming if this isn't shut down," Trump argued.
Newsweek contacted Cotton's office for comments but didn't receive a response by the time of publishing.