The Republicans' Fight Club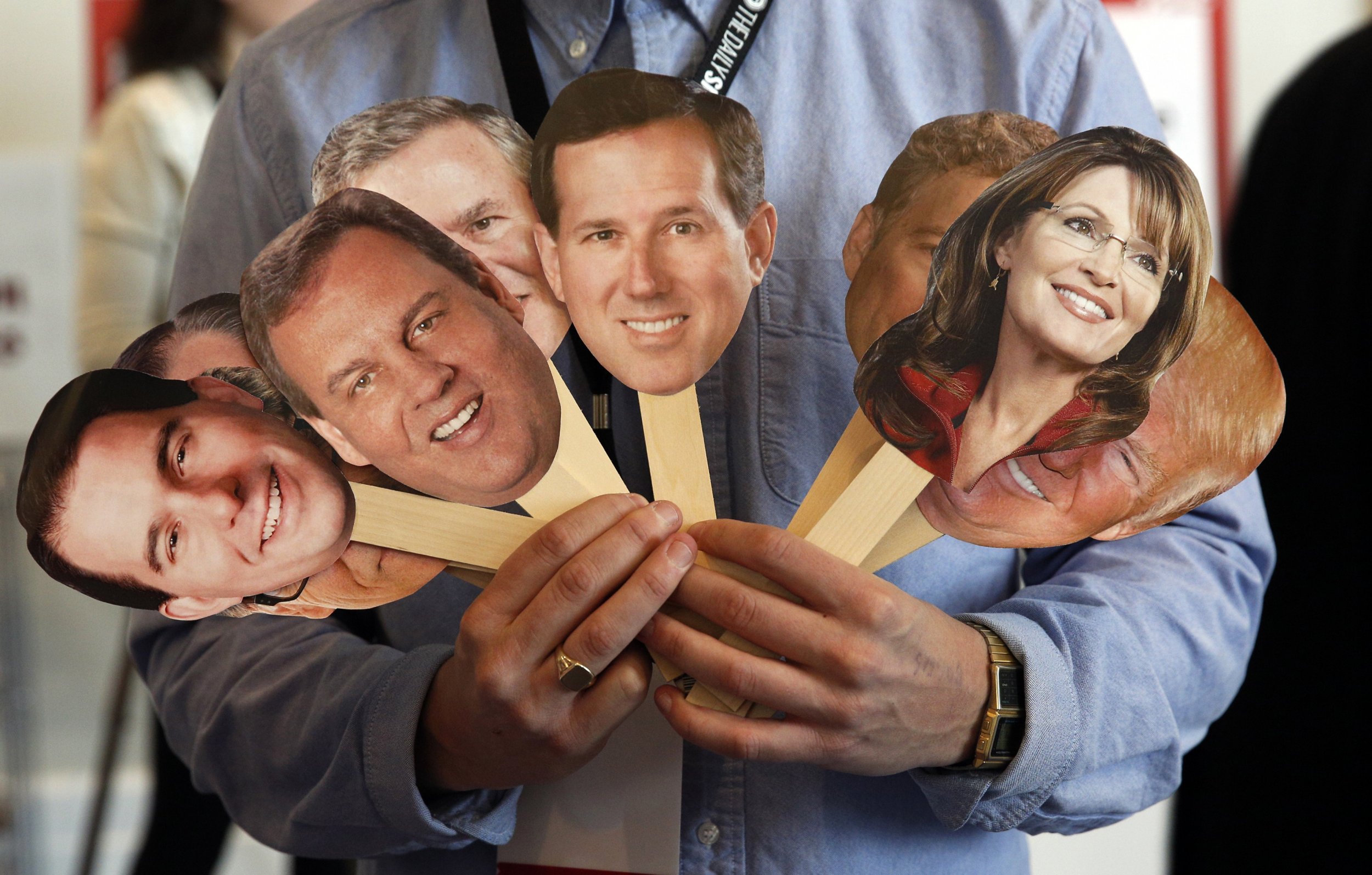 Sometimes, late-night television writers have to scrounge for material. Other times, comedy falls right in their laps.
For example, news reports that a 68-year-old Mitt Romney plans to climb into the ring with former boxing champ Evander Holyfield.
It's part of a May 15 card in Salt Lake City. And before you think Romney's lost his mind (or suffered damage from too many political campaigns), rest assured that (a) his heart's in the right place (it's a fundraising event for Charity Vision, a humanitarian organization founded by retired Salt Lake physician Bill Jackson) and (b) the former GOP nominee hasn't lost his sense of humor ("It will either be a very short fight, or I will be knocked unconscious," he told reporters. "It won't be much of a fight. We'll both suit up and get in the ring and spar around a little bit.").
We'll see how Romney's boxing skills measure up with those of another Utah legend: Donny Osmond.
And it provides us with yet another way to parse the 2016 Republican field.
Given that it's the opening week of the NCAA basketball tournament, I thought of drawing up a series of GOP brackets. But how many candidates to jot down as tournament seeds? Sure, it seems like 64 Republicans are looking at this race. But maybe a Sweet 16 instead? Or, better yet, an Elite Eight?
And who would make it to the Final Four? Scott Walker, Jeb Bush and what other two semifinalists?
Romney's planned foray in the "square circle" provides another way to sort the field of hopefuls: fight club.
What if, in addition to the Romney-Holyfield bout, the 2016 candidates were featured in an undercard? Those bouts would include:
1) Rick Perry vs. Lindsey Graham. This two-hawks matchup features a pair of Southern candidates running hard on national security. They're also the only two Republicans to have served in the military (Perry served in the U.S. Air Force, flying C-130 tactical airlift aircraft in Europe and the Middle East; Graham was a senior prosecutor at Rhein-Main Air Force Base in Germany and remains a colonel in the Air Force Reserves).
2) Mike Huckabee vs. Ben Carson. Two Republicans who could square off to settle, once for for all, which one owes more to the Fox News Channel. FNC gave Huckabee a home (and a national viewing audience) for six-and-a-half years on Saturday nights after his 2008 presidential run. Carson, as a Fox News contributor, has turned his opposition to Obamacare into speeches, a book and now a presidential run. Without Fox, neither one's in this contest.
3) Ted Cruz vs. Rand Paul. A pair of cowboy-booted conservative stars romancing voters in decidedly different ways. Cruz came to Washington wanting to burn down the village (the debt-ceiling debate this fall will be a big moment for him). Paul likes to take his libertarian message to places Republicans don't usually frequent, like Howard University and the Berkeley campus.
4) Chris Christie vs. Bobby Jindal. A pair of governors punching over and under their weights, but with this in common: Each is struggling to find a way into a crowded field. Christie's coping with the perception that his candidacy is already over before it actually ever began. As for Jindal, the problem is trying to be too many things at once—by The Washington Post's count: "A hawk. A wonk. A tea party rebel. A Christian revivalist. A first-generation American. A Bubba."
5) Carly Fiorina vs. a Life-Size Hillary Cutout. In the past week, the former H-P chief and failed 2010 Senate candidate has set herself up nicely as Hillary Clinton's foil. Fiorina's willingness to call out the likely Democratic nominee is a clever way of highlighting the fact that she's the only woman in the Republican field—and pays dividends when Clinton allies return fire by calling Fiorina a front for GOP misogynists.
6) Jeb Bush-Scott Walker. The main event—for now. Walker's survived two all-out assault by unions in a 2011 recall vote and his 2014 re-election. He knows how to both throw and take a punch. Walker even dons a pair of boxing gloves in this ad from his 2010 gubernatorial run:
Bush doesn't have the same same pugilistic record. Still, given what happened in the Florida recount (plus his gifts as a strategist), we think he could do some creative math with the judges' scorecards.
Bill Whalen is a research fellow at the Hoover Institution. This article first appeared on his blog A Day At The Races.