Republicans Frame Democrat Raphael Warnock As Anti-Police Marxist Ahead of Georgia Senate Runoff
Republicans are launching a series of aggressive attacks on Democrat Reverend Raphael Warnock, framing him as an anti-law enforcement Marxist ahead of the Georgia Senate runoff.
This week, GOP Senator Kelly Loeffler sunk over a million dollars on two new attack ads against her Democratic opponent, portraying Warnock, who has led Martin Luther King Jr.'s historic church in Atlanta for 15 years, as an "anti-American" component of the "radical left."
The first Loeffler attack ad against Warnock, released Thursday, resurfaced the Democrat's defense of the controversial Reverend Jeremiah Wright in 2008. The second ad insisted that "the radical left" would control the Senate if Warnock is elected and included images of "defund the police" and mobs of people.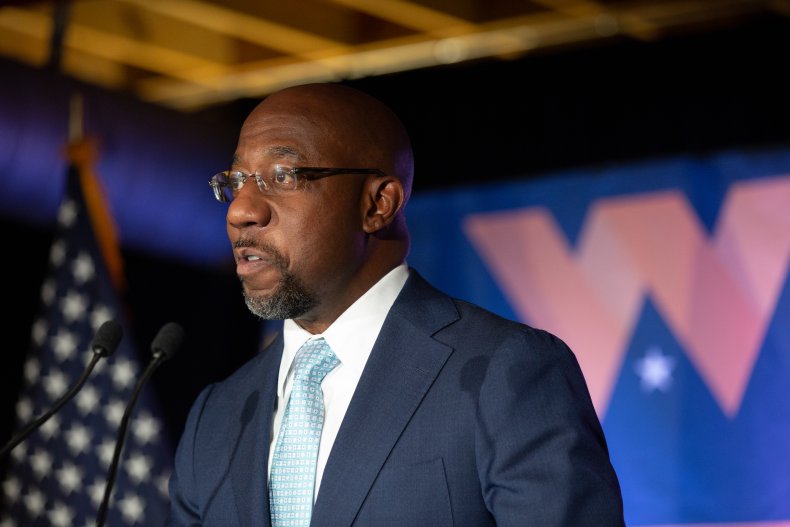 Warnock called the attacks "misleading" in a Friday CNN interview and vowed not to "allow himself to be distracted by Kelly Loeffler." The Democrat accused Loeffler of trying to deflect attention from her opposition to the Affordable Care Act (ACA) and welcoming support among "bigots."
"If you don't really have an agenda for working families, I guess you have to distract working families," Warnock said this week. "I intend to stay focused on making sure that every Georgian has access to affordable health care, that workers share in some of the profits that they're creating and that they are able to retire with dignity."
Other Republicans have joined in the onslaught against Warnock. His race against Loeffler represents one of the two in the state that will help to determine Senate control. Republicans have 50 seats going into the next Congress and Democrats have 48, meaning Democrats must win both of the January runoffs in Georgia to have a shot of controlling the upper chamber next year.
On Wednesday, Senator Marco Rubio of Florida told attendees of a Loeffler campaign event that Fidel Castro once made an appearance at a New York church where Warnock worked as a youth pastor 25 years ago. "25 years later, one of the pastors of that church wants to be the U.S. senator from Georgia." Rubio said. "So, all that reminds me of is this: it's true, to be fair, not all Democrats are socialists. But all the socialists are Democrats."
Warnock largely dodged GOP attacks in the runup to November 3 as Loeffler and Republican Congressman Doug Collins of Georgia battled over support of President Donald Trump's conservative voters in the state. Republican strategist John Ashbrook, a former aide to Senate Majority Leader Mitch McConnell, said that "the main reason why you hadn't heard more until now" is because "the chaos of the Georgia Senate race up until last Tuesday sort of allowed Warnock to fly under the radar because there were so many people on the ballot."
Newsweek reached out to Raphael Warnock's campaign for comment.