Republican members of the House Oversight and Reform Committee repeatedly called Michael Cohen, President Donald Trump's former lawyer and "fixer," a "liar," a "convicted perjurer," a "fake witness" and a "disgraced felon" during Cohen's testimony before the committee on Wednesday.
The way they handled the Cohen hearing was "not because they believe that his testimony is false, but because they fear it is true," wrote Peter Wehner, who served in the administrations of Ronald Reagan, George H.W. Bush and George W. Bush, in a New York Times op-ed.
"They tried to impugn his character, but were unable to impugn the documents he provided," wrote Wehner. "Nor did a single Republican offer a character defense of Mr. Trump. It turns out that was too much, even for them."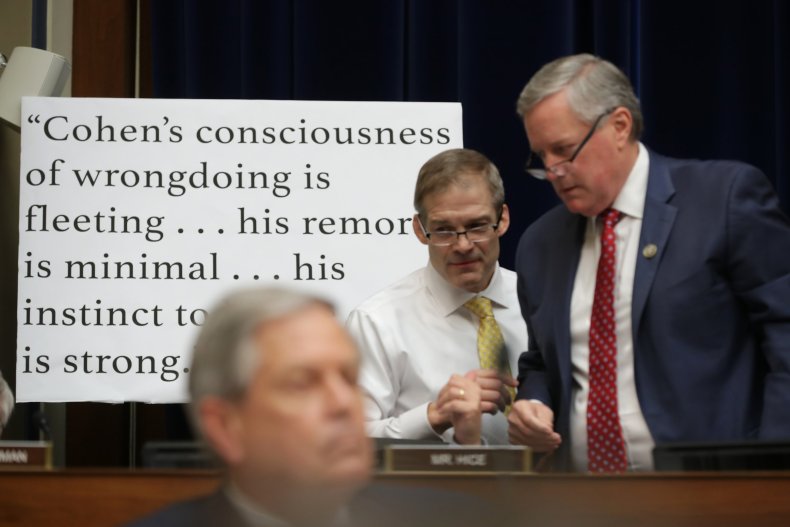 Cohen's damaging testimony came with a warning to Republicans who have so fervently defended the president amid investigations and alleged criminal wrongdoing: "The more people that follow Mr. Trump—as I did blindly—are going to suffer the same consequences that I'm suffering."
Currently a senior fellow at the Ethics and Public Policy, Wehner had considered the GOP his "political home" since he was in college, but no longer.
"In a sane world, the fact that the president's former lawyer produced evidence that the president knowingly and deceptively committed a federal crime—hush money payments that violated campaign finance laws—is something that even members of the president's own party would find disquieting," Wehner wrote. "But not today's Republican Party."
The evidence came in the form of two checks that Cohen had provided to the hearing, each for $35,000 and made out to him. One had been signed by Trump and was dated August 1, 2017, almost seven months after Trump had taken office, while the other, dated March 3, 2017, was signed by Donald Trump Jr. and the chief financial officer of the Trump Organization.
Cohen said the checks were part of a series of reimbursement payments for Cohen having fronted $130,000 in hush money to adult film star Stormy Daniels shortly before the 2016 election. Having pleaded guilty to the campaign finance violation charges resulting from these transactions, Cohen said he made the $130,000 payment at the direction of Donald Trump, who then told him to lie to first lady Melania Trump about the payment and the alleged affair with the adult film actress.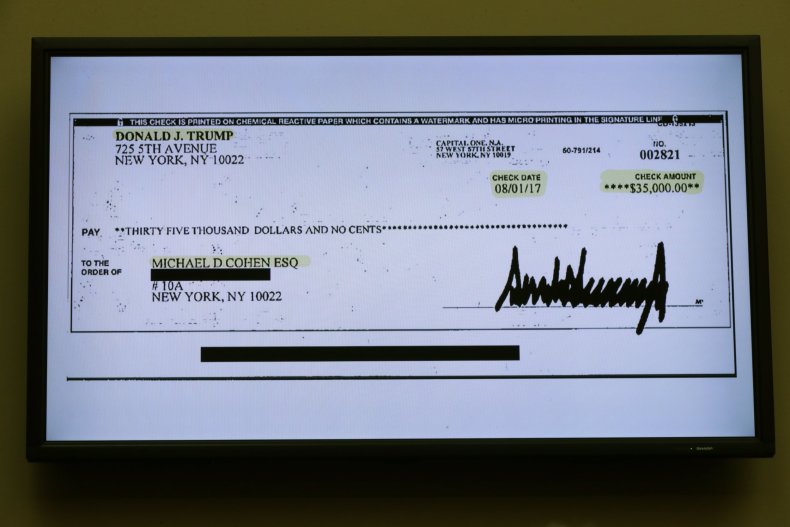 Cohen said Wednesday that the Southern District of New York was investigating other possible criminal wrongdoing by the president, and that during the campaign Trump had been given advance notice by Roger Stone of a massive WikiLeaks dump of stolen emails from the Hillary Clinton campaign. Cohen also said it was likely the president's oldest son, Donald Trump Jr., had advised his father of the 2016 Trump Tower meeting with a Russian lawyer to obtain "dirt" on Clinton before that meeting took place.
Republican Representative Ralph Norman told Newsweek that Cohen's testimony was "obvious for what it is: It's an effort to discredit the president."
Wehner wrote: "In the most transparent and ham-handed way, [Republicans] saw no evil and heard no evil, unless it involved Mr. Cohen. [Trump] is their emperor, and they are his political Praetorian Guard."
During his testimony, Cohen urged Republicans not to "blindly" defend the president as he had done for 10 years, warning they would "suffer the same consequences that I'm suffering." In the 10 years he had worked for Trump, Cohen said he was directed to issue "probably" 500 or so legal threats to people or organizations. "Everybody's job at the Trump Organization," he said, "is to protect Mr. Trump. Every day most of us knew we were coming, and we were going to lie for him about something. That became the norm."
This "defacing the truth and disfiguring reality," Wehner wrote, has become the "norm of the Republican Party and the American right.
"When this story is finally told—when the sordid details are revealed, the dots finally connected, the Republican Party will be the political and institutional version of Mr. Cohen, who squandered his integrity in the service of a man of borderless corruption."