Republican's Gushing Posts on Male Model's Instagram Sends Internet Wild
Tennessee Lieutenant Governor Randy McNally has said he "enjoys interacting with constituents" and "has no intention of stopping," after it emerged he repeatedly praised racy photos from a local LGBTQ model on Instagram.
The Republican politician posted the comments on pictures from 20-year-old Franklyn McClur, who shares raunchy images on the platform under the name of franklynsuperstar. In his comments, which were first reported by local news site The Tennessee Holler, McNally frequently referred to McClur by his nickname of "Finn."
Earlier this year, McNally was presiding over the Tennessee Senate when it passed legislation banning drag performances in non-age-restricted public spaces, along with gender-affirming care for children. These bills were later signed into law by state Governor Bill Lee.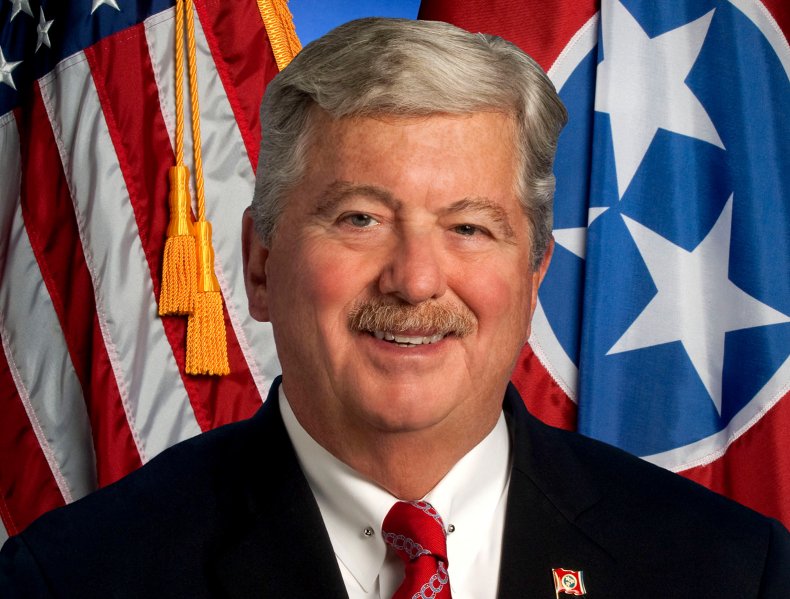 Recent months have seen intense debate around LGBTQ rights across the United States, with Republican states passing a number of laws impacting the community.
In one Instagram post, McClur shared what appeared to be a nude photograph, to which McNally replied: "Great picture, Finn! Best wishes for continued health and happiness."
Another post saw McClur share a photograph of his underwear-clad buttocks, following which McNally posted: "Finn, you can turn a rainy day into rainbows and sunshine!"
On a third post, McNally responded to a photograph of the amateur model in his underwear by commenting: "Super look Finn."
Speaking to the Daily Mail, McClur said he had also exchanged private messages with McNally, though he declined to reveal their content.
Adam Kleinheider, McNally's spokesperson, said his boss stood by his decision to post "encouraging things" to other social media users in a statement sent to Newsweek.
He said: "Trying to imply something sinister or inappropriate about a great-grandfather's use of social media says more about the mind of the left-wing operative making the implication than it does about Randy McNally.
"As anyone in Tennessee politics knows, Lt. Governor McNally is a prolific social media commenter. He takes great pains to view every post he can and frequently posts encouraging things to many of his followers.
"Does he always use the proper emoji at the proper time? Maybe not. But he enjoys interacting with constituents and Tennesseans of all religions, backgrounds and orientations on social media. He has no intention of stopping."
A number of Twitter users praised McNally after the statement was released, with one commenting: "That's right. Be proud Randy. Be who you are."
Another wrote: "Fabulous, Randy McNally! Now protect your constituents from harmful and discriminatory legislation."
Other users on the platform suggested McNally was being hypocritical in light of the recent LGBTQ laws passed in Republican states.
Elizabeth Madeira, an organizer at the progressive Southern Christian Coalition, tweeted: "I have zero problem with Randy McNally's sexual orientation. But I do have a gigantic problem with his discriminatory laws against the LGBTQ+ community, which is what infuriates me."
A second Twitter user jokingly added: "If only Randy McNally would support all gay Tennesseans with the same generosity he extends to this poor boy who can't afford pants."
McNally has previously spoken out against legislation targeting the LGBTQ community, such as in 2019 when he expressed concern about a series of proposals, including laws defying the Supreme Court ruling that legalized same-sex marriage.
In response, McNally expressed concern about the impact these proposals could have on both local businesses—after similar laws in other states triggered boycotts—as well as individual liberty.
Speaking to The Tennessean he said: "We're just going to be sensitive to the effect that some of those might have on business and events that could occur in Tennessee.
"We also want to be sensitive to the rights of individuals."