'Republicans Hate Poor People': Colorado GOP Group Apologizes For Social Media Post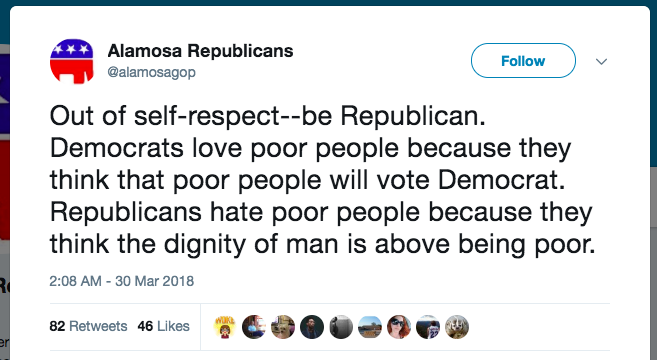 A Colorado-based GOP group issued a public apology yesterday for a social media post that claimed "Republicans hate poor people."
The Alamosa County Republicans took to Facebook to apologize for the comments on Friday, which urged Americans to be Republicans "out of self-respect."
"Democrats love poor people because they think that poor people will vote Democrat. Republicans hate poor people because they think the dignity of man is above being poor," the original post said.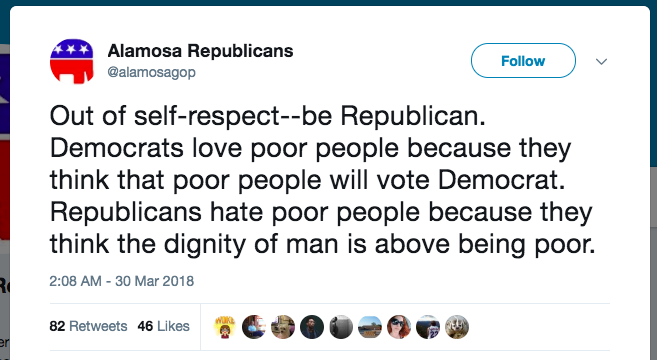 The group have since deleted the post on their Facebook page, however, it still remains on Twitter.
On Sunday, the chair of the organization called the post "inappropriate and offensive" and confirmed that the individual who posted it has since resigned.
"Hate has no home here," the Facebook apology said. "The author acted independently and without the concurrence of any other member of the Alamosa County Republicans."
"The regrettable post was made with the intention of condemning poverty, not persons affected by poverty, and was not meant to insult anyone," it continued.
"However, that occurred, and the author sincerely regrets the post and has offered his resignation from his position with the Alamosa County Republicans, which has been accepted. Actions have consequences."
Social media users condemned the group's apology, with some saying it seems disingenuous given that the original post has still not been taken down from Twitter.
"You literally have the exact same message still posted to your twitter at this moment. That makes the apology seem disingenuous," one user wrote.
Another added: "I am a Republican and I have never been so embarrassed to say this. But this past year I've just been so embarrassed of the ignorant thinking that people are having. Shame on you guys for keeping the post."