Republicans Have No Regrets About Rejecting John Bolton as an Impeachment Witness
President Donald Trump "pleaded" for Chinese President Xi Jinping to help him win re-election, gave the green light for the country to build Muslim internment camps and told Xi that Americans want to alter the Constitution so Trump can stay in power beyond his two-term limit.
Those are just some of the explosive allegations in John Bolton's forthcoming book that have been leaked to the press.
However—despite the serious accusations from the former Trump national security adviser—Senate Republicans have no qualms about refusing to subpoena Bolton for testimony during the president's impeachment trial earlier this year.
"I made the decision that I made, at the time that I made it. There's no going back," said Senator Lisa Murkowski (R-Alaska). "I don't regret that decision."
"The trial is over," added Senator Lamar Alexander (R-Tenn.).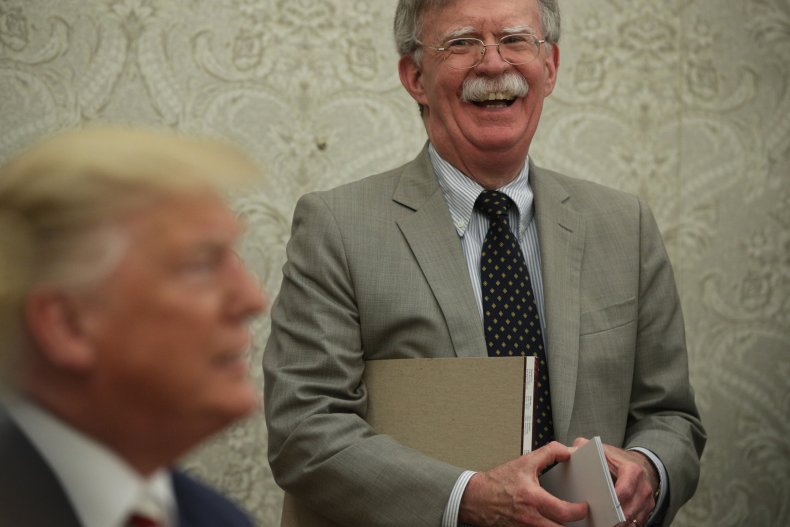 Murkowski and Alexander were two of four GOP senators that Democrats looked to in their endeavor to muster enough votes to subpoena Bolton, who became a star potential witness in the Senate trial after it was reported that a portion of the memoir details how Trump tried to withhold U.S. foreign military aid to Ukraine in exchange for an investigation into his political rivals. The two articles of impeachment against Trump—abuse of power and obstruction of Congress—centered on the Ukraine allegation and the president's handling of the congressional probe.
Democrats ultimately fell one or two votes short—depending on whether Chief Justice John Roberts would have cast a deciding vote—with only Senators Mitt Romney (R-Utah) and Susan Collins (R-Maine) crossing the aisle to support calling witnesses.
Many Republicans on Thursday dodged questions about Bolton's most recent charges, pivoted to blame House Democrats for not securing Bolton's testimony or characterized the man as a disgruntled former employee with questionable claims who is trying to make a quick buck off a book deal. Some GOP lawmakers conceded that even if they would've heard from Bolton, it wouldn't matter because the trial's outcome would have been the same: an acquittal of Trump.
"He's trying to sell a book, and we've got so many things that are more important to do," said Senator John Cornyn (R-Texas), a leadership member.
Bolton threatened to sue House Democrats if they subpoenaed him during the impeachment inquiry but was willing to talk during the trial before the GOP-led Senate. Ultimately, neither chamber summoned him.
"That was the House that never called him as a witness," Senator Marco Rubio (R-Fla.) said. "If we had called him or other people as a witness, we might still be in court right now in the middle of a pandemic...fighting the administration."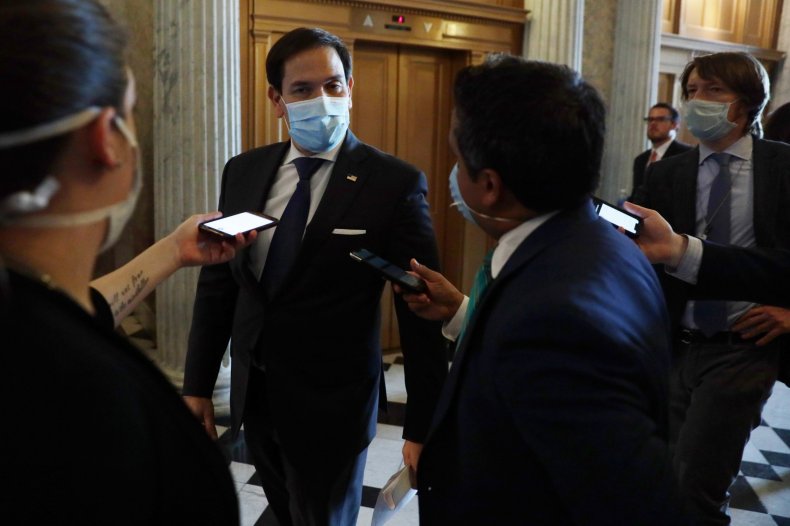 "Just like I said back in impeachment, some of that stuff was inappropriate but not impeachable." Said Senator Mike Braun (R-Ind.). "To me, that's all water under the bridge. It's not gonna make any difference at this point. We got an election in four and a half months."
Chairman of the Senate Foreign Relations Committee, James Risch (R-Idaho), waved away several reporters, saying "I'm not doing any interviews on John Bolton."
Romney was the only one to stand out among his peers. He said the accounts from Bolton's book, The Room Where It Happened, which comes out next week even as the White House is suing to block its release, makes him "wish we'd have heard him in the impeachment trial."
"That's why you have witnesses," added Romney, who became the first lawmaker in American history to vote for the ouster of a president from the same party.
Trump, as well as other current officials referenced in the tell-all book, have denied the revelations laid out by Bolton.
"Bolton's book, which is getting terrible reviews, is a compilation of lies and made up stories, all intended to make me look bad," the president tweeted Thursday. "Many of the ridiculous statements he attributes to me were never made, pure fiction. Just trying to get even for firing him like the sick puppy he is!"
Bolton has left Democrats struggling over how to respond to the claim that Trump sought an additional country's help in his re-election bid, among the other assertions in the book that deeply troubled Democrats. And House Democrats also say they have no quarrels with how they handled their chamber's impeachment proceedings, including the decision to not wage a court battle for Bolton's testimony.
"I have no regrets. No, I'm very proud of what we did," House Speaker Nancy Pelosi (D-Calif.) said.
In court proceedings, House Democrats have said the option of embarking on another impeachment quest remains on the table. However, such a quest in the months leading up to an election would be all but political suicide. Some Democrats, such as Pelosi and Intelligence Chairman Adam Schiff (D-Calif.), are weighing their options, which could include a subpoena for Bolton's testimony.
Democratic senators have floated the idea of having him come before the Senate to testify and provide more details about his assertions, though that would require GOP buy-in. And Democrats concede that even if they'd heard from Bolton during the trial, it almost certainly would not have altered the result.
"We're not gonna impeach the president, but we can certainly use our investigatory power to find out the truth," Senator Chris Murphy (D-Conn.) said. "The Bolton book should be evidence for the election rather than another trial."