Republicans Have Privately Called Biden to Congratulate Him on His Win, Says President-Elect
President-elect Joe Biden addressed the fact that many members of the GOP had not publicly acknowledged his election victory during an exclusive interview with CNN's Jake Tapper on Thursday.
President Donald Trump has refused to concede the presidency to Biden, alleging that the Democratic Party rigged the election to fall in Biden's favor. Many observers have described Trump's remarks as unsubstantiated. Some Republicans have fallen in line with Trump and refused to offer Biden their congratulations in a public forum. According to Biden, some GOP senators have reached out surreptitiously.
"There have been more than several sitting Republican senators that have privately called to congratulate me," Biden said. "I understand the situation they find themselves in. Until the election is clearly decided in their minds when the Electoral College votes, they get put in a very tough position."
Biden could be facing an uphill battle in getting the Republican-controlled Senate to cooperate with his administration. Senate Majority Leader Mitch McConnell has yet to publicly acknowledge Biden's victory. Biden said Thursday that he expected "at least a significant portion of the leadership" to work with his administration after the Electoral College.
"I don't know that it's gonna break across the board," Biden said. "I'm not saying that. It's not the same Senate. I don't mean in terms of their philosophy. It's not the same Senate personnel that I knew when I left the Senate."
Newsweek reached out to McConnell's office for comment.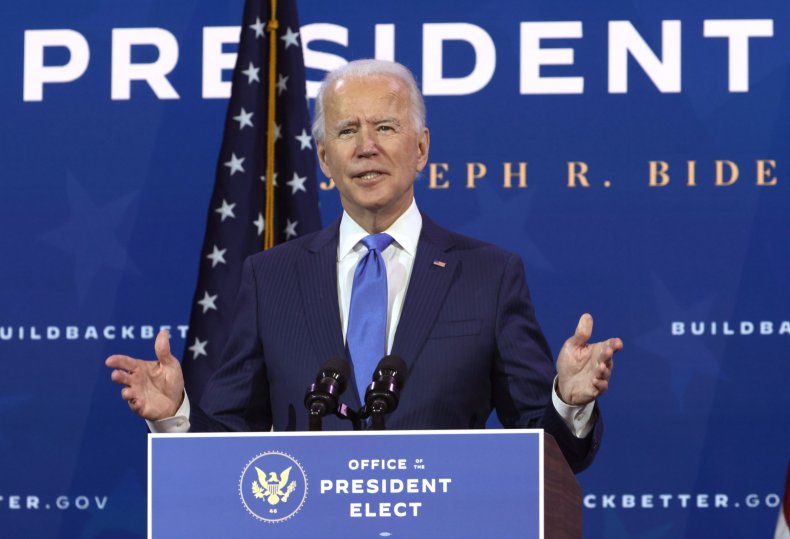 Although McConnell has yet to publicly offer Biden his congratulations, he did appear to make reference to Biden's incoming administration during a Tuesday news conference. When reporters asked about the progress of a new coronavirus economic stimulus package, McConnell indicated that he expected discussions of "some additional package of some size next year depending on what the new administration wants to pursue."
Trump has made unsubstantiated claims of victory in the presidential election, although Biden has been widely projected to have defeated Trump in both the popular vote and the number of electoral votes obtained. Despite Trump's claims that he will never concede the election, Biden's transition teams have been allowed access to federal resources to facilitate a smooth transfer of power between administrations.
Trump's legal team has attempted to overturn the election results in some states that Biden carried. Many of the lawsuits filed on Trump's behalf have been dismissed by judges for lack of evidence. Trump has continued to allege that there has been proof of Democrat fraud to declare the election invalid.
"Ultimately, I am prepared to accept any accurate election result," Trump said, "and I hope that Joe Biden is as well. But we already have the proof. We already have tens of thousands of ballots, more than we need to overturn all of these states that we're talking about."