Republicans to Hold 'Let's Go Brandon' Rally in Brandon Central Park, City of Brandon, Vt.
The Vermont state Republican Party has announced plans to hold a "Let's go Brandon" rally this weekend in Brandon Central in the city of Brandon.
The chant, which became popular after Brandon Brown won a NASCAR race on October 2, is not actually in support of the driver but a euphemism used in place of the profane phrase, "F*** Joe Biden."
But the Vermont Republican Party is taking advantage of the phrase by scheduling a rally in the aptly named city's central park for November 13.
"There is little doubt that President Biden is off to the worst start of any president since Jimmy Carter. Gas prices have nearly doubled, supply chains have been disrupted, nearly every business you go to is having staffing problems," the Vermont Republican Party said in the announcement.
They continued, "While Biden is making it harder for the people of Brandon to fill their gas tanks, get groceries and shop—let's all pitch in to do something GOOD!"
Vermont's GOP plans to sell merchandise like bumper stickers, t-shirts and hats with the slogan and party's logo. They added that because of supply chain issues, which they blamed Biden for, there is limited availability and sizing. However, a portion of proceeds from the sales will be donated to Brandon's Emergency Food Shelf.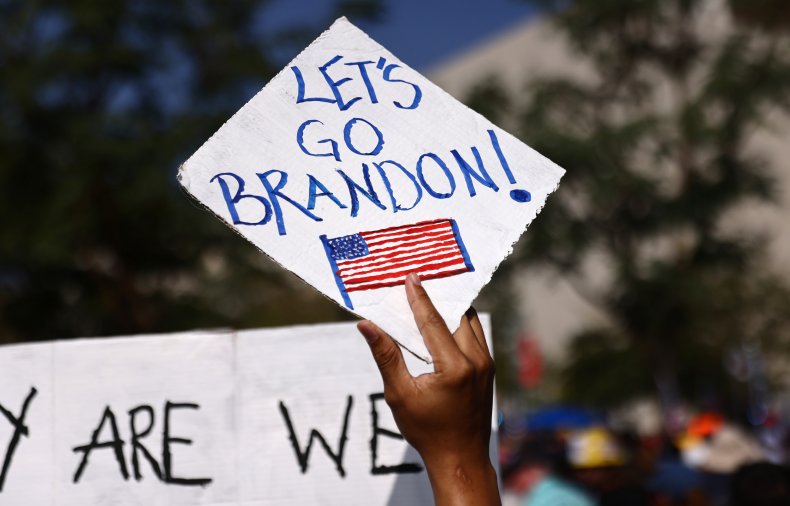 Following the rally, the Republican Party encourages attendees to help support the Brandon economy by eating local and filling up their gas tanks in town before heading home.
Paul Dame, a former Vermont lawmaker who was elected as the new party chair over the weekend, said that he hoped to start the new session with a little "fun."
Originally from the city of Brandon, Dame said that Biden has done nothing to help the people of the state so Vermont Republicans are stepping up to support the community.
"Most presidents try to act swiftly in the first 100 days, and President Biden has next to zero accomplishments as we approach the last 60 days of his first year," the Vermont state GOP said in a statement announcing the rally.
Dame said that while he's excited with the energy of the party, there isn't a lot of direction and he hopes to provide the momentum the Republican Party needs to "make some really impressive gains," although Democrats still hold a supermajority in the Vermont legislature.
The Vermont GOP's "Let's go Brandon" rally announcement comes as Biden's approval ratings continue to sink, even amidst his supporters, and Republicans hope to gain control during next year's midterm elections.
Newsweek reached out to the Vermont Republican Party for comment.