Republicans are "horrified" by President Donald Trump's behavior and are "awfully tired" of defending him, 2020 Democratic candidate Michael Bennet said when asked if he was hearing more Republican lawmakers say they are supportive of impeaching Trump.
Bennet, a senator from Colorado, shared his take on how some Republican lawmakers are feeling about Trump in an interview on CNN Newsroom on Monday.
The show's co-anchor Jim Scuitto said that Republican Senator Lindsey Graham has said he is open to the possibility of impeaching Trump and that Republican Senator Mitt Romney has said Trump's interactions with Ukraine are not acceptable.
Scuitto continued that Bennet has conversations with Republicans and "I'm not going to ask you to break any confidence you have with them, but I'm curious, are you hearing more private expressions of support for removing this president than we hear publicly from the Republican side?"
"I would not say privately that I'm yet hearing private expressions of support, but I am hearing private expressions that people saying they're horrified by the president's behavior," Bennet replied.
Bennet continued that Republicans are "horrified" that Trump invited Ukraine to interfere in the 2020 presidential election by requesting an investigation into candidate Joe Biden and that acting White House chief of staff Mick Mulvaney admitted it was a quid pro quo.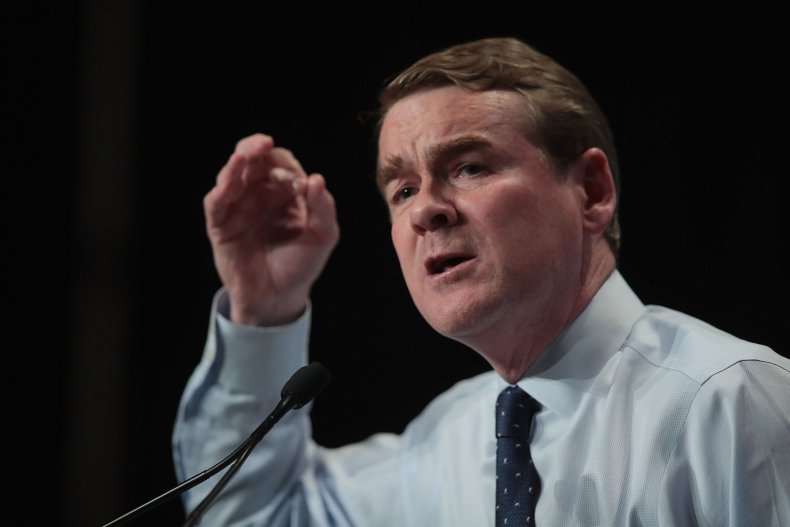 "They're particularly horrified by what the president did in northern Syria by abandoning the Kurds there, something that I think there's a consensus in the Senate no other president in history would have done," Bennet said, adding, "We have to stand up to tyrants here and abroad. That's what we're all about."
Bennet said that "we have to make America, America again" and "we've had enough" of Trump.
"I do think there are Republicans in the Senate who are getting awfully tired of having to defend him," Bennet said, but did not ultimately say there are Republican lawmakers in favor of impeaching Trump.
Scuitto said that "standing up to tyrants used to be a really bipartisan, non-controversial thing," and Bennet replied, "It was and let's hope for that again."
Bennet last week called the Democratic National Committee (DNC) rules for making the fourth Democratic debate "idiotic" after he did not qualify on either the polling or fundraising thresholds. Bennet said he was frustrated because some of the dozen candidates that participated in the debate were polling lower than him, at zero, 1, or 2 percent.
"And they're still up there because of the idiotic DNC rules, which makes them seem more viable than I am, but I'm not sure they are," Bennet said. "And I'm totally unconvinced that they have a better chance at beating Donald Trump than I do."
Bennet has said he has "thoughts" about which Democratic candidates could beat Trump but has not disclosed their names.