Republicans Will Impeach Trump if They're 'Wiped Out' in Midterms, GOP Strategist Says
If Republicans lose out "big league" in the 2018 midterm elections, they could turn on President Donald Trump and might even make moves to impeach him, GOP strategist and Senator Ted Cruz's former presidential campaign spokesperson said Thursday.
Related: Trump impeachment odds in 2018 predict president may not finish first term
If the House of Representatives and the Senate switch control from the GOP to the Democrats, Republicans in Congress would turn on Trump "to the point where they will impeach him, and they will get 67 percent of the vote in the Senate to impeach him, to do that. But it will require a wipeout," MSNBC political analyst Rick Tyler predicted on Morning Joe Thursday.
"When does the Republican Party turn? When they get wiped out. That's what happens. If they get wiped out in [2018], the Republicans will absolutely turn on Donald Trump," Tyler said.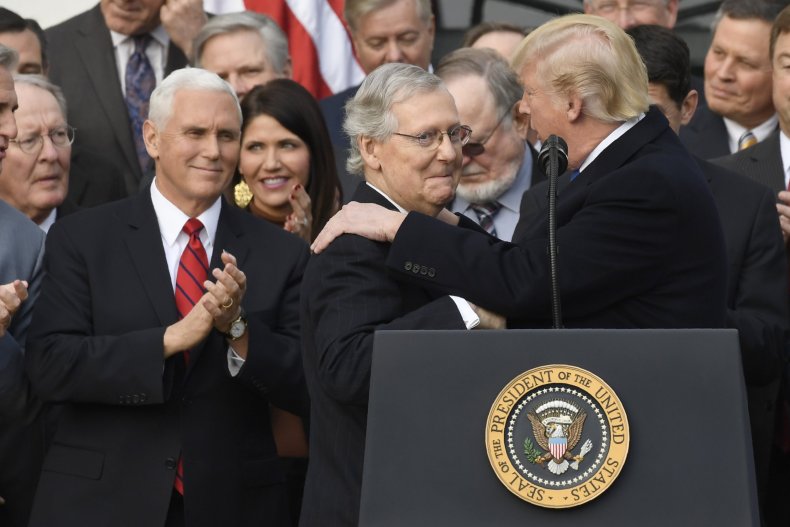 Come November, one-third of the seats in the Senate and all of the House seats will be contested. Influential Republican senators including Orrin Hatch, Jeff Flake and Bob Corker already have announced their retirements. In total, 28 Republicans will be leaving Congress this year, opening up the door for potential Democratic replacements.
Democrat Doug Jones has already been sworn in as a newly elected senator from the traditionally conservative state of Alabama. In Utah, where Hatch has served for more than 30 years, Trump critic Mitt Romney is expected to run for the open seat.
As recently as December of last year, Democrats in the House failed to start impeach hearings on Trump. The call for impeachment hearings was never expected to be successful since Republicans control the House, but Texas Representative Al Green and 57 other House Democrats called for a debate on December 6 to remove Trump from office.