Republicans Introduce Bill That Would Allow Trump to Sanction China Over Pandemic
Republican senators have introduced legislation that would authorize President Donald Trump to impose sanctions on China if the country doesn't provide a "full accounting" of what led to the coronavirus pandemic.
The COVID-19 Accountability Act will allow the president to take strict action if China doesn't provide the accounting within 60 days. The sanctions imposed against the nation could include asset freezes, travel bans, restrictions on loans from American institutions and banning Chinese companies from the stock exchange.
"I'm convinced that without Chinese Communist Party deception the virus would not be here in the United States," Senator Lindsey Graham said Tuesday in a statement.
Graham, a close ally of Trump, spearheaded the bill. Seven other Republican senators have signed on to the proposal: Thom Tillis of North Carolina, Cindy Hyde-Smith of Mississippi, Mike Braun of Indiana, Rick Scott of Florida, Steve Daines of Montana, Todd Young of Indiana and Roger Wicker of Mississippi.
"China refuses to allow the international community to go into the Wuhan lab to investigate," Graham said, referring to the Chinese city where the virus originated. "They refuse to allow investigators to study how this outbreak started. I'm convinced China will never cooperate with a serious investigation unless they are made to do so."
The coronavirus has infected more than 4.2 million people worldwide, killing at least 289,349, according to data from Johns Hopkins University. The United States has surpassed every other country in the number of confirmed cases and deaths. As of Tuesday afternoon, over 1.3 million people in the U.S. had been diagnosed with the virus, and at least 81,650 have died.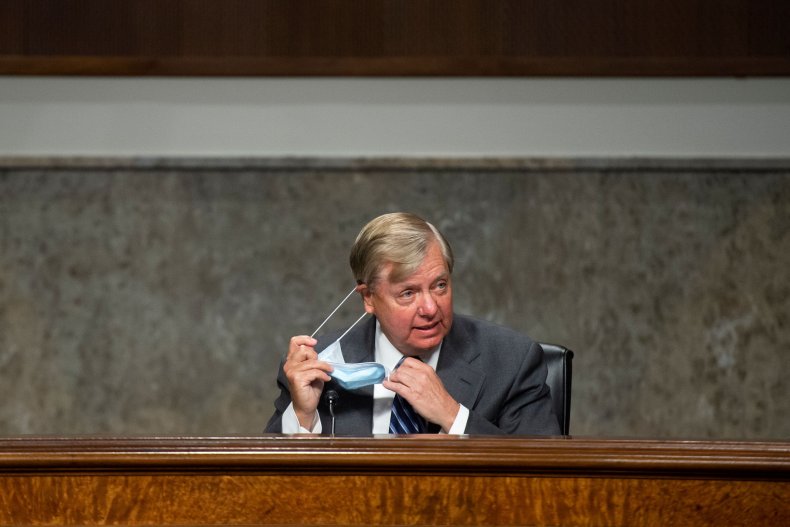 The bill introduced Tuesday would also require that China close all "wet markets" that have the potential to expose humans to health risks. The novel coronavirus is believed to have been transmitted to humans in a Wuhan wet market, where wild animals were being sold for food and medicine.
"The Chinese Communist Party must be held accountable for the detrimental role they played in this pandemic. Their outright deception of the origin and spread of the virus cost the world valuable time and lives as it began to spread," Senator James Inhofe, an Oklahoma Republican, said in a statement.
Trump has repeatedly called for China to "pay" for the coronavirus outbreak and has accused the country of failing to prevent the pandemic. The Washington Post recently reported that senior administration officials were exploring options to punish or demand financial compensation from the Asian nation.
"The Chinese government engaged in one of the biggest cover-ups in modern history—lying to the world and allowing the spread of COVID-19 outside its borders," Tillis said in a statement. "This legislation begins the process of holding the Chinese government accountable for its egregious misconduct."