Republicans Take Jabs at John Dean and Democrats: The 70s 'Want Their Star Witness Back'
For some, it was a case of déjà vu.
Former Nixon White House counsel John Dean sat before a congressional committee Monday, fielding criticism from Republicans and drawing parallels between Watergate and the Russia investigation.
The House Judiciary Committee heard from Dean and other legal experts about potential obstruction of justice laid out in the Mueller report, something Democrats said would raise public awareness of revelations in the 448-page report. Republicans accused their counterparts of trying to conduct a do-over of the Russia probe to take scrutiny away from the party's growing divisions on whether impeachment proceedings should be initiated against President Donald Trump.
"The last time I appeared before your committee was July 11, 1974, during the impeachment inquiry of President Richard Nixon," Dean said in his opening remarks. "Clearly, I am not here as a fact witness. Rather I accepted the invitation to appear today because I hope I can give a bit of historical context to the Mueller Report."
Dean's explosive testimony to the Judiciary Committee in the 1970s contributed to the impeachment proceedings against Nixon, despite his own role in the Watergate cover-up and pleading guilty to committing obstruction of justice.
"Just a few years ago, when it was brought up by one of our candidates about Russia being a threat and the former president, Mr. Obama, said that the '80s are asking for their foreign policy back," said Representative Doug Collins, the top Republican on the committee. "This committee is now hearing from the '70s, and they want their star witness back."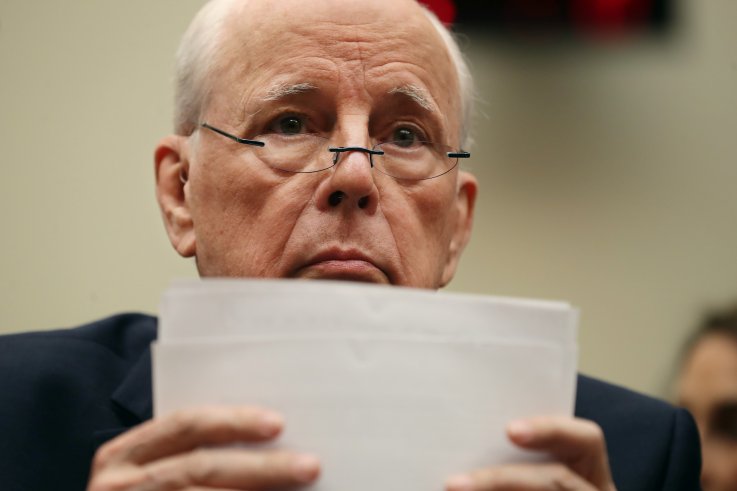 The dig was in reference to Obama telling then-Republican presidential nominee Mitt Romney during a debate in 2012 that the "1980s are now calling to ask for their foreign policy back" for saying Russia was one of the biggest threats facing America.
Republican Matt Gaetz labeled Dean the "Ghost of Christmas Past," which was met with the former Nixon lawyer telling the Florida lawmaker he was not old enough to understand Dean's past role in Watergate.
"Mr. Gaetz, I appreciate you were not born at the time of all this," Dean said.
Representative Jim Jordan, another Republican member of the committee, had a heated back-and-forth exchange with Dean about his credibility, including the false accusation that Dean served prison time for his guilty plea. The former Nixon lawyer did, however, spend four months at Maryland's Fort Holabird, once a U.S. army post in Baltimore.
"We got John Dean, 45 years ago who plead guilty to obstruction of justice, now coming in to enlighten the Judiciary Committee on obstruction of justice when we could be going right to the start of how this whole thing started," Jordan said after correcting himself that Dean did not receive a prison sentence.
In his testimony, Dean laid out comparisons between Watergate and Mueller's investigation, detailing six specific instances in his submitted remarks. Two of those events were Trump's firing of former FBI Director James Comey and attempts by the president to have Mueller removed from his post as special counsel.
While Mueller did not make a determination on obstruction, the former special counsel did conclude there was "insufficient evidence to charge a broader conspiracy" between the Trump campaign and Russia, despite the foreign entity's "sweeping and systematic" election interference.
Former federal prosecutors Barbara McQuade and Joyce White Vance, as well as Heritage Foundation legal fellow John Malcolm, also answered questions from lawmakers on Monday. Like Dean, McQuade and Vance often weigh in on CNN and MSNBC about various legal matters involving the Mueller report, another criticism repeatedly raised by Republicans. Malcolm frequently appears on Fox News.
Republicans Take Jabs at John Dean and Democrats: The 70s 'Want Their Star Witness Back' | U.S.