Jared Kushner's Immigration Plan Has No Chance of Becoming Law, According to Republicans and Democrats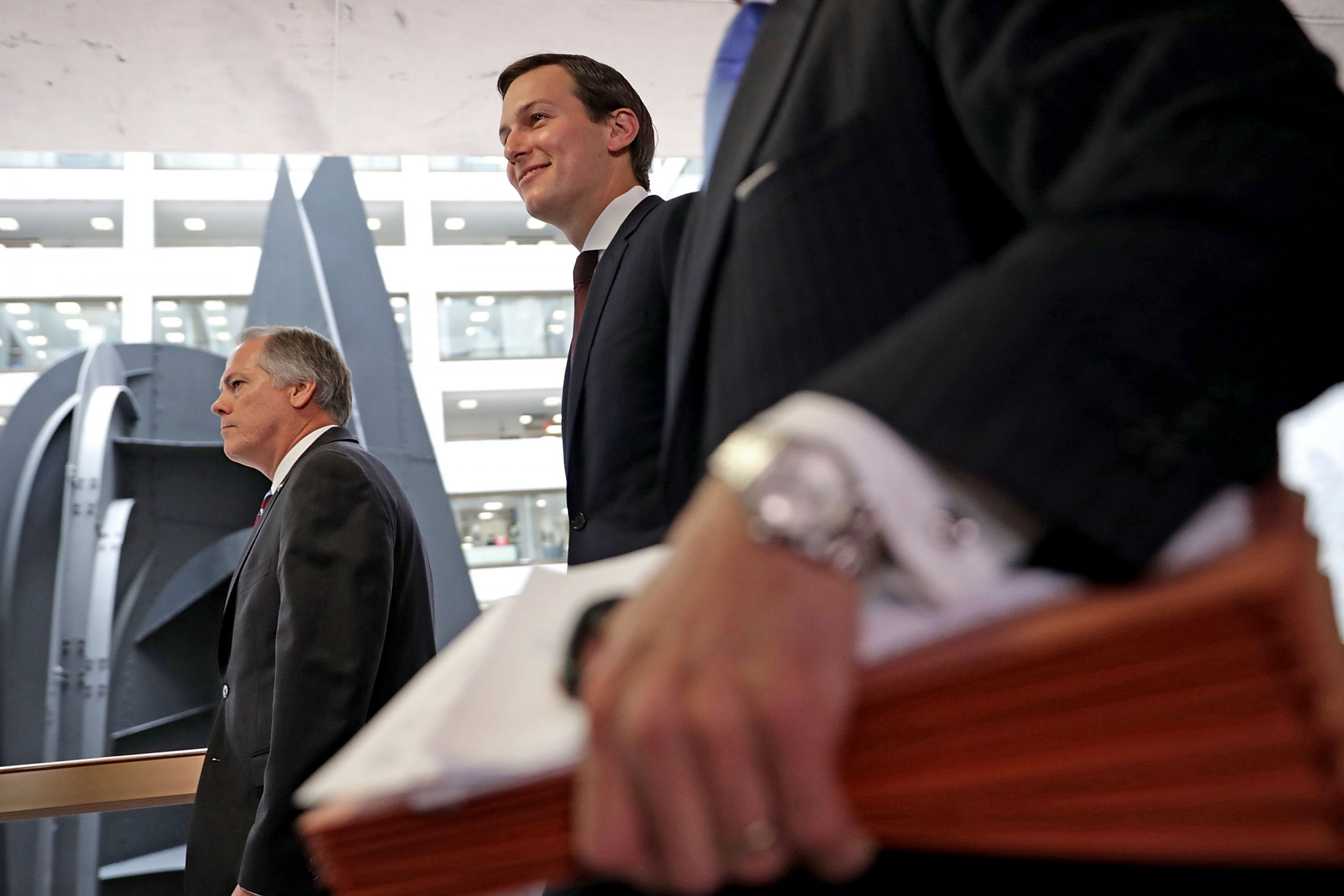 President Donald Trump is set to unveil a new immigration proposal Thursday that will address legal immigration and establish a "merit-based" system to give preference to individuals with more high-skilled backgrounds. But the plan, conceived by Trump's senior adviser and son-in-law Jared Kushner, is meant to unite Republicans—not actually become law.
An indication that the administration does not expect the measure to become law and is only being used as a rallying cry for the GOP heading into the 2020 elections—aside from Republicans and administration officials explicitly saying so—is that it will not address the millions of undocumented immigrants currently residing in the United States. More specifically, the plan will not address the millions of "Dreamers" brought to the country illegally as children and the hundreds of thousands of those immigrants protected by the Obama-era Deferred Action for Childhood Arrivals program (DACA) that shields them from deportation. (DACA recipients are often called Dreamers, after the DREAM Act—Development, Relief and Education for Alien Minors—which offered many of the same protections as DACA but never passed Congress.)
"Every single time that we have put forward or anyone else had put forward any type of immigration plan that has included DACA, it's failed," White House press secretary Sarah Sanders told reporters. "It's a divisive thing."
Trump's 2016 campaign platform was largely centered on immigration. But the longest government shutdown in history, which ended earlier this year and was due to a funding battle for the president's long-promised border wall along the U.S.-Mexico border, in addition to the declaration of a national emergency to obtain said funding, only further divided Republican senators. And while the White House's immigration plan is expected to be modeled after merit-based systems such as Canada's and Japan's, include funding for additional southern border wall, give priority to those based on age, English proficiency, education and acquired skills, Republicans admit that it's meant to bring the party together more than anything else.
"I don't think it's designed to get Democratic support as much as it is to unify the Republican Party around border security," Republican Senator Lindsey Graham told reporters Tuesday after a caucus lunch that featured Kushner and senior policy adviser Stephen Miller pitching the proposal to the party.
But "whether it will or not," he added, "I don't know." It's a similar sentiment that other Republicans expressed throughout the week.
Moderate GOP Senator Susan Collins said she was met with few answers regarding details, specifically when asked whether DACA protections would be included. "They cannot be excluded from any immigration package," the Maine senator said.
House Speaker Nancy Pelosi, a California Democrat, said Thursday she still had not yet received a briefing on the proposal and only knew what was reported in the press.
"We have to, I believe, come to comprehensive immigration reform. I think that the president knows that," she said. "But we have to do it in a way that secures our border, has a path to citizenship, respects the value of family."
But she blasted the plan, specifically the "merit" portion as "condescending."
"Are they saying most of the people who have ever come to the United States, in the history of our country, are without merit because they don't have an engineering degree?" Pelosi added.
Graham, a Trump ally who was also not afraid to criticize the president, introduced legislation Wednesday aimed specifically at curtailing asylum seekers from Central America, where an influx of people have traveled to the U.S.-Mexico, including in the form of so-called "caravans," to apply for asylum.
"Word is out on the street in Central America that if you bring your minor child with you, your chance of being deported goes to almost zero, your hearing date is years away, and we release you inside the country," said the South Carolina Republican. "In the future, you can apply for asylum from Central America, but you have to do so in an American consulate or embassy in your home country.... No more asylum claims at the U.S. border if you're from Central America."
Senior administration officials, agreeing to speak with various outlets only on the condition of anonymity, have concurred with Graham, saying Kushner's immigration plan will be to "unite Republicans around the fact that we're not looking to change the number of legal immigration" and "to have a Republican Party unifying around these positions."