Republicans Least Likely to Get COVID Vaccine Despite Trump's Push to Have It Ready by Election Day
Republicans are the least likely to say they would seek a coronavirus vaccine among all political parties despite President Donald Trump's push to have one ready by Election Day.
In a recent poll, conducted by researchers at Harvard University, Northeastern University, Northwestern University and Rutgers University, 62 percent of Republican respondents said they are likely to seek a vaccine, with 42 percent saying they are extremely likely and 20 percent saying somewhat likely.
In comparison, 76 percent of Democrats said they'd likely seek a vaccine, with 54 percent saying extremely likely and 22 percent saying somewhat likely.
63 percent of independents indicated they'd likely seek the vaccine, with 41 percent saying extremely likely and 22 percent saying somewhat likely.
Of the three political parties, Republicans were the least likely to seek a vaccine. 23 percent indicated they are unlikely to get vaccinated. Among those, 16 percent said extremely unlikely and seven percent said somewhat unlikely.
Only 12 percent of Democrats and 20 percent of independents said they are unlikely to get vaccinated.
The poll surveyed 19,058 U.S. adults from July 10 to July 26 across all 50 states. It did not report a margin of error.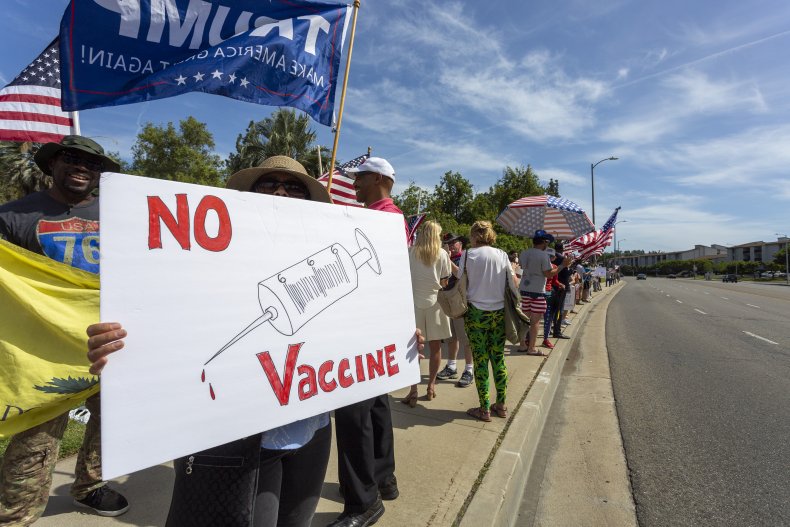 The poll's findings come as Trump continues to push for the speedy development of a vaccine. The president suggested today that one could be ready before the presidential election.
During a recent radio interview on Geraldo in Cleveland, hosted by TV personality Geraldo Rivera on the WTAM radio station in Cleveland, Trump was asked about the development of vaccines in the U.S. and if he thinks one will be ready by November 3.
"Oh I think, I think in some cases, it's possible before," Trump said in response. "But right around that time. We have great companies, great, these are the greatest companies in the world."
In July, Trump was asked by Fox News medical contributor Dr. Marc Siegel if he would consider being the first person in the U.S. to take the vaccine, to which Trump responded by saying that he "absolutely" would.
"Well, you know the way it works, if I'm the first one they'll say, 'He's so selfish, he wanted to get the vaccine first.' And then other people would say, 'Hey, that's a brave thing to do'," the president said. "I would absolutely if they wanted me to and they thought it was right, I'd take it first or I'd take it last."
In the poll, 66 percent of all Americans said they are likely to get vaccinated for the virus. The figure is an increase from a previous poll, conducted by the Associated Press/NORC in May, which showed that 49 percent would seek a vaccine.
Newsweek reached out to the Department of Health and Human Services for comment but did not receive a response in time for publication.