After a split decision by the U.S. Supreme Court on Monday, election officials in Pennsylvania will be allowed to count absentee ballots for three days after the 2020 presidential election.
The decision is seen as a blow to Republicans, who had asked the Supreme Court to overturn part of a Pennsylvania Supreme Court decision which would allow ballots postmarked by November 3 to be counted. Republicans objected to the decision on the grounds that allowing ballots to be counted after Election Day would break a federal law that established the date of Election Day as the first Tuesday after the first Monday in November. The Supreme Court decision is expected to delay the final tally of election results from Pennsylvania.
No comments were published with the Supreme Court ruling, but conservative Justice John Roberts agreed with liberal justices Stephen Breyer, Sonia Sotomayor and Elana Kagan, effectively splitting the Supreme Court's decision. Justices Clarence Thomas, Samuel Alito and Brett Kavanaugh said they were in favor of the stay. Five votes are required for the Supreme Court to approve a stay.
Newsweek reached out to the Pennsylvania GOP for comment.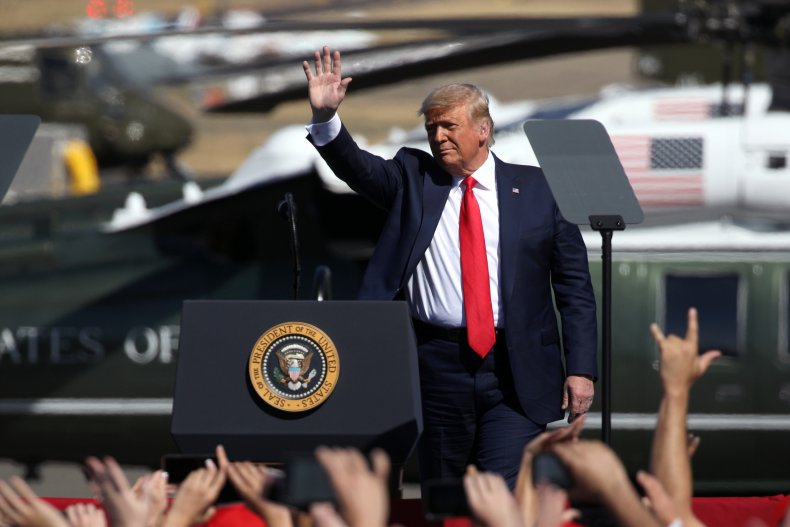 Democratic Pennsylvania Attorney General Josh Shapiro called the Supreme Court's decision a "huge win for Pennsylvania" in a Monday tweet. "Trump's losing streak continues," Shapiro wrote, "this time in SCOTUS. Now let's have an election."
Pennsylvania holds historical importance for President Donald Trump. Trump won the state by less than one percent during the 2016 election, but that was enough for him to gain the state's 20 electoral votes. Trump became president after winning the electoral college although his opponent, Democrat Hillary Clinton, won the popular vote in the U.S. by 2.1 percent.
Trump alleged during a September campaign event in Pennsylvania that the Democratic ticket of candidate Joe Biden and his running mate, California Senator Kamala Harris, would only win Pennsylvania if they were to "cheat on the ballots."
Trump has claimed that mail-in ballots could set this year's presidential election results as fraudulent. Many states decided to send ballots to all registered voters because of the coronavirus pandemic. In Pennsylvania, mail-in ballots can be requested by any registered voter without providing a reason. Those ballots can be sent through the United States Postal Service, dropped off at Pennsylvania election offices or placed in designated drop-boxes across the state on Election Day.
Swing state Pennsylvania represents a tight race for both presidential candidates. In a Reuters/Ipsos poll released Monday, Biden was ahead by 49 percent while Trump garnered 45 percent. When the same question was asked last week, Biden had 51 percent of voter support while Trump had 44 percent.
The poll was taken from October 13-19 out of a pool consisting of 1,001 adults and carried a margin of error of 4 percent. Out of the total number of those surveyed, 653 were likely voters.