Midterm Elections 2018: Republicans in Tough Races Are Literally Walking Away from Trump's Birthright Citizenship Threat
President Donald Trump's plan to sign an executive order to end birthright citizenship has stunned Republicans, and with less than a week to go before the midterm elections, many vulnerable conservative candidates have broken with the president on his latest immigration proposal.
"We're the only country in the world where a person comes in and has a baby, and the baby is essentially a citizen of the United States…with all of those benefits," Trump told Axios in an interview, ignoring the fact that 30 other countries grant birthright citizenship.
Trump added that he could override the constitutional amendment with an executive order, though legal experts and lawmakers have said the president didn't have that kind of authority. To override the 14th Amendment guaranteeing birthright citizenship, Congress would need to propose another congressional amendment and have two-thirds of the House and Senate sign off on it. Then, the proposed amendment would need to be approved by three-quarters of the states in order to be ratified.
Democrats said that the proposal is simply "election season catnip" as the Trump administration looks to maintain a majority in Congress, and is similar to the president's hostile rhetoric against the migrant caravan.
"The president doesn't have this authority, but he does have an interest in dividing the country and riling up his base," Chicago Mayor Rahm Emanuel tweeted on Tuesday. "This is midterm election nonsense."
But Trump's latest plan may be doing more harm than good for Republicans facing tough midterm challenges, and many GOP candidates have broken with the president over it.
Representative Andy Barr, who is locked in a tight battle for his congressional seat against Democratic challenger Amy McGrath in Kentucky, said on Tuesday evening that he did not support Trump's plan to end citizenship for children born in the U.S. to noncitizen parents.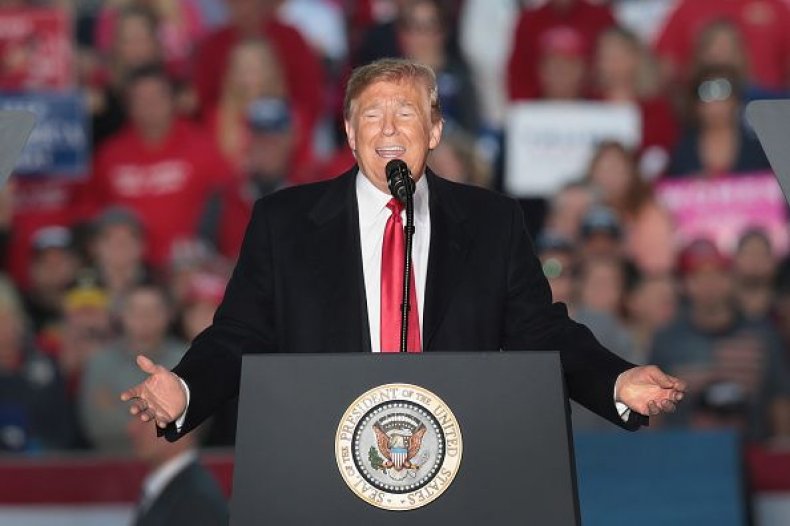 Barr told reporters that the 14th Amendment was clear and that he did not wish to change the Constitution. The comments marked a significant break from Trump, who held a rally in Kentucky earlier this month in support of the Republican candidate.
The president also praised Barr early Tuesday morning following his debate with McGrath, tweeting: "Congressman Andy Barr of Kentucky, who just had a great debate with his Nancy Pelosi run opponent, has been a winner for his State. Strong on Crime, the Border, Tax Cuts, Vets and 2nd Amendment, we need Andy in D.C. He has my Strong Endorsement."
In Missouri, Republican candidate Josh Hawley also split with the president on the topic of birthright citizenship. Hawley faces incumbent Democrat Claire McCaskill in a close Senate race. When asked if Trump could change the amendment with an executive order, Hawley, a constitutional attorney, said "of course not."
"I'm not sure what he has in mind," Hawley said of Trump's proposal. "I do think that—I'm against chain migration. I think that we need to secure the borders. Sending the 5,000 troops, I think, is absolutely necessary."
In Florida, Trump-endorsed candidate Rick Scott was asked by a Miami Herald reporter about whether he would support the president's birthright proposal. Scott ignored the question and walked away from the journalist.
Trump heads to Florida on Wednesday to hold a rally for Scott, who, as an outgoing governor, has challenged incumbent Senator Bill Nelson in one of the most expensive midterm campaigns this year.
Nevada lawmaker Dean Heller, who is generally viewed as the most vulnerable Senate Republican, released a vague statement on Trump's birthright proposal. Heller did not endorse the plan and chalked it up to Trump's "frustration on immigration and border security."
"This issue is a symptom of the larger problems we are facing," he said.
Trump doubled down on his proposal Wednesday morning, tweeting: "So-called Birthright Citizenship, which costs our Country billions of dollars and is very unfair to our citizens, will be ended one way or the other. It is not covered by the 14th Amendment because of the words "subject to the jurisdiction thereof." Many legal scholars agree...."