After a year of aggressive White House messaging on trade policy and GOP tax cuts, Democratic and Republican voters' views remain unchanged, according to a Pew Research Center poll out Thursday afternoon.
The poll indicated that nine months after the passage of the Tax Cuts and Jobs Act, approval ratings still remain steadily low. More Americans, 46 percent, say they disapprove of the bill than approve of the law (36 percent). About 18 percent haven't made their minds up yet. American families with salaries of more than $75,000 are more likely to approve of the bill, while those making less are most likely to disapprove.
The partisan split in support of the act mimics the situation nine months ago despite House Speaker Paul Ryan's promise that "minds are going to change and I think people are going to change their view on this." He added that "the Democrats are going to regret not having supported this."
Around three-quarters of Republicans and Republican-leaning independents said they approved of the tax act while just 12 percent of Democrats said the same.
An internal GOP poll acquired by Bloomberg News last month found that Republican operatives recognize they've lost the messaging battle on tax reform. Their survey indicated that 61 percent of respondents saw the cuts as benefiting "large corporations and rich Americans" over "middle-class families."
The poll, conducted by Public Opinion Strategies in early September, concluded that "voters are evenly divided on the Tax Cuts and Jobs Act. But, we've lost the messaging battle on the issue."
The Republican tax cuts, which are predicted to cost $1.5 trillion, slashed corporate rates from 35 percent to 21 percent. It also temporarily lowered income tax rates for most Americans, though significantly more so for top earners.
The new Pew survey also found that views on trade policy, which President Donald Trump has made a top priority for his White House, remain stagnant. In general, the American public still believes that increasing tariffs between trade partners and the U.S. will be bad for the country.
"In July, roughly half of the public said they thought increased tariffs would be bad for the U.S. Today, a similar share also says this (53 percent)." said the survey.
Views on tariffs and trade policy are extremely partisan, with 70 percent of Republicans saying they're good for the U.S. and 79 percent of Democrats saying they're bad for the U.S.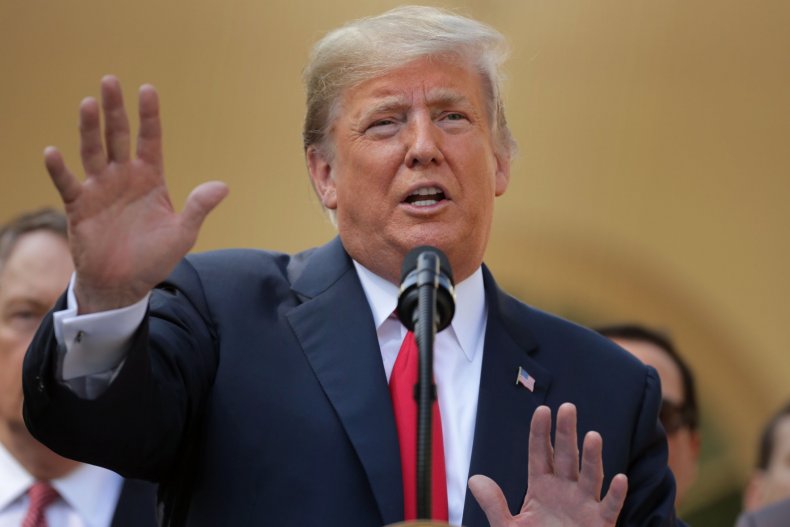 Some Republican leaders have spoken out against Trump's tariffs, confusing the Republican messaging. Senator Orrin Hatch, typically a keen supporter of President Donald Trump, said on the Senate floor that "if the administration continues forward with its misguided and reckless reliance on tariffs, I will work to advance trade legislation to curtail presidential trade authority."
President Trump addressed the Republican in a Tweet this summer. "Every time I see a weak politician asking to stop Trade talks or the use of Tariffs to counter unfair Tariffs, I wonder, what can they be thinking?" he wrote. "Are we just going to continue and let our farmers and country get ripped off? Lost $817 Billion on Trade last year. No weakness!"
President Trump has so far imposed three rounds of tariffs on China, totaling $250 billion worth of goods. China has retaliated by adding tariffs to $60 billion of U.S. goods.
The national survey was conducted by the Pew Research Center between September 18-24 among 1,754 adults, including 1,439 registered voters.