Republicans Mike Pence, Kim Guilfoyle and Ronna McDaniel to Attend QAnon-Affiliated Fundraiser
Vice President Mike Pence and other Republican luminaries have been allegedly been invited to a Montana fundraiser held by supporters of the QAnon conspiracy theory, according to reporting Wednesday by the Associated Press.
Republican National Committee Chairwoman Ronna McDaniel, Republican National Committee finance chairman Todd Rickett's and Kimberly Guilfoyle, an adviser to President Donald Trump, have also been invited according to an invitation obtained by the AP. Michael and Caryn Borland are expected to host the event. Both Borlands have allegedly posted positively about the QAnon conspiracy theory movement, which claims President Trump is waging a secret battle against a group of individuals who want to see his administration destroyed.
Although QAnon was listed as a potential domestic terrorism threat in 2019 by the U.S. Department of Justice, President Trump has not rejected its support of his administration. "I don't know much about the movement," Trump told reporters in August, "other than I understand they like me very much, which I appreciate."
In August, Pence told CBS News that he did not "know anything about QAnon, and I dismiss it out of hand." Newsweek reached out to Vice President Pence's office for comment.
Michael Borland's Twitter page reportedly bears a QAnon logo, a capital letter "Q" bearing the stars and stripes of the American flag inside a circle which proclaims, "Where we go one, we go all," a catchphrase associated with QAnon supporters. Caryn Borland has allegedly interacted with QAnon-related accounts on social media.
The Borlands have also allegedly donated over $200,000 to Trump's re-election campaign and were guests at the Republican National Convention.
According to QAnon lore, a faction known as the Deep State, comprised of celebrities, politicians and business people are involved in a child-trafficking ring with connections to satanic worship. Information comes from an individual who calls themselves Q, who posts cryptic clues on social media about how President Trump is working to bring the Deep State to justice. No factual basis for these claims has been discovered.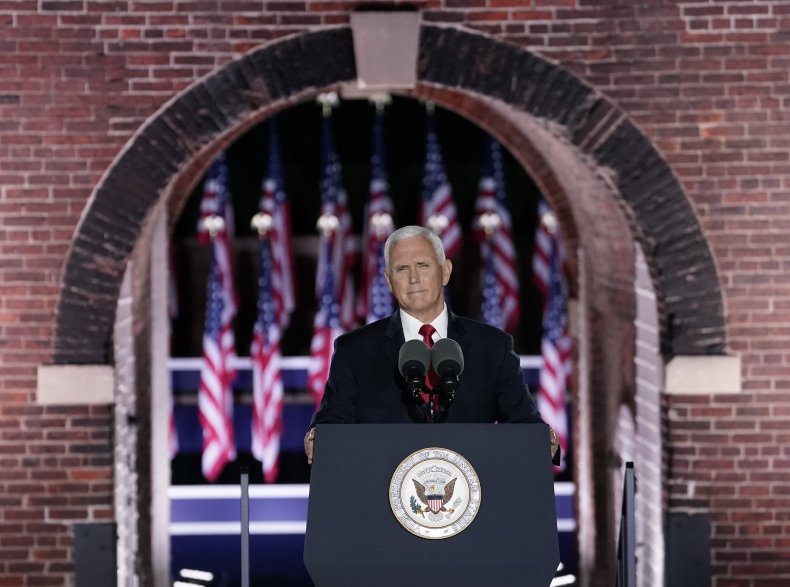 Some Republicans who have voiced support for QAnon are running for public office and winning. Tracy Lovvorn won the Republican nomination for the 2nd Congressional District in Massachusetts in September where she ran unopposed. In March, Lovvorn tweeted a photo of a bell inscribed with the QAnon slogan, "Where we go one, we go all."
Georgia Republican Marjorie Taylor Greene, who has espoused support for the QAnon movement, is favored to win a seat in the House of Representatives in the upcoming November election.
One of Greene's Facebook posts was removed Friday for violating the social media platform's policies against inciting or facilitating "serious violence." Green had posted a photograph depicting herself holding a rifle next to members of The Squad, a group of female Democratic Representatives.
Minnesota Representative Ilhan Omar, who was represented in the photograph, tweeted that posting "a photo with an assault rifle next to the faces of three women of color is not advertising. It's incitement."
President Trump congratulated Greene on her August primary win, tweeting that Greene was a "future Republican star."
"Marjorie is strong on everything and never gives up-- a real WINNER!" Trump continued.
Greene has attempted to distance herself from QAnon, telling Fox News in August that conspiracy theories have not been "anything I've talked about for quite a long time now. What I'm interested in is saving Americans from socialism."