Republicans' Worst Fears About Mississippi May Be Coming True
Republicans' worst fears about Mississippi's gubernatorial race could be coming true after a new poll showed GOP Governor Tate Reeves trailing Democrat Brandon Presley on Monday.
Reeves' first term, which began in 2020, has been marred by low approval ratings and several controversies, including his handling of a welfare fraud scandal involving former Governor Phil Bryant and NFL player Brett Favre and a drinking water crisis in the state capital Jackson—fueling Democratic optimism that they could flip the executive office in a state that has proven to be difficult for the party in recent years.
A new poll released on Monday could worsen Republican worries that the race could become competitive.
The Tulchin Research poll found Reeves trailing Presley, a four-time public service commissioner and distant cousin to Elvis, by 4 points. Forty-seven percent of respondents said they planned to back Presley in the November general election, while only 43 percent said they would support Reeves.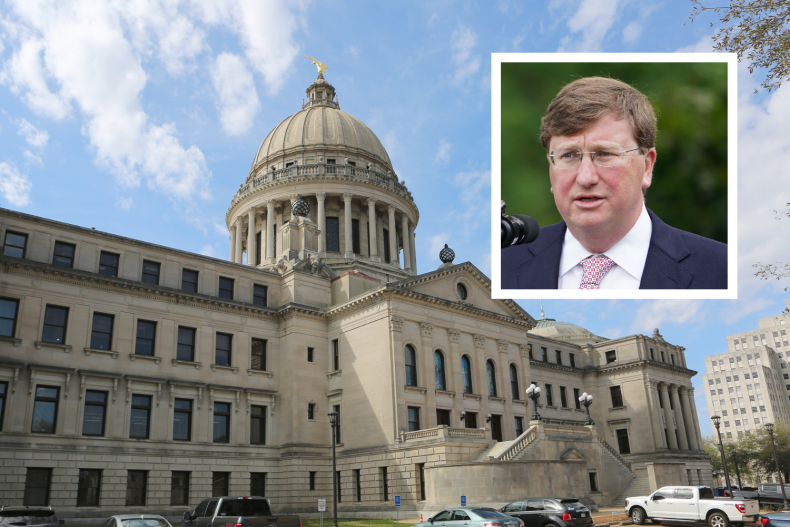 The scandal involving state welfare funds is particularly harming Reeves' reelection prospects, the poll found.
Millions of dollars of Mississippi's welfare funds were allegedly misappropriated to wealthy donors including Favre, who allegedly directed the funds in part toward a University of Southern Mississippi volleyball center. While Reeves' involvement has been less severe than Bryant's alleged involvement, he faced backlash for firing the lead investigator in the case.
Nearly all likely voters, 92 percent, said they are aware of the scandal, and 64 percent said they have an unfavorable view of the governor as a result of the scandal, according to the poll. The poll surveyed 500 likely voters from January 21 to 25 and had a margin of error of plus or minus 4.38 percentage points.
Brannon Miller, a Democratic consultant, told Newsweek the scandal has impacted Reeves' popularity and is more damaging than most people realize.
"It's really, really scandalous stuff," he said. "And I think voters are rightly angry about it."
A Democratic victory in Mississippi would be unusual in a state that has reliably elected Republicans for statewide offices for years. Democrats have not won a governor's race in the state since 1999 and have not won it on the presidential level since 1976.
Democrats are banking on Presley, who has previously won elections in conservative areas of the state, to connect with rural voters and deliver them an upset victory.
Miller praised Presley as a once-in-a-generation political talent, pointing to his ability to win deeply conservative counties in northeastern Mississippi. He added that Reeves is less personable, even without the welfare scandal.
"On the other side of that, you have Brandon Presley who is amazing on the stump, knows how to talk and knows how to listen to voters," Miller said, adding that the 2022 midterms proved that candidates matter in tight races.
Miller explained that while Mississippi leans Republican, Democrats still have a high "floor," as Democratic candidates typically receive more than 40 percent of the vote, in part due to the state's large Black population.
Newsweek reached out to the Reeves and Presley campaigns for comment.