Democratic Senator Chris Van Hollen slammed Senate Majority Leader Mitch McConnell and other Republican lawmakers on Wednesday, saying they "want to abdicate" responsibility for gun reform to President Donald Trump.
"Mitch McConnell should not be contracting the Senate's decisions out to the White House," Van Hollen, who represents Maryland, said of the GOP congressional leader during an interview with CNN. Striking a more optimistic tone, the Democratic senator also noted that "sentiment is shifting in the Senate," crediting the impact of public opinion surrounding gun reform legislation.
"Mitch McConnell and Republicans in the Senate, you know, they want to abdicate their responsibility here and just point to the president," Van Hollen alleged later in the interview. "Let's just act. Next week Senate Democrats will call again for unanimous consent, asking the Senate to bring up the House [of Representatives] bill and pass it," he added.
The House, which is controlled by Democrats, passed legislation in February that would close loopholes allowing individuals to purchase guns without a background check. McConnell has thus far blocked that bill from facing a vote before the Senate, which is controlled by Republicans, along with other gun reform legislation.
Trump expressed support for closing such loopholes following mass shootings in Dayton, Ohio and El Paso, Texas in August, saying that he supported universal background checks. He later walked back those statements after meetings with officials representing the National Rifle Association. Democrats are currently working in a coordinated way between the House and the Senate to pressure McConnell to allow a vote on gun reform bills already approved by the House.
On Tuesday, McConnell deferred to the president, telling reporters that he was waiting to see what proposals the White House would put forward before allowing votes on pending legislation.
"To make a law, you have to have a presidential signature," the Senate majority leader said. "They are working on coming up with a proposal that the president will sign," he continued. "Until that happens, all of this is theatrics."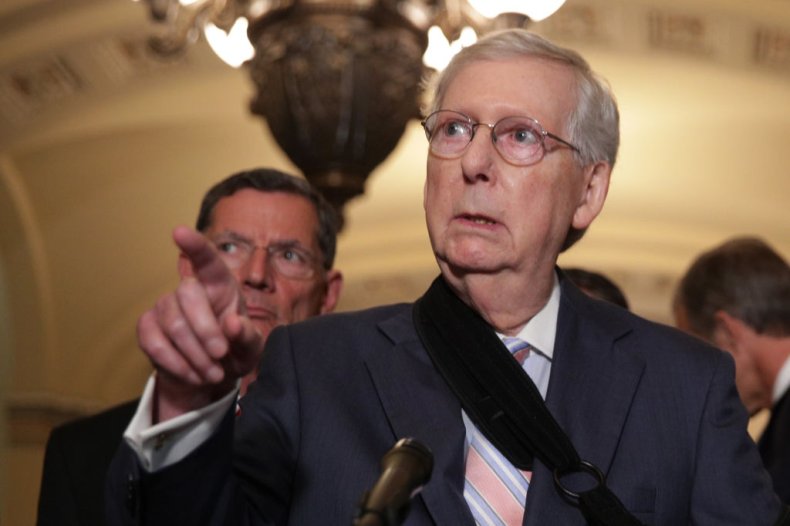 Opponents of gun reform cite the Second Amendment of the Constitution, which says: "a well regulated militia, being necessary to the security of a free state, the right of the people to keep and bear arms, shall not be infringed." Those who want stricter controls on guns often point to the first part of the Amendment, arguing that there is no longer a need for a "well regulated militia" as the U.S. now has what is widely regarded as the most powerful military in the world. When the amendment was added to the Constitution, that was not the case, as the U.S. had recently gained independence from the British empire.
Polling conducted by Gallup in October 2018 showed that a majority – 61 percent – of Americans believe that existing laws covering the sale of firearms should be made stricter. Only 8 percent of respondents thought they should be less strict, and 30 percent believed they should remain as they are. Only 2 percent had no opinion on the issue.
Over the past two decades, mass shootings have become a growing problem nationwide. The U.S. had seen at least 295 mass shootings in 2019 as of September 11, meaning there have been more mass shootings than days in the year thus far, according to data compiled by the non-profit Gun Violence Archive. More than 10,000 people have died due to gun violence in the country this year, while over 20,000 have been injured.