Republicans Mocked Over Move to Condemn Socialism: 'Waste of Time'
A Republican-led House resolution condemning socialism has stirred up a chorus of criticism and mockery online as the GOP uses its new House majority to forge ahead with its agenda.
The resolution, which denounces "the horrors of socialism" and "opposes the implementation of socialist policies" in the U.S., passed the House in a 328-86 vote on Thursday. All Republicans voted in favor of the measure, while a majority of Democrats joined them.
Of the Democrats' 212 representatives in the 118th Congress, 86 voted against the resolution and another 14 voted "present," according to Insider.
"It is a lie that socialism will solve your problems, economic or social....We cannot let this evil ideology take hold in this country," Republican Representative Maria Elvira Salazar of Florida, who sponsored the resolution, said on the House floor. "We are in the United States, the stronghold of freedom. That is why we must pass this resolution."
Though the bill passed with a strong majority of support in the House, it has received a variety of critical responses.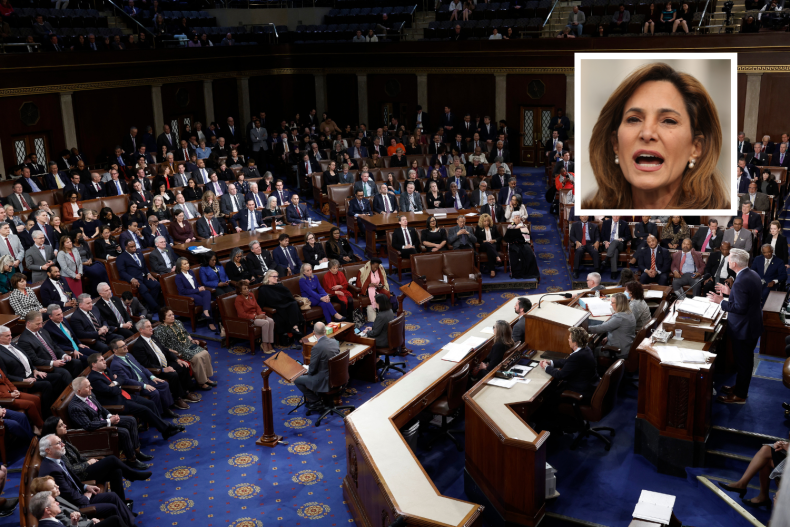 "No one is suggesting socialism in the U.S. Is anyone proposing we seize all corporations and factories?" @shllymoss wrote in response to a tweet from Republican Representative Lauren Boebert about the bill. "God you are such a waste of taxpayer money. All you do is lie and waste our time and money chasing squirrels. It's exhausting."
Responding to the same tweet from Boebert, @WacoRogers called the measure a "waste of time." Another account under the handle Ol' Blue Eyes echoed this sentiment.
"What a waste of the House's time. Why are you all doing this?" the post read. "No one wants socialism, so what's with this idiotic vote? Can you people look at improving the lives of Americans?"
Some Democratic representatives against the resolution also questioned the need for the measure.
"The socialism resolution is useless. It does nothing. It does not matter," Democratic Representative Jim McGovern said during a floor debate Wednesday, according to Insider. "Are we talking about public schools? Are we talking about roads? Are we talking about Social Security? I mean, give me a break."
But not all comments about the resolution fell on the critical side. Republican Representative Greg Murphy of North Carolina took aim at the 86 Democrats who voted against it in a tweet on Thursday.
Like Murphy, proponents of the resolution denounced socialism as a destructive ideology. But at least one Democratic opponent reportedly suggested that what Republicans view as socialism can actually be a helpful policy or proposal.
"Republicans always have and always will brand programs to help working families as socialism. That's why I'm voting no on this distraction of a resolution," Democratic Representative Nydia Velazquez of New York tweeted Thursday.
Salazar said in a statement Thursday that the resolution's passage "is a victory for anyone in the United States who believes in the power of individual liberty over the oppressive statism of socialism."
"We sent a strong message to the world that socialism has no home in the United States," Salazar added.
A release from the congresswoman's office also said the resolution was "the first time House Democrats have had to take a public position on socialism.
"Sadly, this has exposed that almost half the Democratic Party refuses to denounce socialism," the statement added.
Update 2/2/23, 5:15 p.m. ET: This story was updated with a statement from Maria Salazar.