Republicans Most at Risk of Being Primaried in 2022
With the 2020 election now officially in the rearview mirror, Republicans are already setting their sights on the 2022 midterm election cycle to reclaim some power in Congress.
But one potential roadblock for the party is primary fights between pro-Donald Trump and traditional Republicans—especially if the former president delivers on his threat to support challenges to conservatives he perceived as disloyal to him.
On January 6, the same day as the deadly riot at the U.S. Capitol, Trump told his supporters to "primary the hell" out of conservative lawmakers who did not object to the Electoral College certification.
Then there was the vote on January 13 to impeach Trump, which only further added to the internal battle within the Republican Party. The handful of Republicans who supported the effort were met with swift backlash, including new primary challengers and censures from their local GOP parties.
National Republican Senatorial Committee Chairman Rick Scott (R-Fla.) told reporters last week that he will back incumbent senators against Trump-backed primary challengers. But Senator Lindsey Graham (R-S.C.) told The Washington Post that the GOP "cannot take the House and the Senate back without his help. That's just a fact."
Here's a list of the Republicans in each chamber who are most at risk of being primaried in the 2022 election cycle.
The House of Representatives
Jaime Herrera Beutler: The freshman Republican from Washington state was one of the 10 conservative members to vote in favor of Trump's impeachment. The move was swiftly denounced by her local Republican Party, which said the vote "directly violates our values of standing for truth and justice, and instead panders to fear-based narratives that do not represent the Clark County Republican Party, nor the constituents who elected her." There is also a petition circulating to replace her in the 2022 primary.
Liz Cheney: Despite being the number 3 House Republican, Cheney was heavily criticized for her vote to impeach Trump. Anthony Bouchard, a Wyoming state senator, announced on January 20 that he will challenge Cheney in 2022. Bouchard cited Cheney's "long-time opposition to President Trump and her most recent vote for Impeachment" as reasons he got into the race.
Anthony Gonzalez: In Ohio, Gonzalez faces a potential primary challenge from Christina Hagan, a former state legislator whom he defeated in a 2018 primary. Hagan alluded to Gonzalez's support of impeachment as a motivating factor, stating "a lot of people elected what they thought was conservative leadership and now are witnessing somebody cutting against their values."
John Katko: While Katko has yet to draw an official challenger, he was the first Republican to back impeachment. Katko is one of the few Republicans who represents a Democratic-leaning district in New York.
Adam Kinzinger: A Republican challenger has already filed paperwork to run against the Illinois congressman in next year's primary. The challenger named his campaign committee "Impeach Adam Kinzinger 2022."
Peter Meijer: The freshman Republican from Michigan has already drawn a primary rival. Tom Norton, a Trump supporter, said he will challenge Meijer in the 2022 Republican primary. Norton told the Detroit Free Press: "When you sit there and you launch a campaign saying you're going to defend the president, and one of your first votes to impeach the president without a real process, you destroy the trust with voters."
Dan Newhouse: Washington State Representative Brad Klippert has already announced a challenge to incumbent Newhouse in 2022 after the latter's backing to impeach Trump. Plus, Republican Party leaders in six counties of Newhouse's district sent him a letter calling for him to resign over that vote.
Tom Rice: The New York Times reported that a local South Carolina Republican received so many phone calls urging him to run after Rice's vote to impeach that he "can't keep his phone charged." Another potential primary challenger, former mayor Mark McBride, has collected hundreds of signatures on a petition calling for Rice's resignation.
Fred Upton: The Michigan congressman was unanimously censured by the Allegan County Republican Party for his support of Trump's impeachment.
David Valadao: The Californian's vote to impeach Trump prompted Army veteran and former Fresno City Councilman Chris Mathys, a Republican, to announce plans to challenge Valadao in the next election.
In addition to the 10 conservative members who backed Trump's impeachment, House Republicans who did not join the effort to overturn the 2020 Electoral College results could also be at risk of a primary. There were more than 60 conservative House members who did not object to President Joe Biden's victory. Representative Nancy Mace of South Carolina is one Republican already at risk, as reports indicate other conservatives are being courted to take her on in 2022.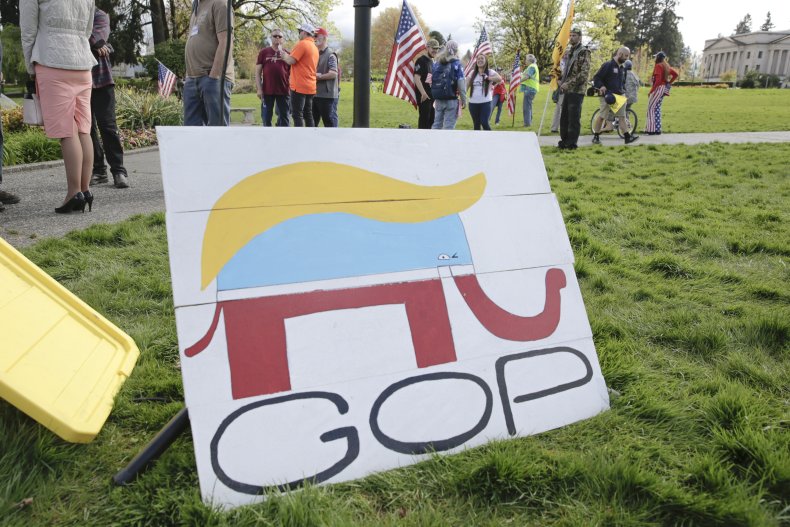 The Senate
Lisa Murkowski: Earlier this month, before his account was suspended, Trump tweeted "Great!" on a post mentioning a potential primary challenge against Murkowski in 2022. The Alaska senator voted to certify Biden's electoral victory and was one of just five Republican lawmakers in the upper chamber to vote in favor of moving ahead with Trump's impeachment trial.
Marco Rubio: The Florida senator could face a primary challenge as rumors continue to circulate that Ivanka Trump, the former president's daughter, will run for office. The Republican leader of Palm Beach County has also urged Congressman Matt Gaetz to run against Rubio, but Gaetz has so far shrugged off the suggestion. Rubio didn't join the effort to overturn the 2020 Electoral College results.
John Thune: Trump has specifically threatened to support a primary challenger against Thune, the number two Republican in the Senate. Before his Twitter account was suspended, the former president called Thune a "RINO," meaning Republican In Name Only. Trump added: "South Dakota doesn't like weakness. He will be primaried in 2022, political career over!!!" Thune also did not support the president's effort to block the congressional certification of Biden's win.
Other senators potentially at risk include those who didn't oppose the Electoral College. Eric Trump, the son of the 45th president, tweeted in early January: "I will personally work to defeat every single Republican Senator / Congressman who doesn't stand up against this fraud - they will be primaried in their next election and they will lose."
That would include 13 other senators up for re-election in 2022: Roy Blunt of Missouri; John Boozman of Arkansas; Mike Crapo of Idaho; Chuck Grassley of Iowa; John Hoeven of North Dakota; Mike Lee of Utah; James Lankford of Oklahoma; Jerry Moran of Kansas; Rand Paul of Kentucky; Tim Scott of South Carolina; Richard Shelby of Alabama; Todd Young of Indiana; and Ron Johnson of Wisconsin.