Republicans Offer Black Americans a Brighter, Prosperous Future. Joe Biden is Proof | Opinion
The Consumer Price Index rose by nearly 8 percent last month, the fastest rise in annual inflation in four decades. Prices are up across the board, with prices of fuel and food spiking particularly high, supply chains are falling apart, and store shelves are emptying. To say that America's current economic prospects are bleak is an understatement. But this current state of economic hardship is hitting people of color even harder.
Inflation is an invisible tax on poor people, and the percentage of Black Americans in poverty is practically double their percentage of the total population. According to the U.S. Census, in 2019 Black Americans represented 23.8 percent of the population living in poverty, while accounting for only 13.2 percent of the population overall.
And because inflation hurts the poor most of all, it is disproportionately hurting Black and Latino families, as a report by Bank of America released in November of last year found: Black, Hispanic, and Latino households spent 7.1 percent of their post-tax income on energy—compared to 5.4 percent spent by other demographics, and they spent 12.5 percent of their income on food compared to 11.1 percent for everyone else.
Since the Democratic Party assumed control of the White House in January 2021, inflation has skyrocketed far beyond where it was when Bank of America's report was released. As of this week, the national gas price average stands well above $4.00, according to the AAA, and last month Americans suffered the largest rise in food prices since 1981.
All foods are being affected, from fresh staples like eggs and milk, to major name brand packaged goods. Companies that have announced price increases include Tyson Foods, Coca-Cola and PepsiCo, with each one blaming supply chain issues and labor shortages.
This calamitous state of economic affairs is not occurring in a vacuum. The simple fact is that the Democratic Party's reckless and economically devastating policies are driving up the prices of food and gas astronomically, while simultaneously stifling economic growth that could create jobs for Black Americans.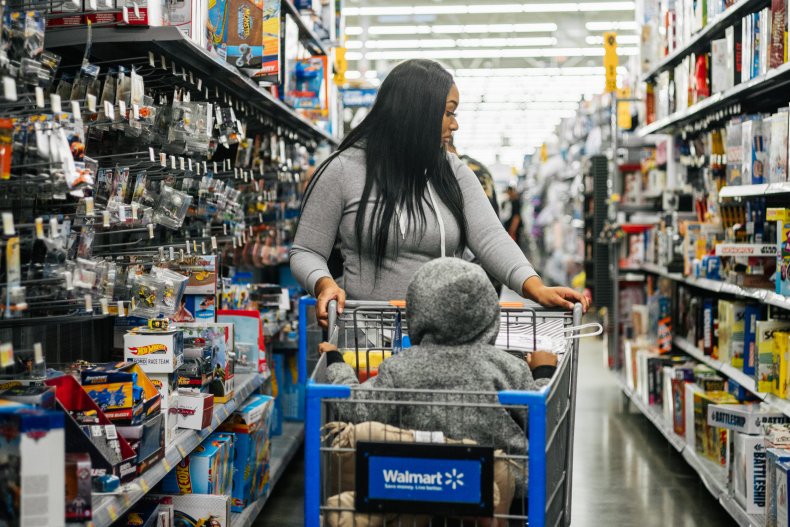 The CPI more than doubled since January 2021, and while many would like the American public to believe that this sad state of affairs is the result of the Russia's nefarious invasion of Ukraine, the truth is that this downward economic spiral began the very day Democrats took control of the White House—not when Putin's forces entered Ukraine. All available data show this clearly.
Thankfully, Black voters are seeing through this veil of lies. According to a CNN poll released last month, the percentage of Black voters who approve of President Biden has plummeted by a whopping 25 percent. We can only hope that as the economy continues to decline under the Democrats' woefully inadequate stewardship, his approval rating among the Black community will decline further, too.
The Black community is finally waking up to the Democrats' war on our wallets. We know what life was like before President Biden took office, and we've seen how quickly it has deteriorated since.
The simple fact is that in America today, it is the Republicans who offer our community a brighter, more secure, and more prosperous future. We know this because we just experienced a Republican presidency that saw the lowest unemployment rate in the Black and Hispanic community in history. But that's just the tip of the iceberg; by cutting taxes and regulations, the previous administration spurred an economic boom unlike any seen in our lifetimes. In 2016, gross domestic product grew just 1.6 percent, but in 2017 it grew by 2.2 percent and by an even healthier 2.9 percent in 2019.
And yet, unlike many economic booms before it, Black Americans directly benefited from this one. "The economy grew in ways that mostly benefited low-income and middle-class households, categories that cover a disproportionate number of blacks," writes senior fellow at the Manhattan Institute Jason L. Wriley, author of The Black Boom, in the Wall Street Journal. Wriley found that between 2017 and 2019, median household incomes grew by 15.4 percent among Black Americans and only 11.5 percent among whites.
For decades, the Black community has been at the forefront of the fight to secure freedom, equality, and progress in America. It's time we fight to secure economic freedom, equality of opportunity, and the future prosperity of our community as well.
If the Black community at large continues to vote for politicians who willfully mishandle the economy, it will be voting for its own destruction. The Republicans are the party representing our economic interests.
DaQuawn Bruce is the Executive Director of Concerned Communities for America, an organization focused on facilitating political liberation and social transformation of communities of color across America.
The views in this article are the writer's own.