Republicans Open Probe Into 'Left-Wing Violent Extremists' in D.C., Accuse Mayor Bowser of 'Inaction'
Top congressional Republicans are blaming the mayor of Washington, D.C., for recent skirmishes in the nation's capital involving protesters demanding racial justice—and the lawmakers want answers.
The ranking Republicans on the House Judiciary and Oversight Committees—Jim Jordan (Ohio) and James Comer (Ky.), respectively—want D.C. Mayor Muriel Bowser to produce documents pertaining to how the city has handled what the Republicans described as "left-wing agitators," according to a letter the GOP duo sent to the Democratic mayor on Wednesday that was obtained by Newsweek.
"Like other Democrat-run cities, the District of Columbia (D.C.) under your leadership has allowed radical left-wing violent extremists to commit senseless acts of violence and destruction," the letter stated. "By your inaction in response to their mayhem, these left-wing agitators have become emboldened to be even more aggressive and more dangerous."
Jordan and Comer requested copies of all documents and communications related to the city's response to any unrest that has occurred since June 1, and information about whether any "perpetrators" of violent confrontations were "paid or otherwise induced to commit these acts" by a third party.
There is currently no evidence to suggest any protesters were paid. The pair of lawmakers said the information they requested should be provided by September 16.
Bowser's office did not immediately respond to Newsweek's request for comment.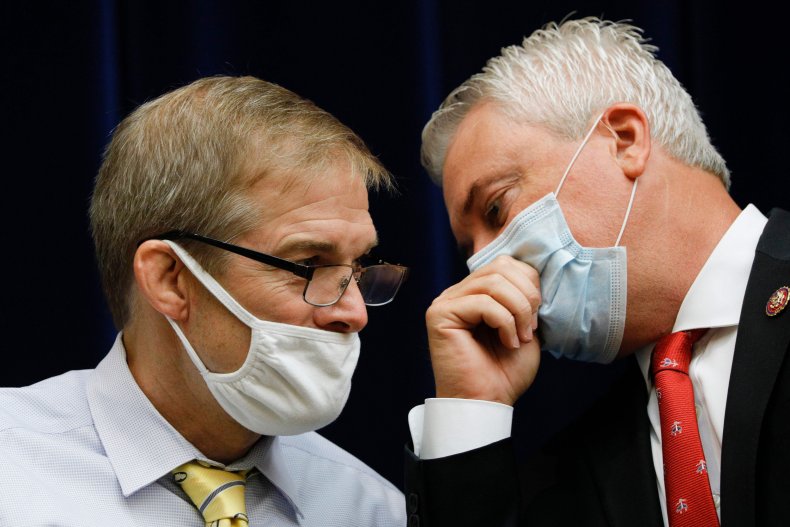 The Republicans cited recent events in D.C., including one last Thursday night, when protesters heckled outdoor diners and attendees of President Donald Trump's Republican National Convention speech at the White House.
Jordan, one of the president's closest allies on Capitol Hill, and Comer cited three specific confrontations involving protests that were spurred by the shooting of a Black Wisconsin man, Jacob Blake, in the back seven times by a white police officer that left Blake paralyzed.
On August 24, Black Lives Matter protesters confronted D.C. diners seated outside. A viral video appeared to show a protester demanding a restaurant patron raise her fist in solidarity. Bowser condemned the events, and encouraged diners and restaurants to call the police in the future.
"What I saw in those videos was highly inappropriate," Bowser told reporters. "And more importantly, I don't think it had anything to do with demands for social justice."
After Trump's acceptance of the Republican presidential nomination at the White House Thursday—an event that drew some 1,500 guests and included prominent government officials and lawmakers—attendees departing the grounds were harassed by protesters.
Some, such as Senator Rand Paul (R-Ky.) and his wife, required police escorts, while others like Rep. Brian Mast (R-Fla.) briefly stopped to respond to their shouting questions and demands to condemn recent high-profile police shootings of Black men and women and back criminal justice reform.
"Just got attacked by an angry mob of over 100, one block away from the White House," Paul wrote in a tweet. "Thank you to @DCPoliceDept for literally saving our lives from a crazed mob."
Protesters outside the White House gates also put a life-size Trump doll in a guillotine.
Over the weekend, five people were arrested in D.C. and several police officers were injured after violent confrontations with demonstrators who started fires and vandalized property. The protests caught Trump's eye, who tweeted Sunday that Bowser "should arrest these agitators and thugs! Clean up D.C. or the Federal Government will do it for you. Enough!!!"
Bowser later said the agitators were outsiders who "came together to create havoc" and were separate from the peaceful March on Washington that took place on the National Mall Friday.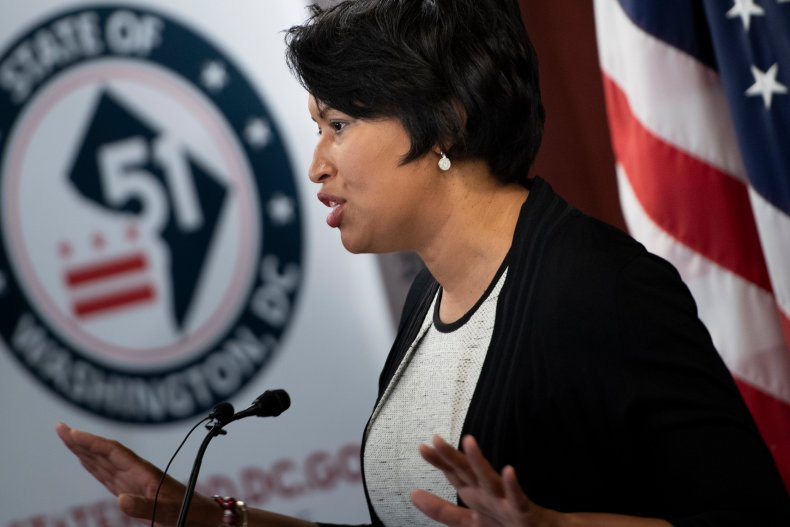 "What we're certainly not going to do is stand by and allow outside agitators to come to our city to distract us from the work of D.C. residents," Bowser said. "We know the President considers himself Mr. Law and Order... We are for law and order, too."
In their letter to Bowser, Jordan and Comer accused the mayor of surrendering the nation's capital to "violent left-wing extremists."
"Your choice to surrender the streets of D.C. to violent left-wing extremists and agitators so that they can intimidate, coerce, and assault innocent people places at risk all who live, work, and patronize businesses in the District," the letter said. "Your actions also highlight the wisdom of the Founders to ensure that the seat of the federal government is not beholden to a particular state."