Republicans Blast Adam Schiff for 'Head on a Pike' Remark During Impeachment Trial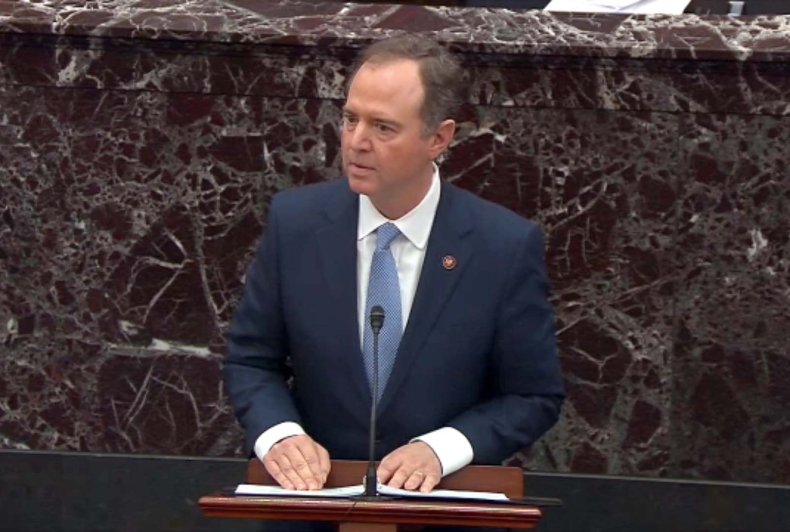 Republicans during the Senate impeachment trial expressed dismay after House Intelligence Committee Chairman Adam Schiff on Friday repeated an anonymously-sourced quote which said Donald Trump will put senators' "head[s] on a pike" if they vote against the president.
Schiff referenced a CBS News report from Thursday in which a "POTUS confidant" claimed that if Republican senators fail to protect the president, the party and Trump will have their head "on a pike."
"CBS News reported last night that a Trump confidant said that key senators were warned, 'Vote against the president and your head will be on a pike.' I don't know if that's true," Schiff said, disrupting the calmer tone of the Senate trial.
As the Associated Press reported, the reiteration of the comment by Schiff immediately drew groans and verbal rebukes inside the chamber.
At least two moderate GOP senators who previously expressed their openness to hearing from witnesses and holding a fair trial, Alaska' Lisa Murkowski and Maine's Susan Collins, dismissed Schiff's closing argument comments as completely false.
"That's not true," Collins told Schiff of the reported bullying threat from the president. And in a statement to the AP Saturday, Collins said: "Not only have I never heard the 'head on the pike' line, but also I know of no Republican senator who has been threatened in any way by anyone in the administration."
"That's when he lost me," Murkowski said about Schiff's "pike" reference through her spokeswoman Saturday. The office also denied having knowledge of the CBS report about the White House's alleged threat. Murkowski added the comment was "unnecessary."
Those two moderate GOP members of the Senate would be crucial, as the Democrats are seeking support from at least four Senate Republicans in order to have enough votes to call witnesses and introduce new documents of evidence in the trial. Schiff appeared to acknowledge that his comment caused a stir, adding in the chamber: "I hope it's not true, I hope it's not true."
Another Republican senator, James Lankford of Oklahoma, told reporters Friday that the CBS Evening News report was "completely, totally false ... None of us have been told that. That's insulting and demeaning to everyone to say that we somehow live in fear and that the president has threatened all of us.″
The #HeadsOnAPike hashtag immediately began trending on Twitter, prompting criticism of both the Republicans' reactions as well as Schiff's repeating of the phrase.
Lynn Sweet, the Washington Bureau Chief for the Chicago Sun-Times characterized Schiff's remark as an "unforced error," and added that it remains to be seen how much damage it did to an "otherwise strong wrap up."
Meanwhile, the writer Molly Jong-Fast remarked on Twitter about the episode Saturday morning: "The party of trump suddenly got very sensitive."