Republicans Pick Up Katie Hill's Former California Seat, in Upset for Democrats
Republicans pulled off an upset in Democratic-leaning California's 25th district in a tight race that became a flashpoint over voting centers and drew President Donald Trump's attention.
Former Navy fighter pilot Mike Garcia defeated California State Assemblymember Christy Smith by 56 percent in the special election to replace former congresswoman Katie Hill who resigned due to controversy in October. Garcia and Smith will face each other in the November election to decide who fills the full, two-year congressional term.
"While it's critical that we ensure every vote is counted and recorded, we believe that the current tally shows Mike Garcia is the likely victor in the May 12 special election," Smith wrote in a Facebook post conceding victory. "As such, I'd like to congratulate him."
The race had appeared to be trending toward Republicans in recent days with the Political Data Inc. (PDI) ballot tracker showing 45 percent of Republicans had mailed their ballots back, with only 31 percent of Democrats, and 22 percent of independents doing so as late as Tuesday afternoon.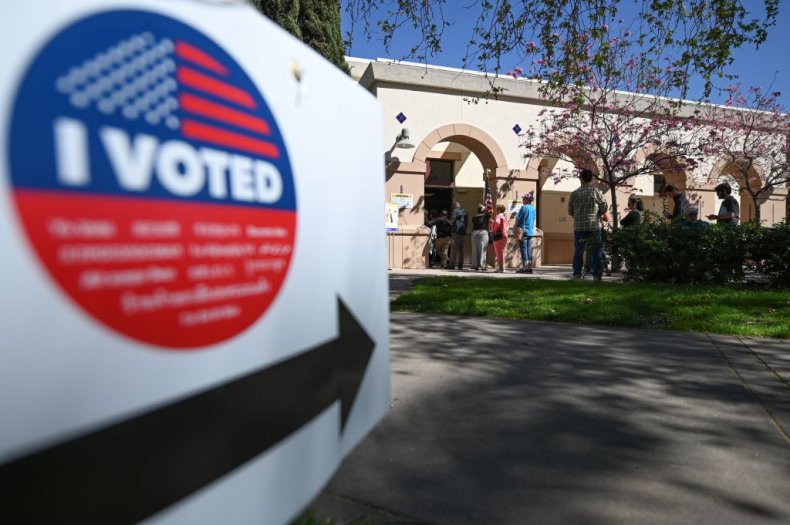 In the last week, the longtime Republican mayor of Lancaster, Rex Parris, a supporter of Garcia and the president, made the request for additional in-person voting centers. In a normal election cycle in the district, there would be close to 1,000 polling locations, but Tuesday there were only 13, including the new one in Lancaster. The change was made to avoid the appearance that people who wanted to vote weren't able to after Democrats said a lack of in-person voting options would disenfranchise African-Americans who are more likely to vote in-person.
Trump expressed his displeasure with that decision on Twitter Saturday, charging that Democrats "rigged" the "scam" election.
"So in California, the Democrats, who fought like crazy to get all mail in only ballots, and succeeded, have just opened a voting booth in the most Democrat area in the State," Trump wrote on Twitter. "They are trying to steal another election. It's all rigged out there. These votes must not count. SCAM!"
The president had previously given Garcia his "complete & total endorsement" on Twitter a week earlier.
The coronavirus crisis has changed the landscape of this race and those across the country. In addition to increased mail-in voting measures to avoid person-to-person contact as the pandemic continues, there was also a COVID-19 policy disagreement along partisan lines. Garcia backed Trump's plan to reopen the state and economy quickly, while Smith supported California Governor Gavin Newsom's plan to open the state in a more methodical manner, only with a track and trace plan in place from local governments to deal with new incidents of the virus.
The district had appeared to be trending towards Democrats in recent years, with Hillary Clinton winning it by seven points in 2016 and Hill taking the seat from Republicans in a nine-point win in 2018. Hill later resigned after photos of her were leaked without her consent and a House Ethics Committee probe looked into a charge of an improper relationship with a congressional staffer.