Republicans Push AG Barr to Ensure Votes Aren't 'Devalued' By Fraud As Signs Point to Trump Defeat
In an election that's left people feeling uneasy about the validity of the vote tallies that could make Donald Trump a one-term president, Republicans are pushing for the attorney general to step in and take action.
Vote counts coming out of key battleground states point to a victory for former Vice President Joe Biden and if the Associated Press' calling of Arizona in his favor stands, Biden's only six electoral votes shy of becoming president. However, Trump has far from given up hopes of a second term and maintains that if only "legal" ballots are counted, he would be the winner outright.
Thirty-nine Republican members of Congress sent a letter to Attorney General William Barr on Friday with two questions on their mind: "What are you doing to ensure the integrity of the voting and counting process right now?" and "Will you commit to using all the resources at your disposal to ensure that only legal votes are being counted and being counted in a fully transparent manner immediately?"
In asking Barr to get the Department of Justice involved, the congressional Republicans said "responsible for the integrity of federal elections" fell on the DoJ. Given the "widespread reports of irregularities," they told Barr it was time for him to use the DoJ's resources to "ensure that the process is conducted in a manner that is fully consistent with state and federal law."
"And, it is also important that the process be completely transparent so that the American people will have full confidence in the result," the letter said.
Along with ensuring people have access to the ballot box, the Republican members of Congress said the DoJ has a responsibility to ensure "no one's vote is devalued by any means of voter fraud."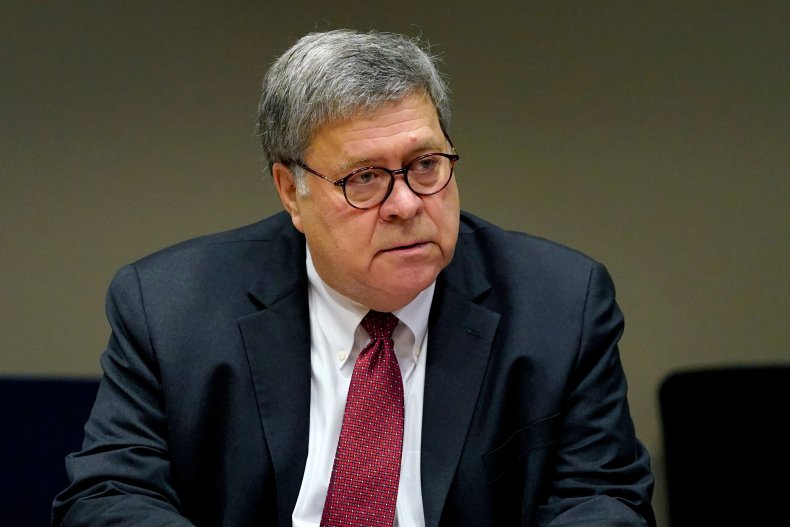 One issue the Trump campaign has had with the election process is that watchers in Philadelphia were originally required to be about 20 feet from where ballots were being counted. This distance, Trump's personal attorney Rudy Giuliani argued, violated their ability to "observe" the process because they were unable to view the ballots being counted. A judge sided with the Trump campaign in a suit they filed, thereby permitting poll watchers to be within six feet of ballot counters.
Congressional Republicans wrote in their letter to Barr that the U.S. Marshals Service is available to ensure judicial orders are carried out, including one that allows poll watchers to observe ballot counting.
On Friday evening, the House Republican caucus had a two-hour call with the president's team, according to Representative Scott DesJarlais, who signed the letter to Barr, and are sorting through evidence being presented about "electoral issues." DesJarlais added that the House Republican team is also working on "specific identifiable issues that can be challenged in the courts." DesJarlais put the blame on the media and big tech, as Trump did during a press conference Thursday, and said they are "far from throwing in the towel," noting that the slim margins between the candidates in key swing states.
Newsweek reached out to the Department of Justice for comment but did not receive a response in time for publication.
Representative Paul Gosar, who won re-election Tuesday, posted on Twitter that he also sent similar letters, saying that Barr and the DoJ "are asleep."
"Without action now there is no next week or next month. The fraud is happening now. Machines can be seized now. Ballots now. Not next year," Gosar said.
Along with Republicans in Congress pushing for Barr to act, the Nevada GOP also put the pressure on. On Thursday, their attorneys sent a criminal referral to Barr regarding "at least 3,062 instances of voter fraud," although they expect that number to "grow substantially."
Nevada could be the make or break state in the election because if Biden wins Arizona, Nevada's six electoral votes will put him at the 270 vote threshold to declare victory. Assuming Biden keeps Arizona, for Trump to win, he needs to take four of the five states that have yet to be called—Pennsylvania, Nevada, North Carolina and Georgia. He can only afford to lose Alaska, which is leaning Republican but has yet to be called.
Barr, who's been criticized for siding with Trump too often, has remained silent on issues surrounding the election since Tuesday, although the DoJ's Civil Rights Division had a telephone line set up on Election Day to field complaints of violations of federal voting rights laws.