Republicans Push for Federal Legalization of Marijuana to Ensure 'Individual Liberty'
Republican lawmakers introduced legislation this week that would federally legalize and regulate marijuana, saying the proposal was necessary to ensure "individual liberty" and protect states' rights.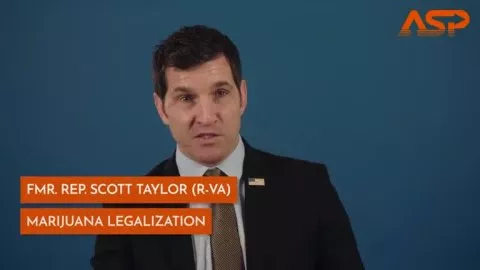 Representative Dave Joyce, a Ohio Republican, introduced the proposed legislation to end the longstanding federal prohibition of marijuana along with Representative Don Young, an Alaska Republican.
The bill would remove cannabis from the Federal Controlled Substances list; instruct the government to create a regulatory framework for marijuana similar to the alcohol industry; allow the Department of Veterans Affairs to prescribe medical cannabis; and protect financial institutions dealing with marijuana distributors and growers.
"For too long, the federal government's outdated cannabis policies have stood in the way of both individual liberty and a state's 10th Amendment rights. It is long past time that these archaic laws are updated for the 21st Century," Young said in a Wednesday statement.
The Republican congressman noted that he is "proud" to represent a state that has already legalized and regulated marijuana.
"This bill takes significant steps to modernize our laws by removing cannabis from the Controlled Substances Act and allowing the VA to prescribe medical cannabis to veterans, in addition to finally permitting state-legal cannabis businesses to utilize traditional financial services," he said.
Joyce released a similar statement, explaining the importance of his proposed legislation.
"With more than 40 States taking action on this issue, it's past time for Congress to recognize that continued cannabis prohibition is neither tenable nor the will of the American electorate," the GOP lawmaker said. Joyce said he looks forward to working with Democrats and Republicans to pass the bill.
As Joyce highlighted, most U.S. states have already moved forward with cannabis legislation. Dozens of states have already legalized cannabis for medical purposes, while 17 states and Washington, D.C. have legalized marijuana for recreational use by adults. Despite this reality, cannabis remains listed as a prohibited Schedule 1 drug, according to the federal government.
"With an overwhelming majority of Americans supporting the end of cannabis prohibition, it's clear that our country has a mandate to create a legal industry that supports both medical and adult-use. It's a bi-partisan issue," Steve Hawkins, the executive director at the Marijuana Policy Project that advocates for legalization, said in a statement emailed to Newsweek on Thursday. Hawkins cheered the Republican proposal as "a promising step forward."
Notably, the Democrat-controlled House of Representatives already passed legislation in December that would legalize cannabis at the federal level. The Marijuana Opportunity Reinvestment and Expungement Act (or MORE Act) was approved in the House with the support of five Republicans, one independent, and all but six Democrats. However, that legislation stalled in the Senate, which was then controlled by Republicans.
A senior Democratic aide touted the MORE Act when reached for comment by Newsweek on the Republican proposal.
"The MORE Act represents one of the most comprehensive marijuana reforms bills ever introduced and passed by the House because it not only decriminalizes marijuana at the federal level but addresses the devastating injustices caused by the War on Drugs, which Democrats strongly agree should be included in any meaningful federal legislation," the aide said.
Polling by Gallup released in November showed that support for legalizing marijuana had reached a new record high. The survey found that 68 percent of Americans believed that the use of marijuana should be made legal. That marked a slight increase from the 66 percent that supported legalization the previous year, and a dramatic increase over the just 12 percent who supported legalizing cannabis back in 1969 when Gallup first began polling Americans on the issue.
Updated 4:36 PM ET, with comment from a senior Democratic aide.
{{#isDisplay}} {{/isDisplay}}