Republicans Push 'Stop Stacey' Abrams Campaign as Georgia Governor's Approval Tanks
Republican strategists have launched a campaign to stop the former Georgia gubernatorial candidate Stacey Abrams as they prepare to hold off the Democrat, should she choose to stand as the party's candidate again in the 2022 governor race.
The "Stop Stacey" committee promised to "prevent a complete left-wing takeover of Georgia" as it was unveiled on Monday by a former Kelly Loeffler campaign staffer, and the strategist Jeremy Brand, an ally of Georgia's Republican Governor Brian Kemp.
According to the Atlanta Journal-Constitution, Parlay Marketing Partners, a communications firm led by Brand, will no longer have a direct hand in managing Gov. Kemp's re-election campaign.
Releasing a statement on his new campaign, the "Stop Stacey" senior strategist Brand said: "After losing the White House and United States Senate in 2020, grassroots Republicans across Georgia and America are standing together to stop radical Stacey Abrams."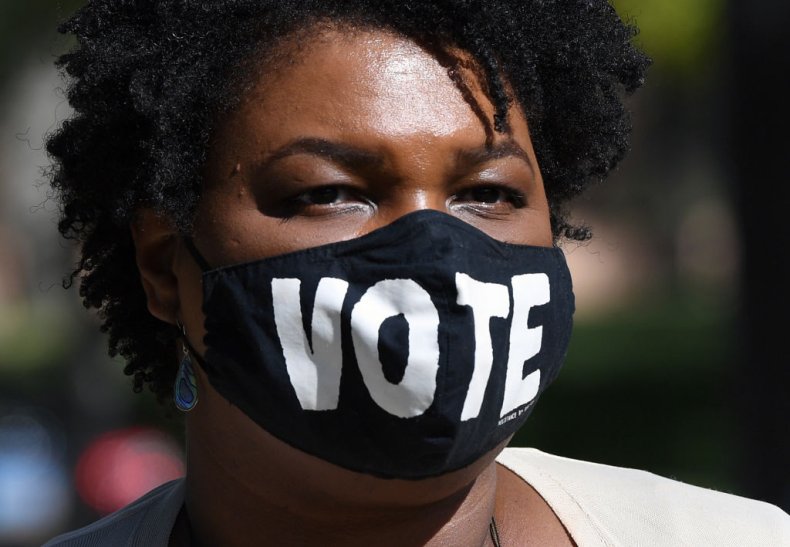 "We will do whatever it takes to expose Stacey Abrams' radical network, highlight her dangerous agenda, and ultimately defeat her—and her left-wing candidates—at the ballot box," he later added.
The new campaign told Fox News that it had raised six figures in initial funding, but aimed to match the fundraising efforts of Abrams' network.
Newsweek has contacted the "Stop Stacey" team for further comment. Abrams' Fair Fight campaign was also approached for comment.
Republican strategists launched the new campaign against Abrams as fresh polling in Georgia found that Gov. Kemp's approval rating among Republican voters had taken a knock over the past year, following a bruising spat with former President Donald Trump.
The latest survey from the Atlanta Journal-Constitution and the University of Georgia found that more than a third of Republican voters in the state (36 percent) either strongly or somewhat disapproved of Kemp's performance as governor.
When the pollsters conducted the same survey in January last year, 8 percent of GOP voters were unhappy with the state leader's performance.
In the new poll, more than half of all Georgians (51 percent) said they disapproved of Kemp's record in office so far, as 42 percent said they approved of his job as governor. A further 7 percent didn't know what to make of his performance.
However, the results were almost reversed when voters were asked about their impression of Abrams. Fifty-one percent said they had a favorable impression of her, while 41 percent told pollsters they had an unfavorable view of the former candidate for governor.
The new poll was conducted between January 17 and January 28, and surveyed 858 registered voters in Georgia. Its margin of error stands at 4.2 percentage points.