Republicans Push Donald Trump to Back Border Security Deal President Says He's 'Not Happy About'
Senate Republican leaders urged President Donald Trump to support a bipartisan border security deal on Tuesday, one that would provide some money for additional barriers and fencing along the southern border and avert another partial government shutdown.
Although not yet finalized, lawmakers from both parties say the deal will include about $1.375 billion for 55 miles of new physical barriers consistent with existing structures elsewhere along the border. It would not allow for the construction of a concrete wall, something Trump has recently shied away from to instead advocate for "steel slats."
In an effort to force Immigration and Customs Enforcement (ICE) to detain fewer people who are in the country illegally until their court proceedings, Democrats pushed to limit the funds allocated for detention beds. The exact number is in dispute by both parties and will likely not be known until legislation is filed, which lawmakers said will be sometime Wednesday night. To avoid another shutdown, some sort of government funding measure must be passed by Friday at midnight.
"This is a down payment on where the president wants to go and where we want to go with him, and that is to secure the borders of the United States. We made some concessions, but we got some, too," said GOP Senator Richard Shelby, member of the bipartisan conference committee who helped develop the plan. "We believe that the caucus will support this, I believe the House will support it, and we hope the president will support it as we release more and more of the details."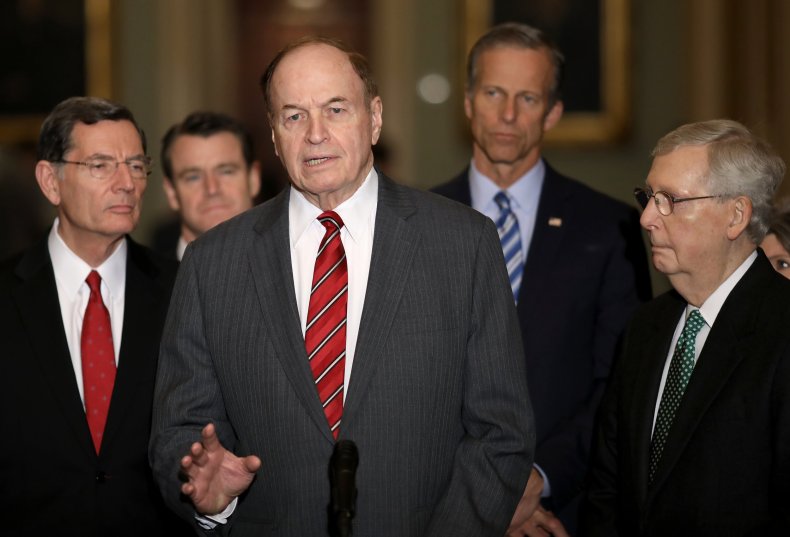 At the White House earlier, the president would not commit to supporting or vetoing the bipartisan measure.
"Am I happy at first glance? I just got to see it. The answer is no, I'm not. I'm not happy. It's not doing the trick," Trump told reporters. "But am I happy with where we're going? I'm thrilled." Offering some assurances the country will avert another shutdown, he added: "I don't think you're going to see a shutdown. If you did have it, it's the Democrats' fault."
Senate Majority Leader Republican Mitch McConnell acknowledged neither side got everything they wanted but still urged the president to support it. He declined to entertain the possibility of Trump vetoing the agreement and whether Congress would then seek to obtain a veto-proof majority.
"It's not everything the president hoped to get, but I think it's a good step in the right direction. I hope he'll decide to sign it," McConnell said.
The deal offers less for border security than lawmakers had negotiated prior to the 35-day shutdown, which was $1.6 billion, and has led Democrats to say the entire ordeal has been all for nothing.
"Of course," Democratic Senator Chris Murphy said when asked if the past few months were a waste of time. "We settled for a number that has been on the table for two months. This deal was available to take back in December.... This job is absolutely maddening. We're spending all of our time trying to simply avert disaster and maintain the status quo."
"If this is where we end up," Murphy continued, "it makes the shutdown look even stupider."
When asked if the president should have accepted Democrats' previous offers for more funding, McConnell said no. "I think he's got a pretty good deal here," he said.
Previously, Trump demanded $5.7 billion for the wall. Trump suggested Tuesday he could use his executive authority to take money from other government departments to close the funding gap.
"The difference between $1.375 billion and $5.7 billion can be made up in two ways," said GOP Senator and Trump ally Lindsey Graham. "Through reprogramming money through existing statutes and declaring a national emergency. I think he'll probably do both."