So Far, Middle Class Gets Short Shrift From GOP Candidates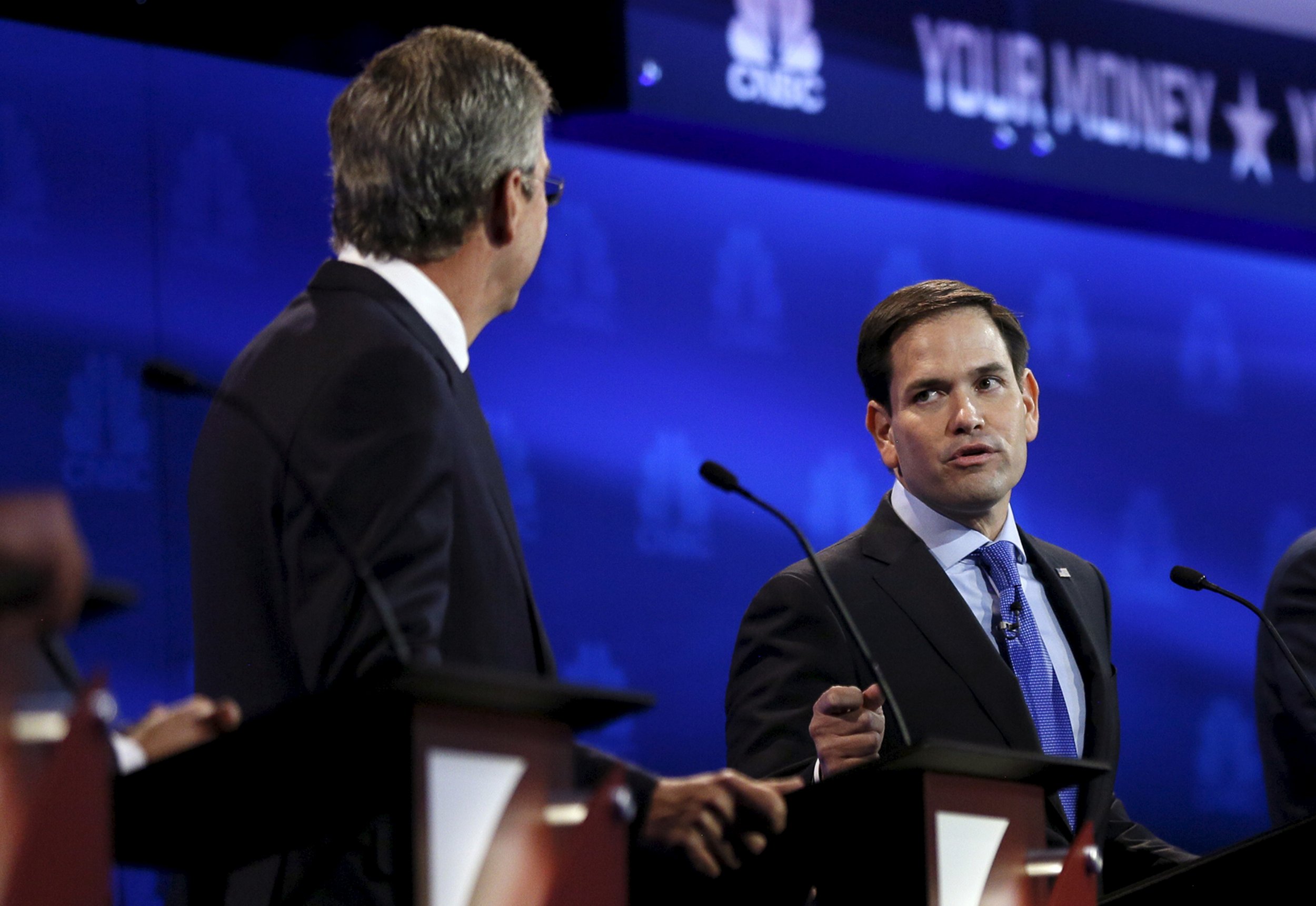 Marco Rubio was quick to object when CNBC's John Harwood noted during the network's Republican presidential debate last month that Rubio's tax plan helped the rich more than the middle class.
"No…you're wrong," the senator from Florida interjected. "In fact, the largest after-tax gains is for the people at the lower end of the tax spectrum under my plan."
That's true, but according to the conservative Tax Foundation , it's also true that the middle class stands to benefit least from Rubio's plan—less than both the poor and the rich. Rubio didn't address that point in his response to Harwood, and with good reason: He and his fellow 2016 candidates in both parties are all vying to prove they can be a leader for America's struggling middle class, which has not gotten nearly the same boost from the nation's economic recovery as the wealthy. The challenge for the Republican candidates in Tuesday's debate in Milwaukee hosted by Fox Business Channel, the second in a row focused on the economy, will be demonstrating they feel that broad swathe of voters' pain have a real plan to reverse the stagnation.
The GOP faces an uphill battle on this front. Republicans have long been stereotyped as the party of the rich. A July survey by the Pew Research Center found Democrats have a 22 percent edge on the question of which party is "more concerned with the needs of people like me." A Washington Post -ABC News poll back in January found a smaller gap—of 6 percent—when it asked voters who had better ideas for helping the middle class, President Obama or Republicans. In the early debates, Republican candidates have done little to shift the narrative. The term "middle class" was mentioned just twice over the course of the party's first presidential debate, in Cleveland in August. The American "worker" or "working" people were discussed in four instances.
Compare that to the Democrats' first presidential debate, in Denver in October, when the middle class was brought up 13 times and the plight of workers or working people another 11.
Of late, though, Republicans have zeroed in more on middle class issues. In the CNBC debate, which was focused on the economy, candidates brought up the middle class on six separate occasions, and workers a dozen times. Among those most proactive about raising the plight of the middle class and working Americans were Rubio, former Florida Governor Jeb Bush and New Jersey Governor Chris Christie.
Karlyn Bowman, a senior fellow at the center-right American Enterprise Institute who analyzes public opinion, tells Newsweek via email that it's early and "with a big GOP field it isn't surprising that there are more questions and answers about biography than substantive issues." But she says middle-class concerns are something the candidates will have to turn to, particularly as the field narrows and campaigns begin to eye a pivot to the general election. Empathizing with the middle class, as Rubio in particular has done, is the first step. Next is laying out proposals for helping these voters get out of the economic doldrums.
When they do, they will be walking something of a tightrope. Much of the Democratic primary discussion has focused on expanding benefits to help the middle class—things like requiring companies provide paid leave and sick days, expanding pre-K programs and child care reimbursements and providing free or low-cost college tuition—which get wide support in polls. But those types of programs are not popular among the Republicans' conservative base or donor class, which look at them as more big government.
Rubio has tried to thread the needle with proposals for higher education reform and paid leave, including the idea of offering a tax credit for businesses that voluntarily offer four weeks of paid family leave, but the plan was panned by progressives as ineffectual and no other Republican has ventured into similar waters.
Some progressive advocates have pointed out that the related issue of increasing the minimum wage (by an incremental amount, not the leap to $15 an hour that labor organizers have been advocating) has a majority of support even among GOP primary voters. Oxfam America and GOP pollster John McLaughlin found as much in an August survey. They also found that relatively few likely Republican voters in Iowa and New Hampshire would vote against a candidate just because he or she disagreed with them on the minimum wage. But of the Republican field, only low-polling former Pennsylvania Senator Rick Santorum actively supports raising the minimum wage.
Republicans have an edge on one front, however: Americans do not support class warfare. Pew and other public opinion polls show voters are aware of rising inequality, but are less concerned with how the rich are doing as long as they and their families are making ends meet. As Bowman observed in an October memo, one recent poll found that people "expressed much more concern about the middle and working class being able to get ahead (68 percent) than about the income gap between the wealthiest Americans and the rest of the country (28 percent)." In other words, Democratic presidential candidate Bernie Sanders's rants against the billionaire class have limited resonance.
There's also no consensus on how economic inequality be addressed—polls have found Americans about evenly split between those who think the government should actively combat inequality and those who believe it should be left up to the markets.
Expect to hear plenty of market-driven proposals on stage at the Milwaukee Theater Tuesday night.