Republicans Rebel Against Their Own Party's Stimulus Plan in Split with McConnell
Republican senators were anything but shy on Tuesday about airing their grievances over their party's $1 trillion coronavirus stimulus proposal.
GOP lawmakers derided the legislation, which was the culmination of two weeks of intense negotiations between top congressional Republicans and members of the Trump administration, namely over its price tag and lack of clear understanding over what's in the bill.
The public condemnation from so many Republicans concerned about skyrocketing government debt raises the specter of whether the Grand Old Party can strike a deal amongst themselves—much less with Democrats. And the longer it takes to reach an agreement, the more time millions of Americans will miss out on federal relief like individual checks and enhanced unemployment insurance benefits, the latter of which expired over the weekend.
Senator John Kennedy (R-La.) described the intraparty squabbles as Republicans having "unity in disagreement."
"I'm sorry, I was in the wrong meeting again. This was the big spending, big government meeting," a frustrated Senator Rand Paul (R-Ky.) told reporters after walking out of a private GOP lunch. "Trillions of dollars of debt! This is what Republicans stand for."
He estimated that 10-15 of his Republican colleagues also oppose the stimulus. "I think they have the misguided notion that you have to spend this or you can't get elected. I'm of the opposite," Paul said of his party.
"I'm not inclined to support it now," Senator Josh Hawley (R-Mo.) said. "It's a mess."
"I'm not for authorizing any new spending," said Senator Ron Johnson (R-Wis.) while Senator Ted Cruz (R-Texas) said, "I think it's a mistake."
"The price tag is going to be a deal breaker for many of us, regardless of the content," said Senator Mike Braun (R-Ind.).
Amid the internal disagreement, Kennedy suggested there is a small silver lining: "For the most part, we're gnawing on the same bone," he said. "We're just gnawing at different ends of the bone. But at least it's the same bone."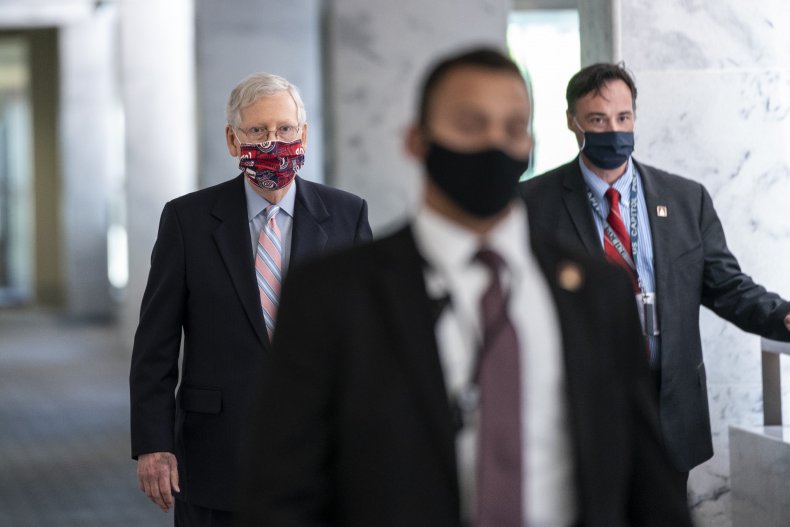 Privately and publicly, Senate Majority Leader Mitch McConnell conceded that there will be GOP defectors with any stimulus, regardless of its size or scope. He acknowledged to reporters at a press conference that it's "obvious" Republicans "are all over the lot on this."
McConnell was overheard minutes later discussing the matter in the Capitol with Senator John Cornyn (R-Texas), a leadership member, and said members like Senator Mike Lee (R-Utah), a deficit hawk, are "not gonna vote for the bill no matter what."
Other top Republicans made similar concessions about the legislation, which currently includes a second round of stimulus checks, a reduction to the federal jobless benefits, funding for schools and universities to reopen, more money for the Paycheck Protection Program and liability protections for businesses, hospitals and education institutions operating amid the pandemic.
"We're not going to get everybody. We know that," Senate Majority Whip John Thune (R-S.D.) said. "But I think most people are going to be comfortable with the outlines of where the bill is."
Thune reversed course from some of his colleagues to suggest they may try and pass portions, such as the enhanced unemployment benefits, in a piecemeal approach if they fail to reach a bipartisan consensus. Republicans want to slash the $600 weekly boost for unemployment recipients to $200 until states can transition to a new system that would provide 70 percent of a person's former pay. Democrats want the $600 to remain in place through January 2021.
Senator Lindsey Graham (R-S.C.), a confidant to President Donald Trump, said it'd be "quite an accomplishment" if McConnell could get half of GOP senators to vote for any stimulus package. "If you believe we're in a war with a virus, you have to spend money when you're in a war," he said.
Some Republicans, such as Senator Kevin Cramer (R-N.D.), suggested the internal divisions did not bode well for their negotiations with Democrats. McConnell "certainly will have less [leverage] if Republicans start dropping off," Cramer said.
Democrats have already labeled the GOP proposal as insufficient and are pushing for a House-passed plan that is three times the size—$3 trillion—and includes more checks, maintaining the current unemployment boost and additional state aid, among other things.
Senator Ben Sasse equated the ongoing talks between Treasury Secretary Steven Mnuchin and House Speaker Nancy Pelosi (D-Calif.) as "Democrats and Trumpers competing to outspend each other."
"We have two big government Democrats—Secretary Mnuchin on behalf of the Trump administration and Speaker Pelosi on behalf of binge-spending politicians everywhere—playing gross games with your kids' money," the Nebraska Republican said in a statement. "The White House is trying to solve bad polling by agreeing to indefensibly bad debt."
The resistance from Republicans for more spending of any kind, even to help an economy amid a recession, could jeopardize whether any federal aid gets approved. Few Republicans were willing to give an iron clad prediction that Congress and the White House can approve any sort of proposal in the coming weeks.
Senator Rick Scott (R-Fla.) was "optimistic" about eventually reaching a deal while Kennedy said there was "no way for me to handicap it."
Asked about the possibility of using part of August recess to accomplish a package, McConnell responded: "We'll keep you posted."
"There's no way to answer all those hypotheticals," he continued. "The interaction with the Democrats has seriously begun."