Republicans Recruit Army of 45,000 Poll Watchers Before Midterms
The Republican Party has recruited more than 45,000 poll watchers and workers for battleground states across the country ahead of the midterms in November.
"The RNC has built an unprecedented election integrity ground game to ensure that November's midterm elections are free, fair, and transparent. Polling shows that voters want common-sense election integrity safeguards such as bipartisan poll observation," Republican National Committee (RNC) Chairwoman Ronna McDaniel told Breitbart News on Thursday.
She said that GOP lawmakers are "leading the Republican ecosystem to deliver transparency throughout the process and ensure voters have confidence in American elections" by "holding thousands of trainings and recruiting over 45,000 poll watchers and poll workers." This is a 12,000 increase from July, Breitbart reported.
The report said that the RNC has made investments in 17 states with election integrity directors and 35 in-state election integrity councils. The move comes after unfounded allegations of voter fraud cropped up in multiple states following the 2020 presidential election. No evidence was found of voter fraud after multiple investigations and audits.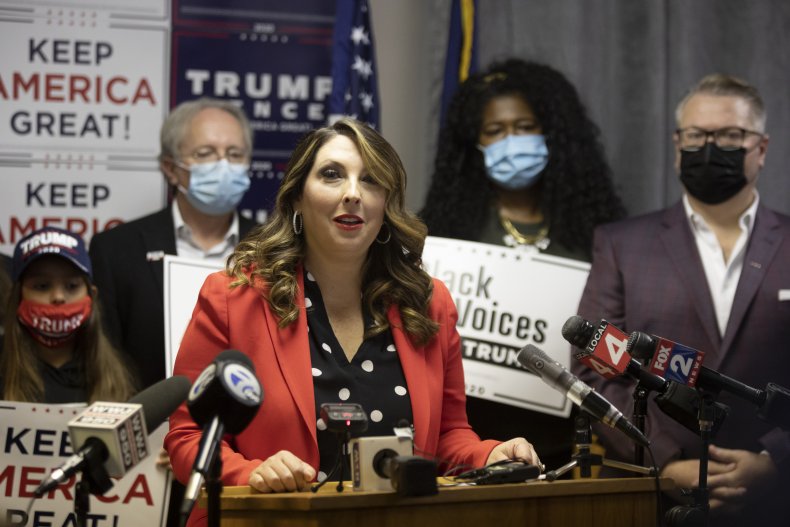 Along with this, the GOP has made over 85,000 unique volunteer engagements and have held over 3,500 Election Integrity trainings, a rise of 20,000 unique volunteer engagements since July. States the RNC has invested in its election integrity operations include Ohio, Georgia, Wisconsin, Pennsylvania, Texas, Virginia and New Jersey—many of them battleground states.
Newsweek reached out to the Democratic National Committee for comment.
For many weeks, the Republicans have been expected to do well in the primaries, no surprise considering that historically, the opposition party tends to win those elections. However, having been on a downward trajectory for much of last year, U.S. President Joe Biden's popularity has been increasing in recent weeks, something that is seldom seen by an incumbent president ahead of the midterms.
Part of the reason for this resurgence could be that gas prices have started to fall in the United States, offering some relief from the soaring cost of living. Biden also confirmed last month that Ayman al-Zawahiri, al-Qaeda's leader and one of the masterminds behind the 9/11 terrorist attacks, had been killed by the U.S. in a drone strike in Afghanistan.
As a result of Biden's increasing popularity, the Democrats have become more optimistic about their performance in the mid-terms. An Economist poll from Monday forecasted that the Democrats are likely to keep their majority in the Senate, albeit by a narrow margin, and lose their House majority.
An NPR/PBS NewsHour/Marist poll from September 8 showed that Democrats and many independents are motivated by the issue of abortion in the midterms, while Republicans have the advantage of the economy. That poll also showed a slight increase in Biden's approval rating, going from 36 percent in July to 41 percent presently.
Although some 57 percent of Americans said they believed Biden's decisions as president weakened the U.S. economy, in the mid-terms, 48 percent of respondents said they would vote Democrat for Congress, while only 44 percent said they would vote Republican.