Republicans Test Roe v. Wade in Mississippi With Country's Strictest Abortion Ban
Mississippi Republicans' proposed 15-week abortion ban is more than an attempt to pass the country's strictest anti-abortion legislation. It's shaping up to be the GOP's latest effort at overturning abortion rights altogether.
The bill, which Mississippi Governor Phil Bryant is expected to sign in the coming days, doesn't include exceptions for rape or incest and, in the view of abortion rights activists, is a clear violation of Roe v. Wade.The state's attorney general, Jim Hood, a Democrat, has said that he expects a swift legal challenge to the law.
Conservative legislators are well aware of this likelihood but they're hoping that by the time the legislation gets appealed all the way to the Supreme Court, there's a Trump-appointed justice on the bench prepared to overturn the landmark abortion rights decision.
"Mississippi lawmakers are both pushing the envelope and testing Roe v. Wade at the same time," Elizabeth Nash, senior state issues manager at the Guttmacher Institute, told Politico on Friday.
They share this hope with conservatives across the country, who have long been working on anti-choice legislation, banking on the same Supreme Court outcome.
In November, Republican Representative Steve King presented some of the strictest anti-abortion legislation to ever be proposed at the federal level. Known as the "Heartbeat Protection Act of 2017," King's bill would ban abortion at six weeks, or at the first sign of a fetal heartbeat. Similar bills have been consistently struck down on the state level, but with President Donald Trump in office, King has said he's confident his legislation will "eliminate a large, large share of abortions" nationwide.
"By the time we march this thing down to the Supreme Court, the faces on the bench will be different—we just don't know how much different, but I'm optimistic," King told reporters when he first introduced the legislation in January.
King's bill, however, has continued to languish in committee.
If Supreme Court Justice Anthony Kennedy retires, the hopes of anti-abortion lawmakers could become a reality. The exit of Kennedy, who has said he's "seriously considering" retirement, would leave room for Trump to appoint a justice game to repeal Roe v. Wade.
On Friday, Politico reported that Nevada Senator Dean Heller is counting on the justice retiring by this summer.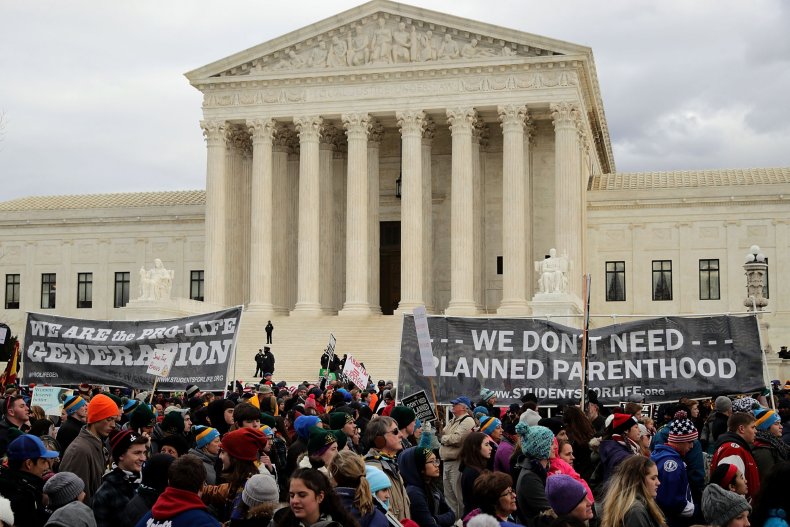 The battle to overturn federal abortion rights has long been fought on the state level, where state legislators test how much they can chip away at Roe v. Wade.
State lawmakers have become especially strategic about introducing anti-abortion legislation that, at first pass, appears neutral. Texas's HB2 law, which was eventually deemed unconstitutional by the Supreme Court in 2016, sought to make abortion clinics function like hospitals—a mandate that might not seem like a direct attack on Roe v. Wade, though it was: While it was in effect, the law shuttered 21 clinics, making abortion inaccessible for millions of women.
"States may be producing laws which, if upheld, may be the vehicle for weakening Roe if not providing an occasion to overturn it," Michael Gerhardt, a constitutional law professor at University of North Carolina at Chapel Hill, told Newsweek in November. Many of these laws, he said, involve "narrowing the window for abortion until it gets to the point where it's closed entirely."
Mississippi already boasts some of the country's most restrictive abortion laws, and has just one abortion clinic for the entire state.
"The South, my home, has become one of the centers of the abortion access crisis," Physicians for Reproductive Health Chair Dr. Willie Parker, who practices at the lone Mississippi abortion clinic, said in a statement Friday. "Patients in Mississippi need more access to care. Politicians must stop trying to deny women their right to live a life with dignity and self-determination."