Republicans Fighting to Lead Border States Quiet on Busing Migrants
Two Republican gubernatorial candidates in border states who are running to unseat incumbent Democrats, have stayed mum on the latest political stunt involving the transportation of migrants from border states to major cities in the north.
Brian Dahle, who is running against Governor Gavin Newsom in California, and Mark Ronchetti, who is running against Governor Michelle Lujan Grisham in New Mexico, have both steered clear of signaling that they'd join the controversial efforts of GOP Governors Ron DeSantis of Florida and Greg Abbott of Texas to transport migrants out of state.
Over the last five months, Abbott has bused thousands of asylum seekers from Texas to places like New York City and Washington D.C. in hopes of pushing Democratic mayors into ramping up the pressure on President Joe Biden to act on the record number of migrants crossing the southern border.
Last week, DeSantis' decision to join Abbott by flying a group of migrants from Texas to Martha's Vineyard captured national headlines as critics slammed the Florida governor for wading into the immigration issue.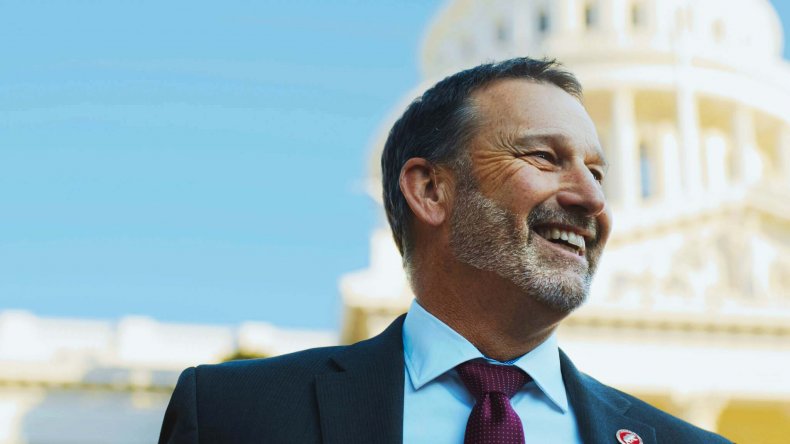 Running in California and New Mexico, two states that are often at the center of the immigration conversation, makes Dahle and Ronchetti's silence particularly notable.
As other GOP candidates fighting to win in November have praised Abbott and DeSantis over the recent transportation of migrants, Dahle's Twitter page has remained focused on California's homelessness and rising prices at the gas pumps and grocery stores.
And while a spokesperson for Ronchetti told the Albuquerque Journal that Abbott and DeSantis are "doing everything they can to bring attention to the border crisis created by Joe Biden and made worse by politicians like Governor Michelle Lujan Grisham," the campaign declined to answer questions about whether Ronchetti would approve efforts to transport migrants from New Mexico to other states.
A spokesperson for his campaign told Newsweek that Ronchetti "fully understands the frustration" of Abbott and DeSantis but did not comment on whether he'd take the same action if he were to defeat Lujan Grisham in November.
"Our border states have been abandoned by the federal government, and the consequences are dire," said Ryan Sabel, Ronchetti's director of communications. "One million fentanyl pills were seized this month in an Albuquerque drug bust, enough to kill every child in the state. And with our sanctuary city and catch and release policies in New Mexico, violent gang members and criminals are running our streets instead of being deported."
Although Lujan Grisham also declined the Journal's questions, she has moved migrants from the state in the past. When New Mexico's cities and shelters were overwhelmed by a surge of asylum seekers from Central America in 2019, the Democratic governor bused several dozen to communities in Denver for shelter and aid.
However, asked about DeSantis' recent move, a spokesperson for Lujan Grisham described the Republican's efforts as a distraction "from the fact that his far-right colleagues are trying to pass a national abortion ban, a position he supports."
This week, federal authorities announced that arrests along the U.S.-Mexico border topped two million for the first time this year. The latest figures from U.S. Customs and Border Protection put the government on pace to make more than 2.3 million arrests during the 2022 fiscal year, which ends September 30.
Newsweek has reached out to Dahle for comment.
Update 9/22/22, 1:35 p.m. ET: This story was updated with comment from Ryan Sabel.