Republicans Say $583 Billion for Pentagon Isn't Enough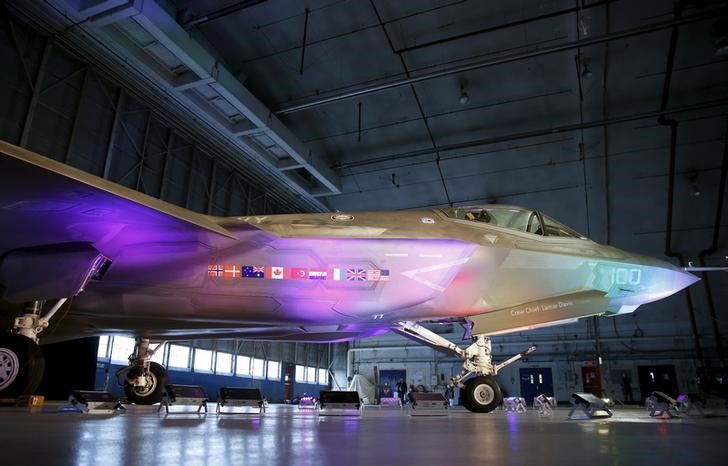 WASHINGTON (Reuters) - The Pentagon on Tuesday proposed a $582.7 billion defense budget that emphasizes emerging threats from Russia, China and Islamic State rebels, but the plan is already under fire from Republican lawmakers who charge it short-changes the U.S. military.
President Barack Obama's last budget would boost spending on the war against Islamic State militants to $7.5 billion during the 2017 fiscal year, a 50 percent jump over the $5 billion approved this year. Some $200 million of that would go to fight militants in north and west Africa.
The proposal also would quadruple funds to counter Russian pressure in Europe, including its seizure of Ukraine's Crimean peninsula and repeated strategic bomber flights near NATO air space. Spending to boost U.S. military presence and training in Europe would rise to $3.4 billion from $800 million this year.
The budget heralds a strategic shift as Washington looks beyond the wars in Iraq and Afghanistan and enters a new period of great power competition from Russia and China as well as threats from smaller rivals like Iran and North Korea, officials said.
"This budget marks a major inflection point for the Department of Defense," Defense Secretary Ash Carter said in a statement. "Even as we fight today's fights, we must also be prepared for the fights that might come in 10, 20 or 30 years."
Overall, the administration is seeking a Pentagon base budget of $523.9 billion for the fiscal year beginning Oct. 1, plus $58.8 billion for war funding and overseas operations. The base budget is about $2.5 billion more than this year's while war spending remains relatively flat, officials said.
The spending proposal is in line with a congressional budget deal last year that set Pentagon funding guidelines for 2016 and 2017. But Republican lawmakers have criticized the war funding plan, saying the $59 billion figure in the budget deal was a floor, not a ceiling, and the president should have sought more.
"This request is inadequate to address the national security threats we face," Senator John McCain, chairman of the Senate Armed Services Committee, said in a statement. Congressman Mac Thornberry, chairman of the House Armed Services Committee, accused the administration of playing "budgetary games."
McCain said by seeking the minimum level of war funding in the budget deal, the president had left the Pentagon with $17 billion less than it estimated it would need for 2017 in last year's budget.
To make up the shortfall in planned spending, the Pentagon cut more than $5 billion by adjusting its assumptions about expected fuel costs and inflation levels, Pentagon Comptroller Mike McCord said. It also cut procurement to $112.1 billion, down 6 percent, from this year.
The reductions would come mainly from planned aircraft purchases, including five fewer F-35 Joint Strike Fighters <lmt.n> and a reduction in several types of Army helicopters<ba.n>, budget documents show.
While cutting procurement, the Pentagon proposed increasing spending on research and development by 4 percent, to $71.8 billion, as it looks to develop new technologies to give it a military edge.
The department said it would spend $16.8 billion in its classified military intelligence accounts.
It also agreed to delay until 2022 its controversial plan to retire the A-10 close air support aircraft, which is being used in the fight against Islamic State. Retaining the aircraft will cost $3.4 billion over the five-year period.
The budget would continue to shrink the size of the U.S. Army, which will drop to 460,000 soldiers in 2017 from the current 475,000.
Separately, the president's budget would fund a new $150 million polar icebreaker vessel to ensure year-round accessibility to the Arctic for Coast Guard missions.