Republicans Say Trump Isn't Vindicated by Memo in Russia Investigation, Adding to Democrat Chorus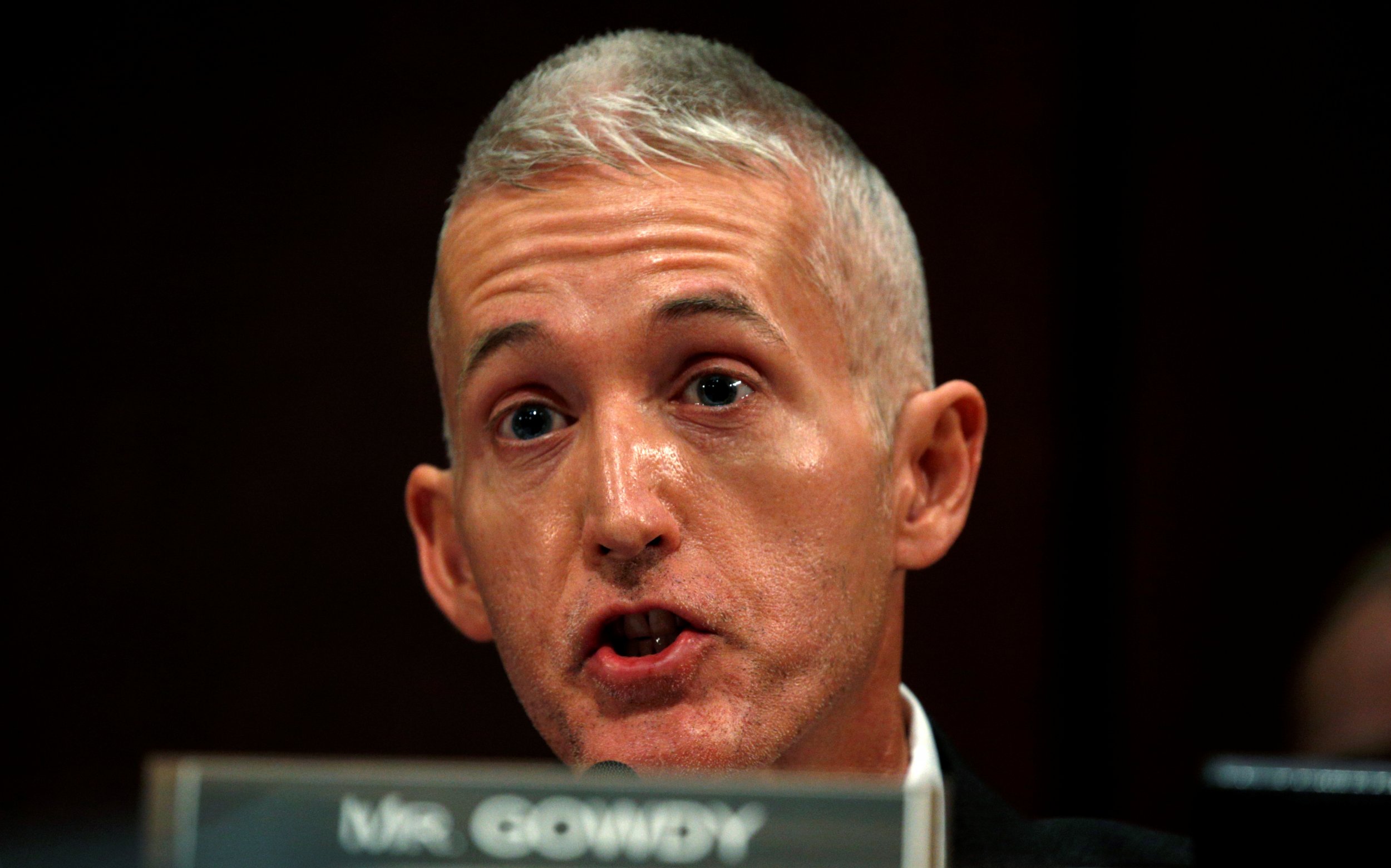 Counter to President Donald Trump's claims, a number of Republicans on the House Intelligence Committee say he has not been vindicated in the Russia investigation by a controversial intelligence memo they published Friday.
"I actually don't think it has any impact on the Russia probe," said South Carolina Republican Rep. Trey Gowdy of the memo on CBS'S Face the Nation Sunday.
Last Friday the committee released a memo crafted by Gowdy and staff from chairman Rep. Devin Nunes, which suggests the FBI improperly spied on former Trump campaign foreign policy adviser Carter Page, who authorities suspected of being a foreign agent.
The memo alleged authorities did not disclose that they relied on evidence from a political research dossier compiled by former British spy Christopher Steele to obtain a foreign intelligence surveillance warrant (FISA) to monitor Page.
The committee is currently one of several ongoing investigations in Congress and by special counsel Robert Mueller looking at Russia's alleged meddling in the 2016 election and whether the Trump campaign participated.
On Saturday Trump wrote on Twitter the memo "totally vindicates 'Trump' in probe," calling the Russia investigations a "witch hunt." The president has called the findings of Russian election interference by key American intelligence agencies in a report last year a "hoax" and repeatedly dismissed the bipartisan investigations as politically motivated.
Read more: Fact-Checking the Nunes Memo
"Their [sic] was no Collusion and there was no Obstruction (the word now used because, after one year of looking endlessly and finding NOTHING, collusion is dead). This is an American disgrace!" Trump wrote Saturday.
Gowdy, however, said Sunday the memo he helped author hardly vindicated the president in Mueller's probe and the other strands of the investigation.
"There is a Russia investigation without a dossier. So to the extent the memo deals with the dossier and the FISA process, the dossier has nothing to do with the meeting at Trump Tower," Gowdy said, referring to a June 2016 meeting Donald Trump Jr. set up after being promised dirt on Hillary Clinton.
"The dossier really has nothing to do with George Papadopoulos' meeting in Great Britain," Gowdy continued, noting allegations that Papadopoulos, a former campaign adviser, met with a Kremlin-linked professor who told him Russia had thousands of damaging emails on Clinton.
"It also doesn't have anything to do with obstruction of justice," Gowdy said, pointing out that Trump is being investigated for whether he tried to stymie the FBI's investigation by firing former FBI Director James Comey. "So there's going to be a Russia probe, even without a dossier," Gowdy said.
When asked on ABC's This Week Sunday whether he agrees Trump has been vindicated by the memo, Rep. Will Hurd, R-Texas, who sits on the committee with Gowdy, said "I don't."
"Bob Mueller should be allowed to turn over every rock, pursue every lead, so that we can have trust in knowing what actually the Russians did or did not do," Hurd said.
Last week Trump was reported to have told friends in phone calls that the release of the memo would allow him to argue Mueller's investigation and those in Congress are biased against him. After the memo's release last Friday, Trump tweeted the memo shows the "top Leadership and Investigators of the FBI and the Justice Department have politicized the sacred investigative process in favor of Democrats and against Republicans."
Democrats on the committee said the memo left out key facts about the FISA warrant. The FBI said in a statement last Wednesday it had "grave concerns about material omissions of fact that fundamentally impact the memo's accuracy."
Trump has argued that the memo shows that the investigations into his campaign and obstruction of justice are built on faulty, politically motivated information in the dossier, which indicates members of the Trump campaign worked with the Kremlin to interfere in the 2016 election.
"This memo has frankly nothing at all to do with a special counsel," Rep. Chris Stewart, R-Utah on Fox News Sunday.
Stewart said the memo "doesn't end" the need for the special counsel. "I think it would be a mistake for anyone to suggest that the special counsel shouldn't complete his work."
"I think it's a disgrace," Trump said last Friday when asked about the memo. "What's going on in this country, I think it's a disgrace," he said. "A lot of people should be ashamed of themselves and much worse than that."
Other Republicans have echoed the president' sentiments. Last Friday Rep. Paul Gosar, R-Arizona, said the memo shows "illegal" misconduct by former officials, including Comey and Trump-appointed Deputy Attorney General Rod Rosenstein, whom he accused of "treason."
Gosar said he is "seeking criminal prosecution against these traitors to our nation."