Majority of Republicans Would Vote for Candidate Facing Multiple Sexual Harassment Allegations: Poll
A majority of Republican voters say they would consider voting for a candidate with multiple accusations of sexual harassment, according to a new survey.
The poll, conducted by the nonprofit and nonpartisan Public Religion Research Institute (PRRI), indicated that 56 percent of Republicans would consider voting for candidates accused by multiple people of sexual harassment and 34 percent of Republicans would absolutely not vote for a candidate facing multiple accusations of harassment.
The numbers sharply contrast the views of Democratic voters. Eighty-one percent of Democrats said they would absolutely not vote for a candidate facing accusations of sexual harassment.
At least 22 women have accused President Donald Trump of sexual misconduct, and a number of women have accused the president of sexual misconduct. The president has denied all of the allegations against him
"Every woman lied when they came forward to hurt my campaign. Total fabrication. The events never happened. Never. All of these liars will be sued after the election is over," Trump said during a 2016 campaign speech in Gettysburg, Pennsylvania.
Still, in total, 60 percent of voters said that they would definitely not vote for a political candidate who had been accused of sexual harassment by multiple people. Only 32 percent said they would still consider voting for the candidate.
Two-thirds of women said they would not vote for such a candidate, while just 53 percent of men said they wouldn't.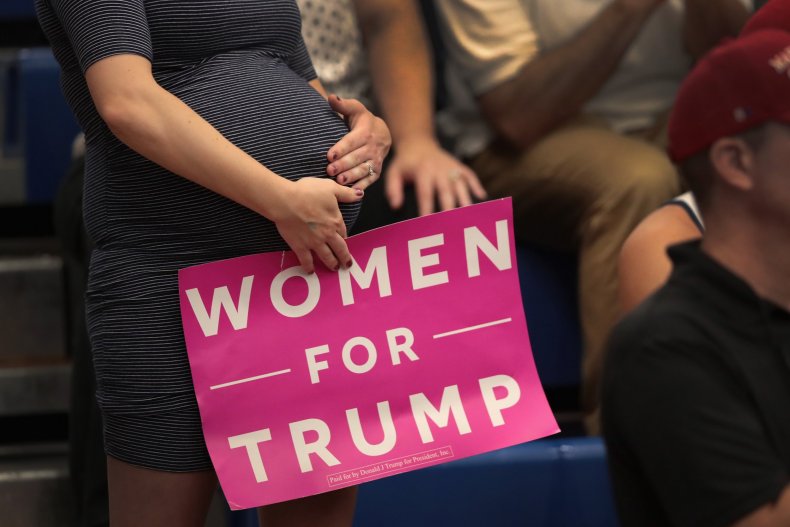 "While majorities of men and women both say they wouldn't vote for a candidate accused of sexual harassment, partisanship trumps gender on this issue," said PRRI CEO Robert P. Jones. "Strong majorities of Democratic men and women, compared to only about four in ten Republican women and fewer than three in ten Republican men, say they wouldn't vote for a candidate facing multiple accusations of sexual harassment."
Trump won 41 percent of the female vote in 2016, largely because of the 52 percent of white women who voted for him (exit poll data shows that only 4 percent of black women and 25 percent of Hispanic women voted for Trump).
But in the age of Me Too and Brett Kavanaugh, sensitivities to accusations of sexual assault could be changing. Still, Republicans are slow to change their minds.
A recent poll by The Economist/YouGov asked how American voters felt about allegations by Christine Blasey Ford of sexual assault by Supreme Court nominee Brett Kavanaugh. "If it were proven that Brett Kavanaugh sexually assaulted a woman when they were both high school students 36 years ago, do you think that does or does not disqualify Kavanaugh from being a Supreme Court Justice?" the survey asked.
Forty-eight percent of respondents thought it should disqualify him, while 28 percent said it should not. Fifty-five percent of Republicans said that a proven allegation of sexual assault should not disqualify Kavanaugh from the Supreme Court.
The PRRI survey took place between August 22 and September 2. Telephone interviews were conducted among a random sample of 1,856 adults 18 years of age or older living in the United States.