Republicans Shoot Down Civil Rights Subcommittee Within Oversight Panel
Republicans on the House Oversight and Accountability Committee shot down a proposal by their Democratic colleagues to keep the panel's civil rights subcommittee in the Republican-controlled House, arguing the subcommittee was not necessary to combat discrimination.
The Subcommittee on Civil Rights and Civil Liberties, created after Democrats took the House majority in the 2018 elections, was designed to address legislation covering various matters, including voting rights; freedom of religion, speech and the press and the right to assemble; employment equality, nondisclosure agreements; criminal justice reform; and oversight of the Census Bureau.
"We'll shine a bright light on violations of the civil rights and civil liberties of the people wherever they occur, and we'll work to make progress at a time when our most precious values are under attack," then-Chairman Jamie Raskin, a Maryland Democrat, said in a 2019 statement announcing the subcommittee.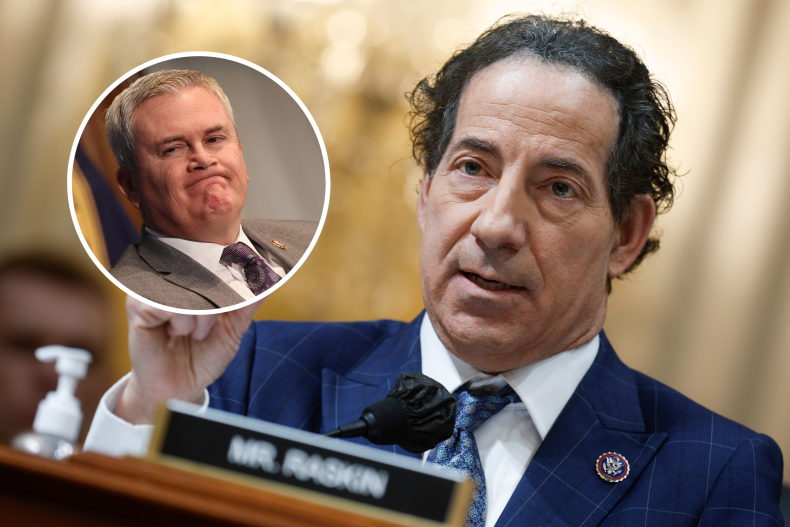 Keeping the subcommittee's work alive, its proponents argued during a Tuesday hearing, remains more necessary than ever, particularly after the recent public release of a video showing the brutal killing of Tyre Nichols—a Black man—by police in Memphis, Tennessee.
Texas Democratic Representative Jasmine Crockett, who introduced an amendment, said: "In light of the tragedy of this past weekend, passage of the amendment and the restoration of the civil rights subcommittee will show the American people what this committee stands for. Whether we will waste taxpayers' time and money on fishing expeditions or whether we will dedicate ourselves to holding those who violate the civil and human rights of our constituents accountable."
She continued, "Under the current rules package, if one of our constituents has their civil rights violated, or their civil liberties curtailed, this [oversight] committee offers no place for them to turn."
James Comer, the Kentucky Republican who chairs the oversight committee in the new House, disputed that characterization.
"Any topic that's not mentioned in the subcommittee jurisdiction is reserved for the full committee," he said. "So we can have a committee hearing in this committee on basically anything we want."
He offered examples of several bipartisan bills the oversight committee had produced during Democratic control of the House—including legislation to reform the postal service. But he also noted areas where he felt Republicans were not given equal time, namely their request for hearings looking into topics like how COVID-19 relief funds were spent and whether they were effective.
Comer said that while he does not support a subcommittee devoted to civil rights, he would be willing to take up topics that committee Democrats feel are important and need to be addressed.
"I don't believe this amendment is necessary," he said. "And I urge my colleagues to vote against it."
One of those joining Comer in voting against the subcommittee amendment was Georgia Representative Marjorie Taylor Greene, who not only questioned Crockett's rationale for the bill but argued there was a double standard in how Democrats evaluated civil rights abuses in the federal government's treatment of inmates charged in the January 6 U.S. Capitol riot.
Greene also highlighted the killing of Ashli Babbitt, a rioter who was shot by a Capitol Police officer on January 6, 2021. The case has been the target of conservatives' anger over what they see as a lack of repercussions for the officer who fired the shot. He was cleared of wrongdoing by the Justice Department and the Capitol Police.
"I do agree with you about Tyre Nichols' death," Greene said. "I watched the video, and it was tragic and extremely difficult to watch. I would also like to point out that that city is Democrat-controlled and the five or six officers that have been arrested and charged are Black. And I think that this isn't an issue of racism or anything like that. I think that the judge and the jury in the trial need to work out what happened there. And I share that with you."
Green continued: "But I'd like to also point out something that I'd hope you share with me. There's a woman in this room whose daughter was murdered on January 6, Ashli Babbitt. There has never been a trial. As a matter of fact, no one has cared about the person that shot and killed her. And no one in this Congress has really addressed that issue.
"The January 6 committee didn't address it. And I believe that there are many people that came into the Capitol on January 6 whose civil rights and liberties are being violated heavily," Greene said.
The amendment to reintroduce the civil rights subcommittee ultimately failed in a party-line vote.