Republicans Show No Interest In Hearing From John Bolton Despite His Book's Explosive New Claims on Ukraine
Senate Republicans acting as jurors in President Donald Trump's impeachment trial showed little-to-no interest Monday in having John Bolton testify, despite an explosive report published Sunday about the former national security adviser's forthcoming book containing new information undercutting Trump's defense of his Ukraine dealings.
Contrary to rhetoric from Trump and his defenders' that the president was concerned about corruption, Bolton wrote that Trump told him the hold on foreign military aid to Ukraine would remain until the country announced it was investigating his political rivals, including former Vice President Joe Biden and his son, The New York Times reported, citing an unpublished manuscript of Bolton's book.
But this mattered little to most Republicans, who gave various reasons for why Bolton's claims failed to sway them on subpoenaing witnesses, including Bolton himself. Their justifications to forgo his testimony ranged: the reporting was not credible because it was a leak, Bolton's claim was unsurprising, or new information was expected to come to light amid the trial and should largely be ignored.
Just two GOP members were exceptions to this—Sens. Mitt Romney of Utah and Susan Collins of Maine—both of whom signaled before the Bolton revelations they will side with Democrats when voting to subpoena witnesses and documents.
Sen. John Barrasso (R-Wyo.) chalked up Bolton's claims as "nothing new" and "an effort to sell books."
"Every day, there's going to be something new," the Republican leadership member said. "Today is just one more day."
"Calling witnesses could be a monthslong effort that is hard to imagine would change the final outcome," Sen. Roy Blunt (R-Mo.), another leadership member, said.
"It doesn't take a subpoena to put out a statement," said Sen. Deb Fischer (R-Neb.). "So, I think if Ambassador Bolton has something to say, he could do that."
Sen. Ted Cruz (R-Texas), similar to several of his fellow Republicans, said he "predicted at the outset of this proceeding that there would be breathless revelations, day after day, that would be turned into a frenzy... I don't think it's surprising."
Sen. Lindsay Graham (R-S.C.), a Trump confidant, said Bolton "may be a relevant witness." However, he made it clear his belief that the president had good reason to have suspicions of Ukraine and the Bidens.
"But I've also said I want to know is there reasonable belief by the president that the Biden's were involved in corrupt behavior," Graham said. "Is there a reasonable belief that the Ukraine may have been involved in helping both sides or the Democratic Party?"
Sen. Mike Crapo (R-Idaho) said he was unaware of the Bolton news and that he planned to "hear the case and then make the decision."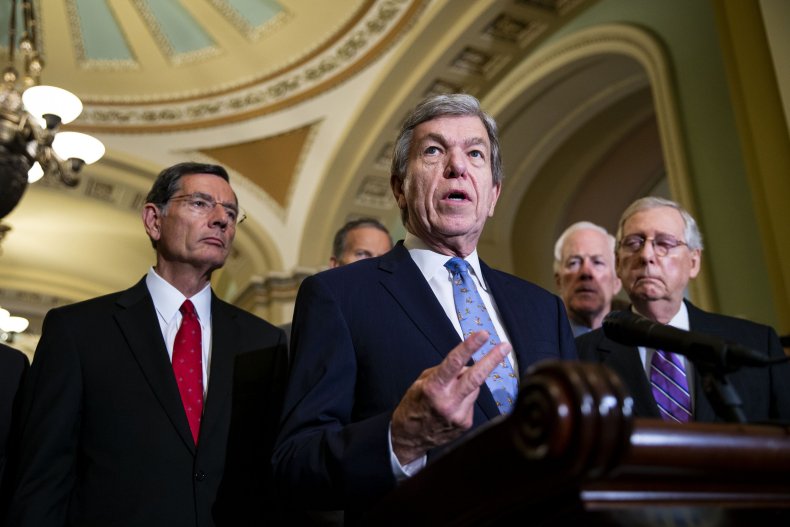 Democrats need just four GOP defectors to side with them when the Senate will consider the issue of witnesses and documents after the conclusion of opening arguments from Trump's defense team and a question-and-answer period for lawmakers. That pivotal decision could come as early as week's end.
The Bolton revelation, Romney told reporters, makes it "increasingly apparent" that they need to hear from the former Trump official and believed it's "increasingly likely that other Republicans will join those of us who think we should hear from John Bolton."
Collins reiterated in a statement that she wants to wait until both sides have made their cases before deciding. She's "likely to vote to call witnesses," she said, just as she did during the impeachment trial of Bill Clinton.
But it appears Democrats continue to remain two members short. Other potential wildcards, such as Sens. Lamar Alexander (R-Tenn.) and Lisa Murkowski (R-Alaska), continued to hold their cards close, saying they won't make a final decision until later in the trial.
Alexander told reporters that he "can't say anything more," while Murkowski said in a statement she was "curious as to what John Bolton might have to say."
Democrats have accused their Republican colleagues of hypocrisy for being against witnesses while claiming Democrats' case lacks firsthand evidence.
"Anyone who says the House case lacks eyewitnesses and then votes to prevent eyewitnesses from testifying is talking out of both sides of their mouth," Senate Minority Leader Chuck Schumer (D-N.Y.) said.
The details reportedly in the rough draft of Bolton's book, Schumer added, erases "even a shred of logic left to not hear witnesses and review the documents."
The Democratic impeachment managers tasked with serving as the prosecution in Trump's trial said a refusal for witnesses would only further aid the president's "cover-up."
"To say that we're going to blind ourselves from a witness who has so clearly relevant testimony to one of the central, most serious allegations against the president, I don't see how you can have a fair trial without testimony like that," said lead impeachment manager Rep. Adam Schiff (D-Calif.).
In a series of tweets Monday morning, Trump denied Bolton's claims in his forthcoming book while falsely claiming the House "never" sought Bolton's testimony during its impeachment inquiry. House Democrats did formally request documents and Bolton's testimony during the impeachment inquiry. At the direction of the White House, Bolton refused the request and threatened to take the House to court if he were subpoenaed.
"I NEVER told John Bolton that the aid to Ukraine was tied to investigations into Democrats, including the Bidens. In fact, he never complained about this at the time of his very public termination," Trump wrote. "If John Bolton said this, it was only to sell a book."
Jay Sekulow, a personal attorney to Trump who is part of his legal defense team for the impeachment trial, signaled they would ignore the claims made by Bolton in the remaining portions of their case supporting the president.
"We deal with transcript evidence. We deal with publicly available information," he said on the Senate floor. "We do not deal with speculation, allegations that are not based on evidentiary standards at all."