Republicans Signal Trump is Here to Stay as He Mulls 2024 Presidential Run: 'He'll be the Nominee'
It would be yet another scene that the 2020 political landscape has ripped straight from the script of HBO's Veep: President Donald Trump making another go at the presidency in 2024, despite losing this year's election.
Those within Trump's orbit have said the notion of challenging Joe Biden four years down the road is a very serious consideration. And while Republicans on Capitol Hill are not clambering to the president's side to back the idea, they are far from closing the door on the suggestion.
"He has forced this country to confront issues that both parties ignored for far too long, and if he runs in 2024, it's my view he'll be the nominee," Senator Marco Rubio (R-Fla.) told Newsweek. "He'll remain the most influential Republican in the country for the foreseeable future. There's no doubt about that."
Even those like Rubio, who is one of several GOP senators believed to have 2024 ambitions, refuse to cross Trump on another potential run amid his refusal to concede this year's race and as Republicans fight to hold onto control of the Senate.
The party, though it will soon lose Trump as president, is unlikely to ditch him as their leader anytime soon. Republicans need Trump's supporters for two Senate runoffs in Georgia to maintain their majority in the upper chamber. And although more traditional, Reaganesque members like Maryland Gov. Larry Hogan warn that the party "cannot afford to continue to perpetuate toxic politics," no congressional Republicans that Newsweek spoke with advised against Trump launching another presidential bid.
"During this time, in which we have support for the president and his supporters in getting to a clear outcome and confidence in the outcome, we have to have the ability to win in Georgia," Senator Mike Rounds (R-S.D.) told Newsweek. "We need the president's support in that regard, and we need his supporters supporting that regard."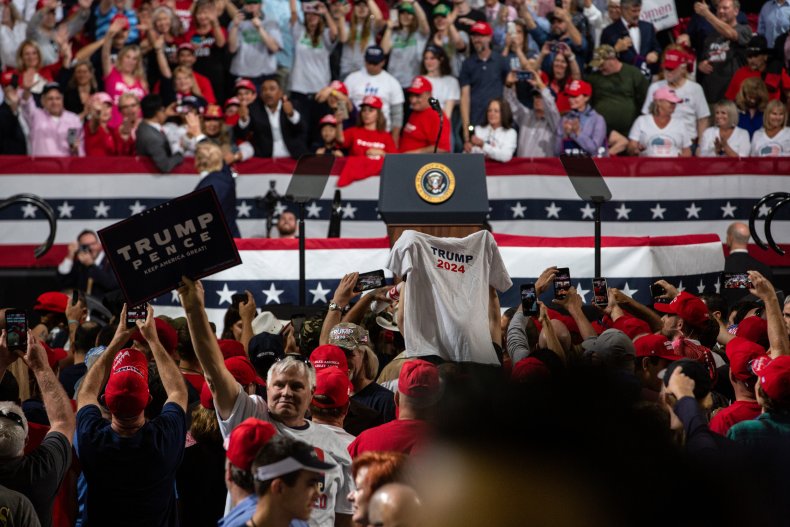 Along with Rubio, Senators Ted Cruz (R-Texas) and Josh Hawley (R-Mo.) are rumored to be 2024 presidential hopefuls.
"I bet he'll consider [running again]," Hawley said, but added that he has not spoken about the idea with Trump. "I'd be very surprised if he didn't."
Cruz declined to comment, and he was far from alone. Most Republicans who Newsweek approached were anything but eager to talk about a Trump 2024 candidacy.
Some of the chattier GOP senators, such as John Kennedy (La.), Appropriations Committee Chairman Richard Shelby (Ala.) and No. 4 Republican Roy Blunt (Mo.), also had few thoughts to offer about Trump 2024. They offered neutral takes, noting that the Trump campaign is still involved in litigation over this election's outcome.
"I haven't thought about it," Kennedy said. "I'm still thinking about 2020."
"Oh Lord, I hadn't thought about that," added Shelby.
Blunt offered a small chuckle before saying he had no comment.
Outgoing chairman of the National Republican Senatorial Committee, Senator Todd Young (R-Ind.), said he was solely focused on helping Georgia's Republican Senators David Perdue and Kelly Loeffler hold onto their seats on the January 5 runoff.
Four years is a long time in politics. Still, Republicans acknowledged their expectations that Trump will still be a powerful and influential force within the party long after leaving office. That also holds true for Mitt Romney (R-Utah), the lone GOP senator who voted to remove Trump from office during the impeachment trial and who admitted he did not cast his 2020 ballot for the president.
"He has the biggest voice, the biggest following. Surely, the Republican voters listen to him more than any other Republican right now," Romney said last week. "He'll have influence over what we do next week and next year and in 2024."
Senator Lindsey Graham is Trump's closest confidant in the upper chamber. The South Carolina Republican is also one of the few—if not the only—member of the upper chamber who has explicitly urged the president to throw his hat into the ring once again.
"This movement is something real. I would encourage him to at least think about running again," Graham said last week, but added he was unsure whether Trump was open to it. "I don't know. That's just what I put on the table."