Republicans Spar Over Ron Johnson Inviting COVID Vaccine Skeptic to Senate Hearing
Senator Ron Johnson, a Wisconsin Republican, faced criticism from Senator Mitt Romney, a Utah Republican, after he invited a doctor who has expressed skepticism about COVID-19 vaccines to testify before a hearing of the Senate Homeland Security and Governmental Affairs Committee.
Dr. Jane Orient, the executive director of the Association of American Physicians and Surgeons, was invited to testify on Tuesday by Johnson, who chairs the Senate committee. Orient told The New York Times this week that it is "reckless" to push Americans to get COVID-19 vaccines and touted the controversial anti-malaria drug hydroxychloroquine as a treatment for the novel coronavirus—despite scientific evidence showing the drug is ineffective.
"I think it's nuts to bring that into the Senate," Romney said Tuesday.
Johnson pushed back against the criticism, telling reporters it "blows me away why people are so closed-minded about therapies using existing cheap drugs that are safe. Why is there such resistance to that? It makes no sense."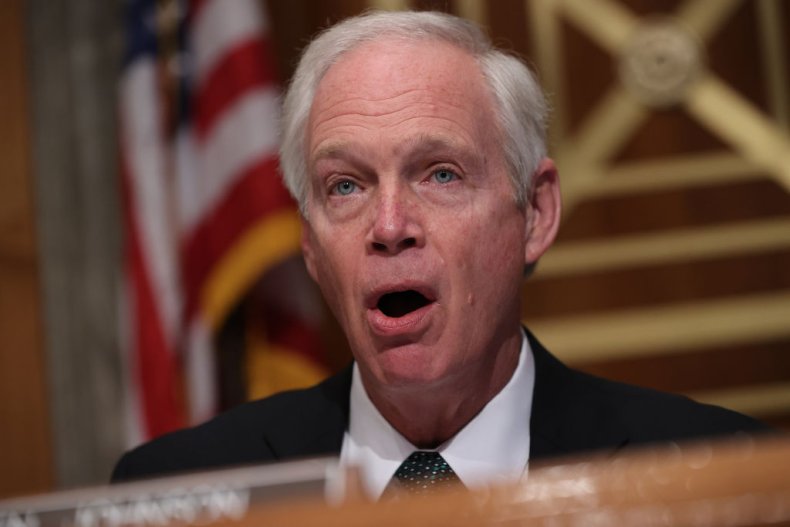 On Twitter, Johnson wrote: "Before this hearing even started the disinformation campaign already began. This is about early treatment of #COVID19. It is NOT about vaccines. End of story."
Newsweek reached out to the other six Republican members of the Senate committee for comment, but they did not immediately respond.
Senator Gary Peters, a Michigan Democrat who serves as the committee's ranking member, criticized the witnesses chosen for the hearing in a statement emailed to Newsweek.
"It is unfortunate that during this worsening public health and economic crisis, the witnesses chosen for today's hearing will amplify theories that are at odds with the broader scientific community and, according to experts, could cause harm. These fringe views run counter to what the Senate should be doing—working on a bipartisan basis to protect the American people and tackle this deadly pandemic," Peters said.
A committee aide told Newsweek that Peters was not consulted by Johnson regarding the witnesses. The ranking member declined to sign the invitations due to his concern that the hearing would potentially promote unscientific misinformation.
Senate Minority Leader Chuck Schumer, a New York Democrat, referred to Orient as a "conspiracy theorist" this week before the hearing. He said it's "downright dangerous and one of the last things Senate Republicans should be doing right now."
In her remarks to The Times, Orient criticized Dr. Anthony Fauci, a key member of the White House Coronavirus Task Force and the director of the National Institute of Allergy and Infectious Diseases. She also voiced opposition to pending efforts to vaccinate Americans against COVID-19.
"It seems to me reckless to be pushing people to take risks when you don't know what the risks are," Orient said. "People's rights should be respected. Where is 'my body, my choice' when it comes to this?"
There is currently no plan to require Americans to be vaccinated. But Trump administration officials and many others have expressed alarm at the sizable number of Americans who appear to be unwilling to receive the vaccine, or are highly skeptical about its safety.
"It's very concerning," Dr. Moncef Slaoui, who leads the Trump administration's Operation Warp Speed effort to rapidly develop and distribute vaccines, said regarding vaccine skepticism. The scientist asserted that development of the vaccine was sped up "not by cutting any corner" and explained that scientists "took advantage of technological advances that happened over the last 10 years."