The Republican National Committee (RNC) has sparked a debate among the GOP about whether the events of January 6, 2021 were "legitimate political discourse."
A new poll from Politico/Morning Consult found Republican voters are split on whether the description is correct. The survey, released Wednesday, showed 38 percent of Republican voters disagreed and said what took place that day was an "illegitimate form of political discourse."
Approximately one-third of Republican respondents agreed with the committee's assessment that the events were a legitimate form of protest while 29 percent didn't know or had no opinion on the matter.
The findings come as national Republicans look to plot a path forward returning to majority control of Congress in 2022. Several high-profile conservatives, Mitch McConnell included, have denounced the RNC's language and are pushing back on former President Donald Trump's false claims about the 2022 election.
The phrase was included in the committee's censure resolution against Representatives Adam Kinzinger and Liz Cheney. The two were censured on February 4 in a voice vote over their participation in the House's select committee investigating the U.S. Capitol riot.
"Representatives Cheney and Kinzinger are participating in a Democrat-led persecution of ordinary citizens engaged in legitimate political discourse," the resolution read.
McConnell responded by calling the January 6th Capitol riot a "violent insurrection" and said it wasn't the RNC's job to single out members of the caucus with differing views.
Utah Senator Mitt Romney told Politico, "Nothing could be further from the truth than to consider the attack on the seat of democracy as legitimate political discourse."
Amid the fallout, RNC chair Ronna McDaniel later said the committee didn't intend to defend those who stormed the Capitol, according to the Washington Post.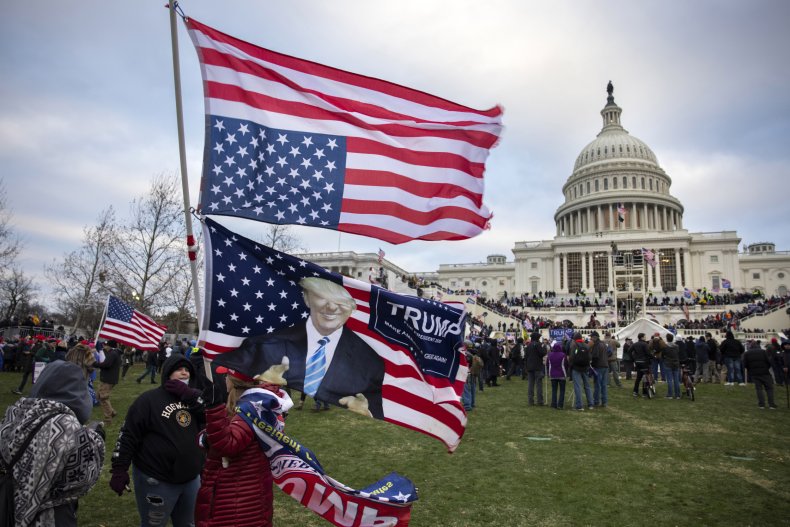 Trump, on the other hand, is endorsing dozens of candidates for federal office—many of whom have repeated his false claims that the 2020 presidential race was stolen or riddled with fraud.
He's also recently attacked McConnell for his statements on January 6th, calling the Republican leader an "Old Crow" and stating he doesn't represent the GOP's views. So far the Kentucky senator hasn't fought back publicly, but he's reportedly working quietly to thwart Trump's influence in the 2022 midterm election cycle.
While the former president says his endorsements are the "strongest" in political history, the poll found most Republicans think it's time to move on from the 2020 discourse.
Half of Republicans polled (50 percent) said the party needs to leave Trump's claims of fraud behind compared with 38 percent who said they should continue to focus on the 2020 election outcome.
Politico/Morning Consult surveyed 2,005 registered voters between February 12 and February 13, 2022. The poll's margin of error is plus or minus 2 percentage points.
Newsweek has reached out to the RNC for comment on the poll's findings but didn't receive a response before publication.